Tschep Sura 2838 m
9309 ft.
---
Peak in

11 hike reports

, 22 photo(s). Last visited :

15 Sep 19


Geo-Tags: CH-GR
Photos (22)
---
By Publication date · Last favs · By Popularity · Last Comment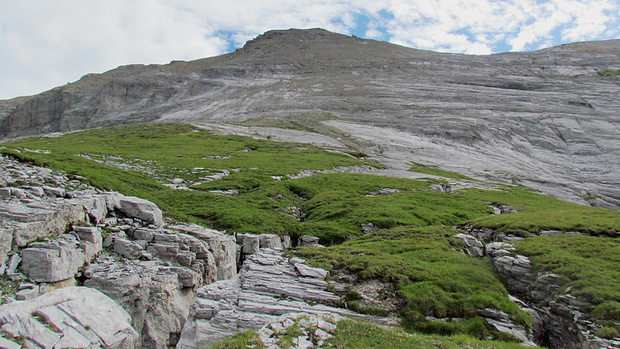 Die vielen Risse im Boden bei P.2446. Mit Sicht auf den bevorstehenden Aufstieg (Ich zielte auf den tiefsten Punkt zur Rechten Seite vom Tschep Sura). © D!nu
---
Reports (11)
---

Crap Mats, Morchopf und Piz Tschep - von Trin nach Flims
Auf dem Tschep-Grat war ich in den letzten Jahren schon mehrfach gewesen. Nur mit der Fortsetzung der Tour zum Crap Mats hatte es aus unterschiedlichen Gründen leider nie geklappt. Heute wollte ich es erneut versuchen, allerdings in entgegengesetzter Richtung und dabei zumindest bis zum Crap Mats kommen.   Als...
Published by 17 September 2019, 12h14 (Photos:90)

Im Banne des Ringelspitz
Ausschlaggebend zu dieser Wanderung war der Bericht « Ringelspitz & Crap Mats» von D!nu. Denn die Bilder von dieser Gegend, die er fotografiert hat, faszinieren mich und ich wollte mir das in Natura ansehen. Da es bereits einige Wegbeschreibungen von HiKr's ab Fidaz gibt und ebenfalls auch der Abstieg über die...
Published by 5 September 2019, 14h15 (Photos:39 | Comments:7)

Ringelspitz
Nebst zwei anderen Zweierseilschaften brechen wir um halb 6 Uhr auf. Die Wegspur ist im Schein der Stirnlampe meistens gut zu erkennen. Es ist schon hell, als wir am unteren Ende des Taminser Gletschers mit den anderen Seilschaften eine kurze Pause einlegen. Anschliessend steigen wir über Schutt und Schnee auf den Rücken des...
Published by 11 September 2019, 11h41 (Photos:32 | Geodata:1)
Surselva

T5

AD-

III

17 Aug 19

Ringelspitz & Crap Mats
Den Ringelspitz habe ich vor 5 Wochen wegen Restschneefeldern im Tschepband verschoben. Heute sollte es nun klappen! Mit dem PW fahre ich bis zum Waldrand bei Fidaz. Der Strasse entlang Richtung Bargistal findet man diverse zahlungspflichtige Parkplätze, bevor dann Schlussendlich ein Fahrverbotsschild am Strassenrand steht....
Published by 18 August 2019, 20h53 (Photos:40 | Comments:5 | Geodata:1)

Piz Tschep (2943 m) und Tschepgrat - ausgedehnte Runde von Trin nach Flims
Der Aufstieg zum Piz Tschep und von dort die Runde über den Morchopf zum Crap Mats stand heute erneut auf dem Programm. Bereits im letzten November hatte ich dazu einen ersten Versuch unternommen, den ich wegen des Starkwinds in der Höhe damals auf dem Piz Tschep leider nicht realisieren konnte. Heute also der zweite Versuch,...
Published by 5 October 2016, 11h12 (Photos:50)

Ringelspitz, Piz Tschep und Morchopf - gross(artig)e Runde über Trin
Geplant war das als ÖV-Tour. Ich wollte für die Fahrt auf die Alp Mora ein Taxi organisieren. Doch die Angefragten waren demonstrativ desinteressiert an dieser Fuhre. So bin ich halt selber hochgefahren (Fahrbewilligung Fr. 20.-, muss vorab bei der Gemeindeverwaltung bezogen werden). Jetzt weiss ich, warum sie nicht wollten:...
Published by 14 September 2016, 19h50 (Photos:17 | Comments:6)

Von Flims zum Piz Tschep (2943 m) und Panoramaweg Lavadignas - Alp Mora mit Abstieg nach Trin
Eigentlich war heute garnicht der Piz Tschep das Ziel, sondern die Überschreitung von dort zum Crap Mats. Einige Tage zuvor war der Versuch von der anderen Seite her aus Zeitmangel leider nicht von Erfolg gekrönt gewesen. Drum nun ein erneuter Versuch, diesmal über den Tschepgrat, obwohl mir klar war, dass dort noch Schnee...
Published by 22 November 2015, 19h14 (Photos:51 | Comments:2)

Piz Tschep (2943 m) und Tschepgrat - durch grandiose Landschaft ob Bargis
"Ringelspitz", diese Überschrift eines Tourberichts neulich von Schlomsch hatte mich neugierig gemacht. Nicht, dass ich (als Nicht-Kletterer) entsprechende Gipfelambitionen gehabt hätte. Doch aus der Nähe ansehen wollte ich mir den höchsten St.-Galler schon gerne mal. Und das ging diesem Bericht zufolge am einfachsten...
Published by 15 September 2015, 12h05 (Photos:72 | Comments:5)
St.Gallen

T4+

III

3 Aug 15

Ringelspitz ab Bargis - Tagestour mit dem ÖV
Ab Bargis via Tschep Sura zum Ringelspitz ist eine landschaftlich lohnende und bei optimalen Verhältnissen mit Abstand die einfachste und schnellste Tagestour zum Ringelspitz. Dank Fahrverbot nach Bargis 1:0 für den ÖV. Mit dem ÖV bin ich früher mal bis Tamins, ab da zur Ringelspitzhütte und via Mittelgrat auf den...
Published by 9 August 2015, 17h35 (Photos:37 | Comments:2)

5 peaks hike around Crap Mats
Given the hot summer weather I wanted to go for a hike at higher elevations. In the area around Crap Mats there was relatively little snow left, even with an elevation of 2500 - 3000 m. The hike included visits to Crap Mats (2947 m), Morchopf (2943 m), Tschep (2943 m), Tschep Sura (2838 m), and Tschep Sut (2666 m). In addition...
Published by 5 July 2015, 01h39 (Photos:36 | Geodata:1)