Jakobshorn 2590 m
8495 ft.
---
Peak in

18 hike reports

, 30 photo(s). Last visited :

22 Sep 19


Geo-Tags: CH-GR
Photos (30)
---
By Publication date · Last favs · By Popularity · Last Comment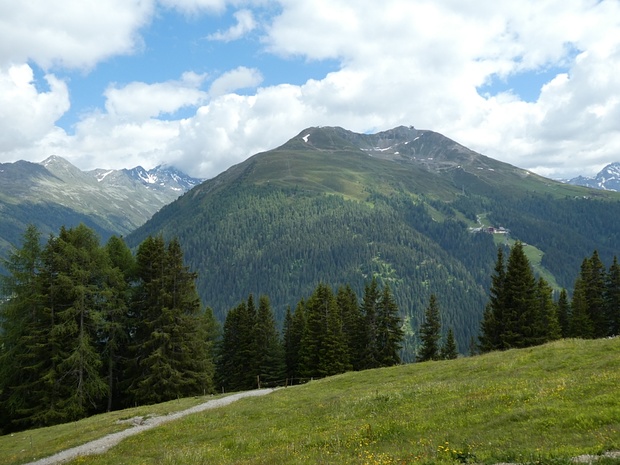 gut ist unsere morgige Route einsehbar: ab Ischalp zu Brämabüel und über den Nordgrat zum Jakobshorn © Felix
---
Reports (18)
---

Bündner Backcountry Bike Epic
Das Ducan Furca sei einer der besten Biketouren in GR...let's find out. Die Tour wird oft mit dem Epic Trail kombiniert. Da ich aber kein Bock auf das ewige und aussichtslose auf und ab nach Filisur hatte mache ich wie so oft zuvor alles etwas anders. Eine Entdeckungsreise in die wilde Täler zwischen Davos und Bergün. Start...
Published by 23 September 2019, 12h18 (Photos:16 | Comments:1)

Überschreitung der Chüealphornkette
Wer gerne abseits vom Trubel unterwegs ist, wird vermutlich nicht in Davos zu einer Bergtour aufbrechen wollen. In den bestens erschlossenen Bergen sollte es schwierig sein, ruhige Flecken zu finden. Auf die unmittelbare Nähe der Liftanlagen und auf ein paar gut erreichbaren Gipfelziele mag das zutreffen, aber sobald man sich von...
Published by 10 September 2018, 21h01 (Photos:13 | Comments:2 | Geodata:1)

Klosters Juni 2018, 4|4: Jakobshorn - blumenreiche Überschreitung
Der letzte unserer vier Tage im Prättigau besticht ganztägig mit herrlichem Sonnenschein - nach einem Startkafi bei Nadia machen wir uns auf zu unserer vierten Gipfelbesteigung. Auf unseren "Marschplan" etwas verspätet - die LSB hat auf der website ihre erste Fahrt zu früh angegeben - gondeln wir (wiederum...
Published by 27 December 2018, 15h12 (Photos:29)

Wuosthorn
Das Wuosthorn liegt zwischen dem Sertig- und dem Dischmatal. Mit seinen 2815 m ist es die höchste Erhebung in der Gratwanderung vom Jakobshorn zum Gfrorenhorn. Die etwas isolierte Lage bietet ein super Panorama. Bereits im Sommer wanderten wir vom Jakobshorn zum Tällihorn, aus Zeitgründen beliessen wir das Wuosthorn, heute...
Published by 11 October 2017, 20h05 (Photos:14)

Alps Epic Trail Davos
Der längste Trail der Schweiz - Der "Alps Epic Trail Davos" wurde 2014 als neuer IMBA Epic Trail ausgezeichnet. Damit steigt die Strecke vom Jakobshorn nach Filisur in den erlauchten Kreis der besten Mountainbike-Trails der Welt auf. Weitere Infos über den Trail bei Ride, Mountainbiker, GPS-Tracks, Traildevil und natürlich...
Published by 31 August 2017, 14h27 (Photos:10 | Comments:2 | Geodata:1)
Jatzhorn 2682 m - Tällihorn 2683 m
Jatzhorn 2682 m – Tällihorn 2683 m Unsere heutige Tour führt hoch über den beiden Seitentäler von Davos vom Jakobshorn zum Tällihorn. Rechts liegt uns das Sertigtal zu Füssen, links das Dischmatal. Vom Dischmatal sahen wir lange Zeit nichts, da dort lange Nebelschwaden den Grat zierten und so die Sicht versperrten....
Published by 28 July 2017, 18h33 (Photos:18)

Bike: Welcome to Paradise, welcome to Davos!
Äbi, Epic, Davos! Wer noch nie vom "Epic-Trail" in Davos gehört hat, sollte vermutlich sein vollgefedertes 170mm Bike gegen ein Chörblivelo vom Bahnhof Spreitenbach eintauschen - oder aber doch nochmals die feinfühligen Singletrail-Lauscher öffnen und spätestens dann führt die Reise automatisch ins Bike-Eldorado Davos....
Published by 27 September 2016, 20h46 (Photos:16 | Comments:2 | Geodata:4)

Witihüreli S-Gipfel
Gestern hat es ja für die aktuellen Verhältnisse ganz passabel geschneit. Also mache ich mal den Versuch einer Skitour. Auf das Witihüreli führen grundsätzlich zwei Routen. Eine von Sertig Dörfli. Das wäre unter normalen Umständen die Route meiner Wahl gewesen. Aber dort liegt noch zu wenig Schnee. Die andere beginnt...
Published by 17 December 2014, 17h26 (Photos:3)

Pistenskitour aufs Jakobshorn
Nach ein paar kleineren Skitouren ohne allzu viele Höhenmeter, will ich einmal ausprobieren, was es heißt 1000 Höhenmeter mit Skiern an den Füßen zurückzulegen.Das Jakobshorn bietet sich an. Von Frauenkirch nach Sertig-Mühle entlang der Langlaufloipe, dann entlang der Mühli-Abfahrt zum Gipfel. Auf dem gleichen Weg...
Published by 9 May 2014, 14h44 (Photos:3)

Höhenwanderung Jakobshorn-Tällifurgga-Wuosthorn-Sertig: Vom Rummel in die Einsamkeit und zurück
Die Gegend rund um das Jakobshorn (2590 m) ist jetzt nicht gerade das, was der Einsamkeit und unberührte Natur liebende Wanderer sucht. Aber wie heisst es so schön: "Einem geschenkten Gaul schaut man nicht ins Maul". Und da wir aus gegebenem Anlass (der überhaupt nichts mit Bergsport oder Hikr zu tun hatte) schon mal in der...
Published by 14 August 2012, 20h40 (Photos:20 | Comments:2)