Grünhornhütte SAC 2448 m
8029 ft.
---
Hut in

15 hike reports

, 16 photo(s). Last visited :

30 Aug 19


Geo-Tags: CH-GL
Photos (16)
---
By Publication date · Last favs · By Popularity · Last Comment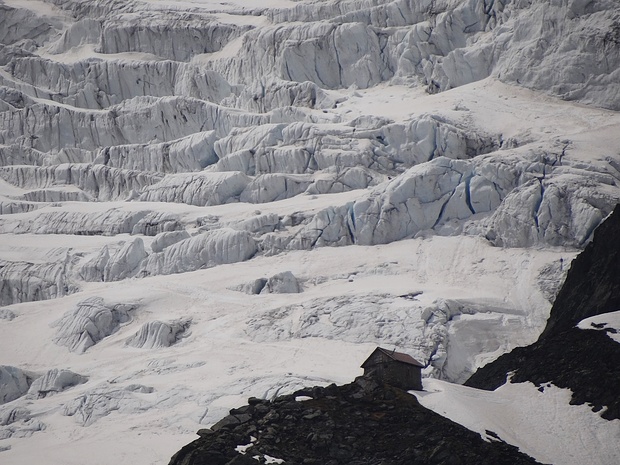 Grünhornhütte - die Mutter aller SAC-Hütten. Erbaut 1863. Seit 2011 ist sie abgeschlossen und steht als Notunterkunft nicht mehr zur Verfügung. © MaeNi
---
Reports (15)
---
Glarus

T4

PD+

II

30 Aug 19

Kläglich gescheitert am Tödi (3.613 m) - Spaltenlabyrinth und fiese Bergschründe
Auf den Tödi wollte ich schon lange mal hoch, sollte bis auf die vielen Höhenmeter eigentlich eine tolle, nicht so arg technisch anspruchsvolle Tour sein. Wir wollen das ganze mit Zelt machen, da wir irgendwie nicht so Lust auf eine Hüttenübernachtung hatten. Vorweg: wir sind nichtmal in die Nähe des Gipfels gekommen. Ende...
Published by 20 October 2019, 01h15 (Photos:35 | Comments:6)

Tödi - Piz Russein
Die Standardroute wurde hier öfters detailliert ausgeführt, deshalb möchte ich nur die aktuellen Highlights beschreiben, so wie wir sie während der Tour erlebt haben: Zeit: Aufbruch schon um 3:15, weil ab 14:00 Gewitter gemeldet waren. Die Tour kann man im Normaltempo in 8 Stunden ab Hütte und zurück schaffen, man...
Published by 1 August 2018, 21h19 (Photos:1)
Glarus

T4

AD-

II

4 Jul 18

Tödi Südwestwand
Drei Tage in den Glarner Alpen 1.Tag: Warmup zur Claridenhütte über den Gemsfairenstock. Eine hübsche T4-Runde mit einem einfachen Abstieg vom Gemsfairenjoch auf den Claridenfirn, welcher ein kurzes Stück unterhalb des Gemsfairenjoch gequert wird. Gletscherausrüstung braucht es dafür nicht wirklich. Dann war noch...
Published by 15 October 2018, 17h08 (Photos:44 | Comments:3)

Tödi
Day 1 Hinter Sand - Fridolinshütte 800m ascent, 1h45, T3 Just like with our Galenstock tour last month, the weather forecast forces us to find a tour where we can reach the hut from Zürich on Friday afternoon, so we can aim for the summit on Saturday. This time, the choice falls on the Tödi - highest point of canton Glarus...
Published by 6 August 2017, 11h33 (Photos:42)

Tödi - unfinished business finished
Der Tödi stand schon lange auf unserer Liste. Von zuhause bei schönem Wetter sichtbar, thront er zuhinterst im Glarnerland - da muss man einfach mal oben gestanden haben. Letzten September mussten wir das Unterfangen aufgrund fehlerhaftem Material meines Tourenpartners abbrechen (Wer genaueres wissen will, fragt den Hüttenwart...
Published by 17 July 2017, 14h54 (Photos:23 | Comments:1)
Surselva

T4+

PD+

II

30 Jul 16

Tödi/Piz Russein (3614m) Überschreitung von GR nach GL
Tödi Überschreitung vom Bündnerländle in den Kanton Glarus Endlich ist es soweit, alle Randbedingungen stimmen, wir sind gesund & fit, die Wettervorhersage für die nächsten 2 Tage sind fantastisch - der Gigant Tödi, welcher bei uns seit langem auf der "to do" Liste steht, können wir nun in Angriff nehmen. Zusammen...
Published by 1 August 2016, 10h17 (Photos:88 | Comments:3)

Brigelser Hörner, Piz Frisal, Bifertenstock
Eine gewaltige, lange undanspruchsvolle Hochtour die ich nie mehr vergessen werde. 03:15h Mit dem Auto fuhren wir von Brigels auf dem bewilligungspflichtigen Fahrweg bis Tschegn Dado. Bei Nässe und dichtem Nebel starteten wir Weglos durch hohen Aufwuchs und über Steinblöcke leicht Ansteigend Richtung Nordwesten. Bei kaum 10m...
Published by 24 August 2015, 13h34 (Photos:25 | Comments:6)

Tödi-Trilogie: Sandgipfel, Glarner Tödi und Piz Russein - mein Projekt ist abgeschlossen
Am Morgen des 14. Juli interviewte Irène Raphi, der in HIKR als Amortis eine Reihe eher extremer Begehungen gepostet hat, und seine Freundin Anja. Die beiden betreiben jetzt in Chamonix die Firma Happy Tracks, die Outdoor-Aktivitäten anbietet und chillen gerade ein paar Tage im Glarnerland. Beim Gespräch fiel fast...
Published by 16 July 2015, 09h57 (Photos:18 | Comments:6)
Glarus

T4+

PD

II

PD

12 Jul 15

DER majestätische TÖDI - i'm back
...10 Monate Hikr-Abstinenz! Hinter mir liegt eine Nepal-Reise mit Umrundung des Dhaulagiri, die Besteigung des Thapa Peak 6013 sowie einige Ski- und Bergtouren. Unterwegs war ich nach wie vor in meiner geliebten Bergwelt und nun zurück mit einem Bericht über DEN BERG, den MR. T! vauacht istzurück aus den USA und so...
Published by 14 July 2015, 18h23 (Photos:29 | Comments:15)

Best of Glarnerland 2.Tag: Tödi mit Aufstieg von der Cna Punteglias und Abstieg zur Fridolinshütte
Heute war frühe Tagwache angesagt, um drei Uhr klingelten die Wecker. Wir mussten nicht besonders leise sein, waren wir doch diese Nacht die einzigen Gäste in der Hütte. Nachdem wir gut gefrühstückt hatten und die übrigen Geschäfte auch erledigt waren, traten wir kurz vor vier Uhr in die Nacht hinaus. Eine Hochnebeldecke...
Published by 24 August 2014, 19h26 (Photos:18 | Comments:4)