Unter Chärpf 2441 m
8006 ft.
---
Peak in

8 hike reports

, 16 photo(s). Last visited :

2 Aug 20


Geo-Tags: CH-GL, Chärpfgruppe
Photos (16)
---
By Publication date · Last favs · By Popularity · Last Comment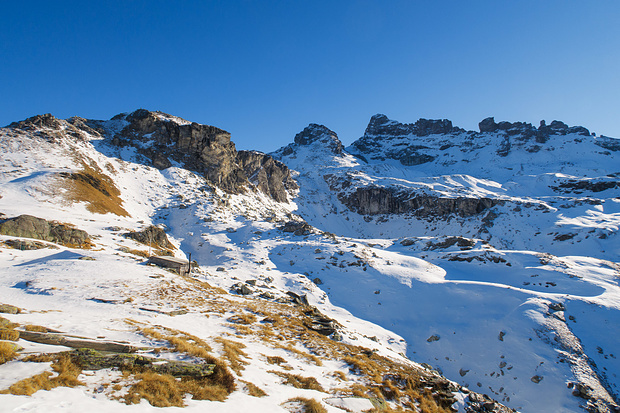 Blick vom Aussichtspunkt bei der Hütte zu den Chärpfs. Der Weg zum Unter Chärpf war gespurt. Eventuell wäre dies eine gute Möglichkeit gewesen, als Variante, um später zur Chärpfscharte zu traversieren. © Chrichen
---
Reports (8)
---

Kärpf-Rundtour mit 13 Gipfeln
Spannende und abwechslungsreiche Runde an den und um die Kärpf-Gipfel an einem grauen Morgen 3614adrian lud zum Trailrun im Fryberg Kärpf - da kann man nicht nein sagen! Auch wenn der Wetterbericht nach den heissen Tagen zuvor nicht mehr Sonne satt versprach. Immerhin waren wir beide seit langer Zeit (im Sommer) nicht mehr in...
Published by 3 August 2020, 22h14 (Photos:30)

Chärpf 2794 m und Chli Chärpf 2700 m
Lange habe ich mit mir gerungen, wie ich an diesem Wochenende eine sinnvolle Kurztour (= 2 Tage) hinbekommen würde. Meine Wahl fiel auf den Chärpf, der von uns aus noch halbwegs schnell erreichbar ist und der eben in der Kategorie, nicht so leicht, aber auch nicht wirklich schwer liegt. Um den Aufstieg etwas aufzupeppen,...
Published by 24 July 2019, 14h29 (Photos:77 | Comments:1)

Zuviele Stögge verderben den Chärpf
Überschreitung der Gipfel vom Gandstogg bis zum Chli Chärpf. Eine wunderbare Überschreitung: Beste Aussichten, alpine Einsamkeit, geheimnisvolle Einblicke in die Glarner Bergwelt, jede Menge Wild, grosszügige alpine Rasen, ein paar knifflige Gipfelanstiege. Gandstogg über die Gandfurggele (T3): Start nach dem...
Published by 24 August 2019, 09h46 (Photos:16 | Comments:1)

Unter Chärpf - Chli Chärpf - Gross Chärpf: von Mettmen nach Elm (ÖV)
Anreise Mit SBB nach Schwanden, mit Bus nach Kies, mit Seilbahn nach Mettmen (an 8:05) Route Mettmen - Ober Stafel - Leglerhütte - Unter Chärpf - Chli Chärpf - Chärpfscharte - Gross Chärpf - Bischofer Chärpf - Tristenstein - Pt. 1761 - Eggen - Hengstboden - Unter Ämpächli Aufstieg Chli Chärpf über Unter Chärpf...
Published by 24 August 2016, 10h24 (Photos:102 | Comments:1)

Chli Chärpf (R. 937a, partially)
I decided to do a quick run around the Garichti reservoir. The access was not difficult, but I decided to get a Mobility car from Glarus to Mettmen for better flexibility. I started off on the west side, with a view to perhaps following the ridge of Matzlen, but in the end I followed the T2 path that's a bit lower. This is not...
Published by 21 August 2016, 17h45 (Photos:12 | Geodata:1)

Matzlengrat
Der Matzlengrat ist der mittlere der drei Grate, die sich von Süden hinauf zum Chärpf ziehen. Der Grat wechselt zwischen breitem Grasrücken und schmalen Felsgrat. Als eigenständiges Ziel gibt der Matzlengrat nicht viel her, aber als Zustieg zur Leglerhütte oder im Aufstieg zum Chärpf ist er sicher eine lohnende Alternative....
Published by 1 September 2012, 17h10 (Photos:30 | Comments:5 | Geodata:1)

Reframing am Chli Chärpf
Zwei Fliegen auf einen Schlag: Einerseits feiere ich mit sursass58 das 10-Jahres-Jubiläum unserer gemeinsamen Berglaufzeit, andererseits bearbeite ich mein letztes Schulreise-Trauma von anno 1981, als ich wegen meiner angeborenen Hautschwäche nach der Übernachtung in der Leglerhütte wieder zur Mettmen-Alp hinabhumpeln musste,...
Published by 24 August 2012, 21h07 (Photos:48 | Comments:7 | Geodata:1)

Chli Chärpf: Gipfel verpasst
Route: Bergstation Mettmen- Stausee Garichtli- Ober Stafel- Pt. 2090- Leglerhütte- UnterChärpf- Nordwestgrat- Chli Chärpf tot Pt. 2620- gleicher weg zurück und weiter über Chis- Nüenhüttli- Schwanden. Wetter: Sonnig, schnell Quellwolken und anschliessend überaschend am frühen...
Published by 12 August 2006, 20h39 (Photos:1)