Hochmättli 2252 m
7387 ft.
---
Peak in

16 hike reports

, 47 photo(s). Last visited :

11 Jun 17


Geo-Tags: CH-GL, CH-SG, Schilt-Mürtschengruppe
Photos (47)
---
By Publication date · Last favs · By Popularity · Last Comment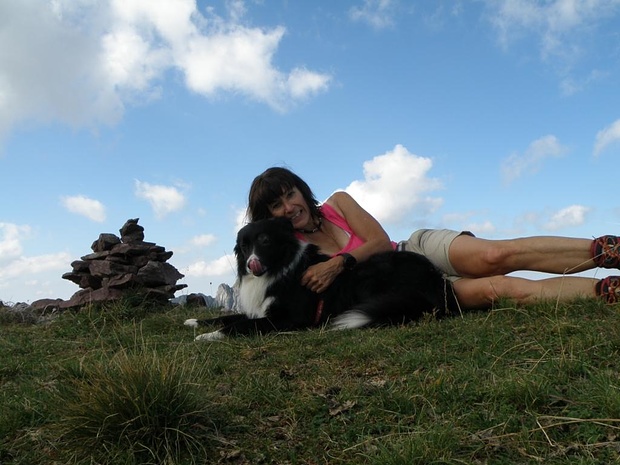 Die erste richtige Rast auf dem Hochmättli seit wir vor sechs Stunden in Hüttenberge gestartet sind © Flylu
---
Reports (16)
---

Über das Hochmättli zum Murgsee
Eine schöne Frühsommerwanderung nicht zu weit von Zürich soll es sein. Eine Kollegin hat angefragt, mal wieder in die Berge zu gehen, schlussendlich fahren wir zu viert ins Murgtal, wo wir den Massen entwischen und dem Hochmättli auf den Gipfel steigen wollen. Wir starten am unteren Parkplatz, wo wir freundlich in eine...
Published by 13 June 2017, 23h28 (Photos:17)

Eine Rundwanderung von Hüttenberge via Chalttalchopf 1888müM
Eigentlich wollte ich heute eine gemütliche Genusswanderung in einer schönen Gegend machen, dabei sollten aber schon noch leichte Herausforderungen mit dabei sein. So starteten Fly und ich kurz nach sieben Uhr bei Hüttenberge unsere Tour und machten uns auf dem Wanderweg hoch nach Meerenboden und weiter nach Robmen. Dort...
Published by 10 September 2016, 11h13 (Photos:58 | Comments:8)

Silberspitz, Hochmättli und Etscherzapfen (und der Versuch den Widerstand zu reduzieren)
Inspiriert durch die Berichte von PStraub (Auf der Höhe bleiben: Grat Silberspitz - Etscherzapfen mit Bonusprogramm ) und dyanarka (Geologische Gipfeltour im Murgtal ( Tour 1)) und auch Bildern von einigen Anderen zog es mich ins landschaftlich wunderschöne Murgtal. Die Möglichkeiten sind hier bei recht hohem Ausgangspunkt...
Published by 9 September 2016, 19h10 (Photos:29)

Hochmättli
With a last minute change in the weather forecast predicting better weather in the afternoon, rather than in the morning, I allowed myself a lie-in and only started for the Murgtal relatively late. After some issues with navigation (the Murgtal is not signposted anywhere), financials (a rather heavy 10 CHF has to be paid at a...
Published by 14 June 2015, 15h00 (Photos:34 | Geodata:1)
St.Gallen

T6-

II

18 Oct 14

Chalttalchopf - Silberspitz - Etscherzapfen
Wer kennt das nicht: Gewisse Projekte werden immer wieder auf die lange Bank geschoben. So auch diese an und für sich lohnende Rundtour im Murgtal. Schlussendlich war's vor allem das wilde, kaum dokumentierte Gebiet um den Chalttalchopf, welche mir die Lust ein ums andere Mal vergällte. Heute gab es keine Ausrede mehr, denn ich...
Published by 23 October 2014, 21h54 (Photos:26)

Silberspitz / Hochmätteli
Schon lange hatte ich geplant der einsamen Gegend von Silberspitz / Hochmätteli einen Besuch abzustatten. Nun Hanspeter mein Freund hatte auch freie Zeit da unsere Frauen auf Frauenriegenreise sind. So fahren wir mit dem Auto ins Murgtal bis zum kleinen Stausee bei Merlen. Die Bergschuhe geschnürt gings dann sofort zur Sache....
Published by 24 August 2013, 23h02 (Photos:40)

Murgtal
Nachdem wir vor etwas mehr als einem Monat im weichen Schnee dort umkehren mussten wollten wir uns die schöne Aussichtstour über den Silberspitz-Hochmättli-Grat nochmal bei schönstem Wetter vornehmen. Spontan unter der Woche freigenommen und gemütlich vom Parkplatz im Murgtal über Bütz auf den Silberspitz. Trotz dem...
Published by 21 July 2012, 14h27 (Photos:26 | Geodata:1)

Auf der Höhe bleiben: Grat Silberspitz - Etscherzapfen mit Bonusprogramm
Man darf dem Wetter des diesjährigen Sommers zumindest das zugute halten: Es ist manchmal auch weit besser als angesagt. So zum Beispiel vorgestern, als ich einen schönen Flug mit meinem Gyro machen konnte (-> Videoclip). Und gestern, wo wir nach meiner Wanderung trotz angesagten Gewittern am Abend noch friedlich auf der...
Published by 6 July 2012, 09h54 (Photos:28 | Comments:2)

Silberspitz - Hochmättli - Etscherzapfen
Nun schon der 3. Hikr der dieses Jahr das Gebiet aufsucht. Auf schönem Weg zur Alp Bütz 1589 m. Oberhalb südwestlich auf guten Pfadspuren über die Weide bis ich ihn auf ca. 1750 m nordwestlich verlasse. Weiter gegen die Silberspitz bis man unter den Felsen auf Wegspuren stößt die von links kommen. So mühelos bis etwas...
Published by 8 July 2012, 14h23 (Photos:12)
St.Gallen

T5

PD

II

15 Jun 12

Chalttal, Chalttalchopf, Silberspitz, Hochmättli, Etscherzapfen
PStraub hat schon über diese Tour berichtet. Es gibt einige Anmerkungen. Von Merlen aus ging's los. Die Brücke bei Gspon gibt es nicht mehr. Es ist beim momentanen Wasserstand nicht ganz einfach, über den Bach zu kommen, aber mit etwas suchen ging es. Ich bin direkt das Chalttal hinauf. Im Moment hat es oben genügend Schnee,...
Published by 22 June 2012, 13h29 (Photos:8)