Fuorcla Traunter Ovas 3014 m
9886 ft.
---
Pass in

18 hike reports

, 22 photo(s). Last visited :

25 Aug 20


Geo-Tags: CH-GR
Photos (22)
---
By Publication date · Last favs · By Popularity · Last Comment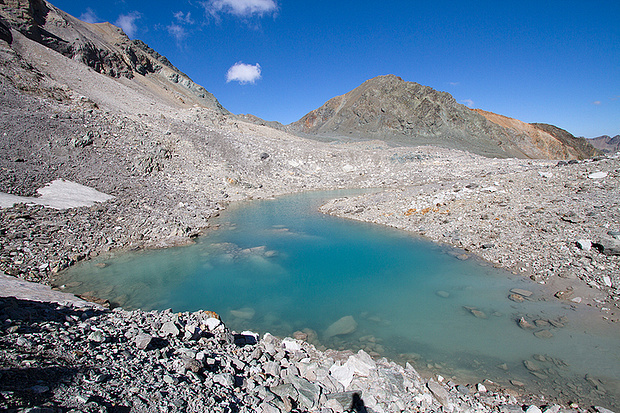 Gletschersee falls man das noch so nennen darf. Von der Gletscher ist nicht viel mehr zu sehen. © Marcel und Desiree
---
Reports (18)
---

Farbenspiel am Piz Traunter Ovas, 3.152m
Der Piz Traunter Ovas befindet sich zwischen Julier Pass und Val Bever, etwas versteckt hinter dem Piz Surgonda. Im Sommer wird er daher selten begangen, öfter wohl im Winter von der Chamanna Jenatsch. Im Sommer ist der kürzere - aber nicht ganz unbeschwerliche - Weg vom Julier Pass die erste Wahl. So sind drei Pässe (Fuorclas)...
Published by 26 August 2020, 10h36 (Photos:39 | Comments:1)

Piz Traunter Ovas 3151mt
      Ritorno con 3K dalle ferie Vista da Giorgio - (giorgio59m) Eccoci di ritorno dalle ferie, e visto che non abbiamo ancora ripreso il lavoro, ci concediamo una uscita infrasettimanale. Considerato...
Published by 28 August 2020, 10h05 (Photos:84 | Comments:19 | Geodata:1)
| | | |
| --- | --- | --- |
| Oberhalbstein | T4 | 17 Aug 19 |

Piz Traunter Ovas (3151 m) - hike from the Julier pass
Piz Traunter Ovas (3151 m) is a colorful mountain north of Piz Surgonda. Like on Tschima da Flix, the rocks often have a reddish, sometimes even orange color. Start of the hike at 8:40 AM at the Julier pass road (La Veduta). I followed the white-red-white marked trail in direction Fuorcla d'Agnel. After the pass, I continued...
Published by 17 August 2019, 21h58 (Photos:39 | Geodata:1)
| | | |
| --- | --- | --- |
| Oberhalbstein | PD+ | 30 Mar 19 |

Piz Surgonda (3195 m) & Tschima da Flix (3301 m) - ski tour from La Veduta
Start of this ski tour near La Veduta at the Julier pass road at 6:15 AM (after first driving for two hours to get there...). On the way to Piz Surgonda, I passed on the east side of Corn Alv. I was briefly considering hiking on foot to the main summit of Corn Alv, but it looked like it would be quite a struggle, so I did not try...
Published by 31 March 2019, 14h28 (Photos:26 | Geodata:1)

Piz Traunter Ovas (3151m) Überschreitung
Piz Traunter Ovas haben wir schon mal besucht Bericht, ist aber ein zweiter Besuch sicherlich wert. Diesmal möchten wir eine bessere Sicht auf der Gletscher unterhalb von Piz Surgoda. Daher versuchten wir einem Weg zu finden über der West Grat. Ausgiebigem Kartenstudium hat uns eine mögliche Route gebracht. Zeit um es in der...
Published by 1 August 2018, 18h27 (Photos:29 | Comments:2 | Geodata:1)
| | | |
| --- | --- | --- |
| Oberengadin | PD+ | 11 May 18 |

Piz Traunter Ovas (m 3151) e Piz Surgonda (m 3195) dalla Chamanna Jenatsch.
La Val d'Agnel è un largo vallone che dallo Julierpass si inoltre in direzione Nord per raggiungere la cresta spartiacque con la Val Bever alla Fuorcla d'Agnel (m 2982), ampia sella fra il Piz d'Agnel (m 3204), a ovest, e il Piz Surgonda (m 3195) a est. La zona offre molte mete scialpinistiche in parte fattibili anche in...
Published by 22 May 2018, 00h50 (Photos:25 | Comments:2 | Geodata:1)

SKT Tour Piz D'Agnel-Tschima da Flix-Piz Traunter Ovas-Fuorcla Margun
Gran bel tour con condizioni non facili, con Mika e Thomas alle prime armi, quindi ancora meglio per la sua esperienza. La meteo dà nuvoloso e con poco sole fino alle 12:00. quindi si parte presto dalla Veduta Julierpass, alle 6:30 con frontale iniziamo a salire a buon passo la Val D'Agnel, mi tocca tracciare perchè il vento...
Published by 18 February 2018, 16h51 (Photos:8)
| | | |
| --- | --- | --- |
| Oberhalbstein | AD | 22 Apr 17 |

"Piz Geröllhalde" und sein steiniger Nachbar (Traunter Ovas) - ein Hoch auf das Rätoromanische
Wenn ein Berg sich schon "Geröllhalde" nennt, spricht Vieles dafür, ihn im Winter zu besteigen - mit der Geröllhalde unter dickem Schnee. Freilich würde niemand einen Berg im Deutschen als Geröllhalden-Gipfel bezeichnen - gut, dass man dies im Rätoromanischen ohne die dem Deutschen eigentümliche Härte mit den Worten "Piz...
Published by 25 April 2017, 19h29 (Photos:25 | Comments:2)

Piz Traunter Ovas, 3152 m
Vom Parkplatz an der Julierpassstrasse stiegen wir bei angenehmen Temperaturen zur Fuorcla d`Agnel hoch. Von der Fuorcla rutschen wir mit den Fellen so hoch wie möglich unter dem Surgondazum westseitigen Anstieg, welcher von der ChamannaJenatsch heraufzieht und zur Fuorcla Traunter Ovas leitet. Kurz vor der Fuorcla Traunter Ovas...
Published by 3 April 2017, 19h05 (Photos:12)
| | | |
| --- | --- | --- |
| Oberengadin | PD+ | 22 Jan 17 |

Corno Suvretta, Surgonda, Piz Traunter Ovas
Andiamo a mettere il naso anche in Engadina per tastare la situazione neve. I -20 gradi nella piana del lago dopo il Passo del Maloja ci preoccupano un pochino ma poi salendo la situazione migliora e arriviamo ai più caldi -14 .... Questo tour nasce con un'idea il sabato sera per poi modificarsi strada facendo, man mano che la...
Published by 28 January 2017, 18h49 (Photos:26 | Comments:3 | Geodata:1)