Fuorcla Alva 2791 m
9154 ft.
---
Pass in

20 hike reports

, 4 photo(s). Last visited :

25 Aug 20


Geo-Tags: CH-GR
Photos (4)
---
By Publication date · Last favs · By Popularity · Last Comment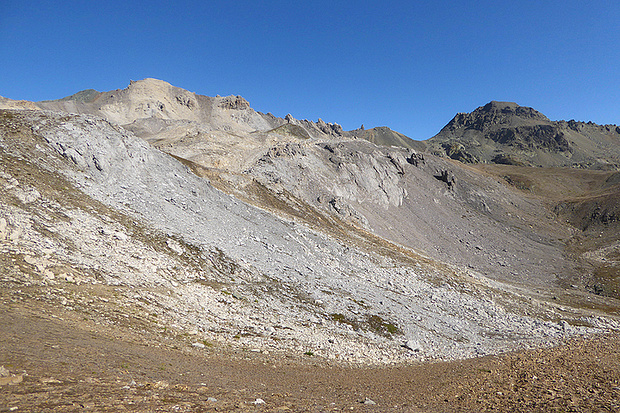 Der Weiterweg gesehen ab Fuorcla Alva. Der nächste Pass ist schon in Sichtweite. Der Wanderweg ist noch für ein paar hundert Meter sichtbar, danach muss man selber seinen Weg finden. © Marcel und Desiree
---
Reports (20)
---

Farbenspiel am Piz Traunter Ovas, 3.152m
Der Piz Traunter Ovas befindet sich zwischen Julier Pass und Val Bever, etwas versteckt hinter dem Piz Surgonda. Im Sommer wird er daher selten begangen, öfter wohl im Winter von der Chamanna Jenatsch. Im Sommer ist der kürzere - aber nicht ganz unbeschwerliche - Weg vom Julier Pass die erste Wahl. So sind drei Pässe (Fuorclas)...
Published by 26 August 2020, 10h36 (Photos:39 | Comments:1)

Piz Traunter Ovas 3151mt
      Ritorno con 3K dalle ferie Vista da Giorgio - (giorgio59m) Eccoci di ritorno dalle ferie, e visto che non abbiamo ancora ripreso il lavoro, ci concediamo una uscita infrasettimanale. Considerato...
Published by 28 August 2020, 10h05 (Photos:84 | Comments:19 | Geodata:1)
| | | |
| --- | --- | --- |
| Oberhalbstein | T4 | 17 Aug 19 |

Piz Traunter Ovas (3151 m) - hike from the Julier pass
Piz Traunter Ovas (3151 m) is a colorful mountain north of Piz Surgonda. Like on Tschima da Flix, the rocks often have a reddish, sometimes even orange color. Start of the hike at 8:40 AM at the Julier pass road (La Veduta). I followed the white-red-white marked trail in direction Fuorcla d'Agnel. After the pass, I continued...
Published by 17 August 2019, 21h58 (Photos:39 | Geodata:1)

Piz Traunter Ovas (3151m) Überschreitung
Piz Traunter Ovas haben wir schon mal besucht Bericht, ist aber ein zweiter Besuch sicherlich wert. Diesmal möchten wir eine bessere Sicht auf der Gletscher unterhalb von Piz Surgoda. Daher versuchten wir einem Weg zu finden über der West Grat. Ausgiebigem Kartenstudium hat uns eine mögliche Route gebracht. Zeit um es in der...
Published by 1 August 2018, 18h27 (Photos:29 | Comments:2 | Geodata:1)
| | | |
| --- | --- | --- |
| Oberhalbstein | PD | 20 Apr 18 |
Piz Surgonda 3196 m - Zu früher Morgenstunde
Der Piz Surgonda ist einer der beliebtesten Skiberge am Julierpass. Er ist einfach und rasch erreichbar, bietet aber dennoch nebst einem hervorragenden Gipfelpanorama genügend Abfahrtsspass. Jetzt bei den herrlichen Firnverhältnissen lohnt es sich besonders, ihm einen Besuch abzustatten. Und Schnee liegt noch in Hülle und...
Published by 20 April 2018, 13h06 (Photos:24)
Oberhalbstein

T4+

I

17 Jul 17

Piz Surgonda (3196 m) and a few more peaks
This hike was mainly inspired by hike reports from ivo66 describing various hikes in the area. It ended up being a really nice hike with picture perfect weather in the morning. But it was also quite strenuous with the craggy and rocky grounds, and all the loose scree. Start of the hike at 7:00 at the Julier pass road (La...
Published by 18 July 2017, 11h02 (Photos:33 | Geodata:1)
| | | |
| --- | --- | --- |
| Oberhalbstein | T4 | 4 Jul 17 |

Piz Surgonda (3195m)
Die Region rundum Piz Surgonda hat immer eine große Anziehungskraft auf uns, vor allem wegen die vielfaltig kolorierten Felsen. Diesmal war Piz Surgonda, Ostgipfel an der Reihe. Der Westgipfel lassen wir uns schenken, zu ausgesetzt. Jedenfalls versprach die Landeskarte Aussicht auf Piz Traunter Ovas, Tschima da Flix und Piz...
Published by 25 November 2018, 11h16 (Photos:21 | Geodata:1)
Piz Surgonda 3196 m - Aus dem Valletta dal Güglia
Der Piz Surgonda ist nicht ohne Grund einer der beliebtesten Skiberge im Oberhalbstein: Ohne Hüttenübernachtung gelangt man nach gut 1000 Höhenmetern zu einem Aussichtspunkt, der seinesgleichen sucht. Auf der Gratschneide zwischen dem Oberhalbstein und dem Engadin bietet der knapp 3200 m. ü. M. hohe Gipfel ein Panorama vom...
Published by 1 January 2017, 19h07 (Photos:24 | Comments:2)
| | | |
| --- | --- | --- |
| Oberhalbstein | PD | 3 Dec 16 |

Piz Surgonda 3196 m
Prima uscita Skialp della stagione, certo si poteva far di meglio indubbiamente. Sapevo che la neve sarebbe stata poca e crostosa ma il tempo è tiranno e quando si hanno le ore contate e si vuole comunque respirare aria fina bisogna capitalizzare il massimo possibile. Comunque per me resta sempre una vetta di grandissimo piacere...
Published by 5 December 2016, 17h18 (Photos:11 | Comments:5)

Piz Traunter Ovas (3151m), der abgelegene orangene Berg
Der Piz Traunter Ovas war uns schon aufgefallen auf unsere Touren nach Piz d'Agnel und Tschima da Flix. Die Schöne Farben und die Möglichkeit um einen besseren Blick auf dem Gletscher unterhalb von Piz Surgonda machten uns neugierig. Einige Recherchen auf Hikr brachte uns dann eine geeignete Route über Fuorcla Margun. Das...
Published by 7 November 2017, 20h11 (Photos:33 | Geodata:1)