Vorab Pign 2896 m
9499 ft.
---
Peak in

10 hike reports

, 66 photo(s). Last visited :

23 Aug 19


Geo-Tags: CH-GR, Segnas-Vorabgruppe
Photos (66)
---
By Publication date · Last favs · By Popularity · Last Comment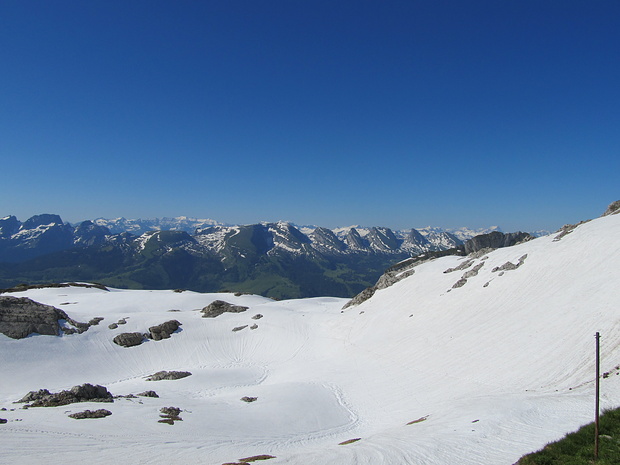 Bei dem Panorama kann man nicht meckern Das Karrenfeld auf der Südseite noch dick eingepackt in Schnee. © alpstein
---
Reports (10)
---
Surselva

T3+

F

F

23 Aug 19

Vorab 3000 - bike & hike in the ski area of Flims Laax
For a long time I had planned to do a bike & hike from Laax to Bündner Vorab and Glarner Vorab, but due to other projects, it did not happen until today. When I last week saw photos from a friend's bike tour in the area, it again reminded me of my dormant plan. I started off around 7:30 AM from Laax. At the start, the...
Published by 24 August 2019, 09h34 (Photos:32 | Geodata:1)

Gletscherhorn - Glarner Vorab - Bündner Vorab (ÖV)
Anreise Mit Bus nach Elm Station, Fussmarsch zur Tschinglenbahn und damit hoch nach Nideren Route Niederen - Martinsmadhütte - Gletscherhorn - Glarner Vorab - Bündner Vorab - Vorab Pign - Crap Sogn Gion Rückreise Mit Seilbahn nach Laax und von dort mit Postauto in Richtung Chur zurück Aufstieg Martinsmad bis...
Published by 21 September 2018, 09h15 (Photos:63 | Comments:4)

Vorab Pign (2897) und Crap Masegn (2516) - Aufstieg ab Siat und hinab über Crap Sogn Gion nach Flims
Tags zuvor auf einer Wanderung über den Fil da Rueun war mir der Vorab Pign aufgefallen, oder besser gesagt sein Südgrat: schmal und geradlinig zum Gipfel führend, dazu bereits vollkommen schneefrei.   Wie ich am Abend dann bei meiner Recherche feststellen musste ist diese Gegend bei hikr aller­dings kaum...
Published by 28 June 2018, 01h16 (Photos:55)

Der Dritte Weg - Zwölfihorn und Bündner Vorab (3028 m)
Vor ein paar Tagen ist Bergamotte auf dieser Tour durch das Schwarzwändli auf- und via Grischsattel abgestiegen. Diese Routen sind blau-weiss markiert. Doch nur wenige wissen, dass es aus dem Martinsmad-Kessel noch einen "dritten Weg" auf den Vorabgletscher gibt: die Route via Zwölfihoren. An der Konferenz von Bandung wurde...
Published by 18 August 2017, 08h43 (Photos:18 | Geodata:2)

Gletscherhorn - Vorab - Laaxer Stöckli - Ofen
Knapp hundertmal war ich in den letzten Jahren im Glarnerland unterwegs. Entsprechend gut kenne ich die Region. Doch ganz im Süden des Kantons klafft im Tourenportfolio eine riesige Lücke: die Segnas-Vorabgruppe. Nachdem ich kürzlich am Mittetaghorn erstmals die Fühler ausgestreckt habe, folgt heute eine grosszügige...
Published by 6 August 2017, 20h52 (Photos:28 | Geodata:1)

Ofen, Laaxer Stöckli, Glarner und Bündner Vorab - von Elm nach Laax
Der Wetterbericht hat eigentlich recht gutes Wetter mit Gewitterneigung gegen Abend gemeldet. Daher bin ich ziemlich erstaunt über die dunklen Wolken gegen das Glarnerland hin. In Elm sind die Strassen nass und wie mir später erzählt wird, hat es am Morgen noch zünftig geregnet. Die Route ist wie gewohnt in den Fotos...
Published by 19 August 2013, 18h53 (Photos:30)
Surselva

T5

PD-

I

18 Jul 12

Bergtour auf den Vorab
Ausgefallene Tourenziele in und über der Skiarena von Flims/Laax Eine Bergtour auf den Vorab? Wie blöd ist denn das? Im Winter tummeln sich tausende von Snowboardern und Skifahrern auf dem Vorabgletscher. Die ganze Skiarena ist ein einziger Ameisenhaufen. Im Sommer sieht das aber ganz anders aus: Nur wenige Bahnen sind...
Published by 7 August 2012, 18h57 (Photos:59)

Vorab Pign (2897 m)
Berggänger mit eingebautem Herzschrittmacher sollten zu Beginn dieser Tour die Super-Boost-Turbo-Funktion unbedingt auf Stellung 14c setzen, da sonst der Elektrosmog der Hochspannungsleitungen den Kreislauf derart ankurbeln könnte, dass man mit durchdrehenden Beinen und mit ca. 42,4 km/h den Berg hoch spult... Aber das...
Published by 3 October 2009, 14h48 (Photos:32 | Geodata:1)
Versuch Vorab 3028m Westwand
Kürzlich wurde von lokalen Kletterern die klassische Route in der Vorab Westand komplett saniert. Die Linie wurde begradigt und mit vielen Inox-Bohrhaken versetzt. Grund genug, dachten wir, dieses Projekt doch einmal in Angriff zu nehmen. Doch ganz klappen, sollte es leider nicht. Im neuen Glarner Kletterführer sowie unter...
Published by 27 August 2009, 21h35 (Photos:9 | Comments:2)
Surselva

T5

F

I

WT5

23 Dec 06

Vorab Pign 2897m, Bündner Vorab 3028,0m und Glarner Vorab 3018m
ÜBERSCHREITUNG ALLER DREI VORABS IM WINTER. Die Vorab-Gipfel sind für Bergsteiger trotz der hervorragenden Aussicht eher uninteressant da der Fels sehr brüchig ist und sie zudem für jedermann im Winter von der Bergstation des Skiliftes auf dem Vorabfirn erwanderbar sind. Der Vorab Pign zudem ist ein...
Published by 23 December 2006, 21h00 (Photos:21 | Comments:3)