Lai Grond 2594 m
8508 ft.
---
Lake in

13 hike reports

, 26 photo(s). Last visited :

15 Jun 18


Geo-Tags: CH-GR
Photos (26)
---
By Publication date · Last favs · By Popularity · Last Comment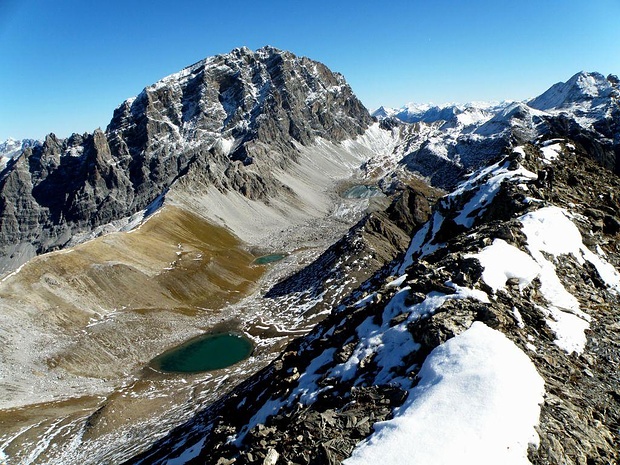 Auch dieser Blick ist einfach überwältigend und zugleich blickt man zu unseren weiteren Aufstieg zum Fuorcla da Tschitta © Flylu
---
Reports (13)
---
Oberhalbstein

T5-

F

F

15 Jun 18

Piz Val Lunga (3077 m) - bike & hike from Tinizong
Piz Val Lunga (3077 m) is a peak which requires quite a long ascent/descent when you start from Tinizong or Savognin. Start of the hike just above the village of Tinizong at elevation 1320 m. I followed the alp road in direction Alp d'Err, mostly walking the bike. The road is paved up to Tgant Pensa. In Val d'Err I spotted...
Published by 15 June 2018, 22h49 (Photos:24 | Geodata:1)

Über Pass digls Orgels und Fuorcla da Tschitta nach Preda
Diese Tour hat uns vor zwei Jahrren so fasziniert, dass wir sie unseren Vereinsmitgliedern von NF nicht vorenthalten wollten. Dem Wetterbericht gehorchend, der von starken Gewittern über Dauerregen bis trocken alles prophezeit, steigen wir um 9.15 in Bergün mit Regenutensilien bewaffnet aus dem Zug. Gottseidank brauchen wir...
Published by 31 August 2017, 17h53 (Photos:77 | Comments:2 | Geodata:2)
Oberhalbstein

T4

I

16 Oct 16

Von Bergün via Pizza Grossa 2939müM nach Preda
Da wir eine Woche Herbstferien vor uns haben aber die Wetteraussichten für die kommende Woche eher trüb sind, am Sonntag aber perfektes Wanderwetter angesagt wurde nutzen wie diese Gelegenheit beim Schopf. Nach einer stressfreien Fahrt am frühen Sonntagmorgen sind wir, Bruno, Fly und ichkurz nach sieben Uhr im Bergün bei...
Published by 17 October 2016, 15h32 (Photos:50 | Comments:6)
| | | |
| --- | --- | --- |
| Oberhalbstein | T5 | 1 Jul 16 |
Piz Val Lunga 3078 m - im Angesicht des Piz Ela
Auf kaum einer anderen Bergtour erlebt man den mächtigen Piz Ela derart intensiv und von so nahewie auf dem benachbarten, kleineren Piz Val Lunga. Wie der grosse Bruder liegen auch die beiden von mir heute bestiegenen Gipfel (Piz Val Lunga und Cuetschens),letzterer sogar ganz unverhofft als hikr-Premiere,auf der Gratschneide,...
Published by 1 July 2016, 19h13 (Photos:32)

Ela-Runde mit Abstechern
An diesem schönen Wochenende wollten wir eine vor einigen Jahren gemachte Tour wieder ins Gedächtnis rufen. Damals ging es ebenfalls von Bergün aus zur Elahütte. Dann aber hatten wir das Tinzenhorn und am anderen Tag den Piz Ela auf dem Programm.Diesmal sollte es etwas entspannter aber nicht weniger genussvoll werden . Von...
Published by 16 September 2015, 20h41 (Photos:17)

Chamonas d'Ela - Pass digls Orgels - Pass d'Ela - Fuorcla da Tschitta
Ein lange gehegter Wunsch geht endlich in Erfüllung. Schon einige Jahre schwärmt Krokus von einer mehrtägigen Tour im Parc Ela und einer Übernachtung in der einsamen Ela-Hütte. Überreden muss sie mich ja nicht, aber entweder hatten wir immer andere Pläne oder früher Wintereinbruch in der Höhe verumöglichte die...
Published by 30 August 2015, 00h06 (Photos:48 | Comments:6 | Geodata:2)
| | | |
| --- | --- | --- |
| Oberhalbstein | T4+ | 10 Aug 14 |
Pizza Grossa 2939 m - Inmitten grosser Dolomitburgen
Die Pizza Grossa liegt vom Oberhalbstein aus betrachtet unmittelbar vor den Bergüner Stöcken (Piz Mitgel, Corn da Tinizong und Piz Ela). Er unterscheidet sich von diesen aber nicht nur durch seine bedeutend geringere Höhe, sondern insbesondere wegen seinem Gestein, welches im weiten Gipfelbereich aus dunklem Schiefer besteht,...
Published by 10 August 2014, 20h08 (Photos:28)
| | | |
| --- | --- | --- |
| Oberhalbstein | T4+ | 12 Jul 13 |

Elatour halbe & Gipfelbuchrettung Pizza Grossa
Die klassische Umrundung des Piz Ela ist wohl eine der schönsten Wandertouren in Mittelbünden. Dabei betrachtet man den Dolomit-Koloss aus allen möglichen Perspektiven, Labyrinthe aus Schluchten, Felstürmen und Bändern. Die Perlen der Tour sind die südseitigen, sehr abgelegenen Seen auf über 2500m. Und das Val Mulix sucht...
Published by 15 July 2013, 17h14 (Photos:16)

Tour du Piz Ela, de Preda à Filisur
Humm, un peu le sentiment d'avoir brûlé un joker sur ce coup là (cf conditions), vraiment pas fier. Toujours pas compris comment les conditions, très saines sur la quasi totalité du parcours, ont pu nous piéger à ce point sur un petit bout de vallon, comme si le vent avait soufflé en ouragan à cet endroit précis et pas...
Published by 13 March 2012, 14h52 (Photos:12 | Geodata:1)

Parc Ela
Nach einer Postautofahrt über die Lenzerheide und einmaligem Umsteigen in Tiefencastel starten wir die Tour in Alvaneu Bad. Zuerst gehts auf die andere Seite der Albula, an einem Golfplatz vorbei. Der Weg ist relativ schlecht ausgeschildert. Man zweigt ab in einen Waldweg orographisch rechts des Schaftobelbachs, angeschrieben mit...
Published by 10 August 2011, 12h15 (Photos:17 | Geodata:1)