Lägh da la Duana 2466 m
8088 ft.
---
Lake in

11 hike reports

, 22 photo(s). Last visited :

25 Jul 18


Geo-Tags: CH-GR
Photos (22)
---
By Publication date · Last favs · By Popularity · Last Comment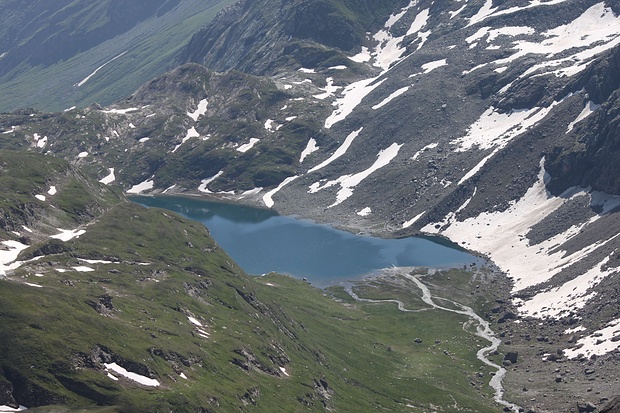 Lägh da la Duana (2466 m). Questo lago non ha emissari. Le sue acque penetrano tra le fessure della roccia e sgorgano presso Vicosoprano. © siso
---
Reports (11)
---

Piz Duan 3131 m / Gletscherhorn 3107 m
Der Piz Duan viel mir schon vor 30 Jahren auf, als ich das erste Mal auf dem Piz Turba stand. Damals hatte es noch wesentlich mehr Schnee als heute, das zeigt auch der Beschrieb des Führers, der schon in die Jahre gekommen ist. Weil der Piz Duan aber so abgelegen ist, erfordern seine Zustiege eine lange Zeit. Einst wollten wir...
Published by 26 July 2018, 22h48 (Photos:39 | Comments:4)

Piz Duan
Oggi, anche per evitare i probabili affollamenti sulle classiche gite dell'Engadina, ci fermiamo a Casaccia ... così ... una gita ... scelta a ... casaccia ... vabbè ... ricominciamo. Parcheggiamo vicino al piccolo cimitero del paese e ci avviamo sulla strada che passa di fianco allo skilift e che dopo qualche tornante in...
Published by 26 February 2018, 21h02 (Photos:32 | Comments:12 | Geodata:1)
Bregaglia

T5+

F

I

13 Aug 16

Piz Blanch, Piz Cam and Piz Duan
How to get as far away from the Street Parade as possible, both geographically and in terms of atmosphere? A two day solo hike with bivouac in the Val Bregaglia seemed about right. The main inspiration for this route came from the Rother Selection "Schweiz 3000" guidebook, as well as from marmotta's 2012 Hikr report. Day 1...
Published by 18 August 2016, 21h19 (Photos:81 | Geodata:2)

Gletscherhorn - von Juppa nach Casaccia
Die Einsamkeit gesucht und gefunden - die heutige Tour führt mich von Juppa durchs Bergalga aufs Gletscherhorn und weiter durchs Val Maroz nach Casaccia im Val Bregaglia. Andere Menschen sehe ich heute nur im Postauto. Ab Juppa, welches auf gut 2000 m.ü.M. liegt, laufe ich auf einer Naturstrasse dem...
Published by 29 October 2015, 09h06 (Photos:25)
Bregaglia

T6-

F

II

31 Aug 13

Piz Duan per la cresta NE
Oggi sono solo ma visto che era un pò di tempo che volevo salire al Piz Duan che Duan sia. Carico la traccia sul GPS ma ad un certo punto mi accorgo che non è quella giusta torno allora sui miei passi andando a cercare dei segni evidenti di vernice gialla e rossa, in realta un pò radi che mi indirizzano su una cresta che...
Published by 21 April 2014, 12h10 (Photos:3 | Geodata:1)
Piz Duan 3131 m - die Königstour im Bergell
Der Piz Duan ist einer derabgelegensten Berge Graubündens. Er trohnt in einer abgeschiedenen Berglandschaft zwischen dem Bergell und dem Avers. Um sein unvergleichbares Gipfelpanorama bestaunen zu können, muss man - auf welcher Route auch immer - lange Zustiege und anschliessende Abstiege bewältigen.Der alte SAC-Clubführer...
Published by 21 August 2013, 22h06 (Photos:32 | Comments:6)
Bregaglia

T5

F

I

15 Sep 12

La traversata del Piz Duan 3130 m.
pm 1996 : …e anche questa mole rocciosa merita. Premessa : Facile ma non troppo, sarà stata la neve, saranno state le scarpette, ma richiede attenzione. Ci troviamo come al solito nelle ultime due setimane al buio direzione questa volta val Bregaglia.Il gruppo è più ristretto, ma sempre affamato di montagna....
Published by 19 September 2012, 16h13 (Photos:231 | Comments:17 | Geodata:3)

Da Casaccia a Soglio per il Pass da la Duana, m 2694
By grandemago Incontriamo cacciatori e pescatori, ognuno in cerca delleloro prede. Io, pigro.....le prede me le sono portate da casa: Lella, Memi, Patrizia, Esilde, Marica.....grazie per la bella giornata!   By patripoli Val Bregaglia. Ho sempre pensato che, se ci fossero altre vite, in una di quelle...
Published by 11 September 2011, 20h31 (Photos:47 | Comments:8)

Piz Duan 3131 m
Ancora Svizzera e precisamente la Val Maroz. Qui non conosciamo assolutamente nulla ma di questa valle abbiamo sentito meraviglie. Partiamo da Casaccia, nessuno in giro, ma gli svizzeri esistono? Si posteggia al cimitero, da qui parte una sterrata, chiusa al traffico, che sale alla malga Maroz Dora. Poco dopo averla imboccata...
Published by 4 July 2011, 14h52 (Photos:23 | Comments:1)

Val de la Duana
C'est une longue balade qui nous attend, qui se fera en une seule journée (départ le matin de Zürich mais hébergement le soir à Soglio) mais nous verra arriver de nuit. Nous quittons le petit village de Casaccia (1460m) à l'entrée du Val Bregaglia vers 10h le matin. Après une montée assez douce, nous entrons dans le...
Published by 15 June 2008, 16h56 (Photos:27)