Felsberger Calanda 2697 m
8846 ft.
---
Peak in

12 hike reports

, 134 photo(s). Last visited :

18 Sep 19


Geo-Tags: Calanda, CH-GR, CH-SG
Photos (134)
---
By Publication date · Last favs · By Popularity · Last Comment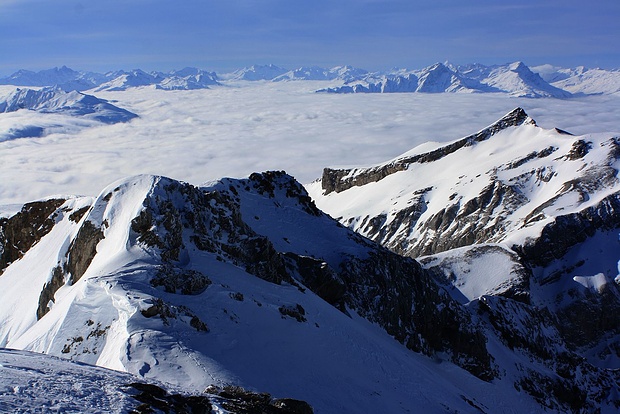 Aussicht vom Haldensteiner Calanda (2805,7m) über den obersten Teil des begangenen Südgrates hinüber zum Felsberger Calanda (2697m). © Sputnik
---
Reports (12)
---

Felsberger Calanda
Spontan frei genommen, um eine tagesfüllende Tour zu unternehmen. Da alleine unterwegs wieder technisch nicht zu fordend angesetzt möchte ich auf den Felsberger Calanda. Der Start ist am Bahnhof in Felsberg, zunächst etwa 20 Minuten einlaufen, bis man am Waldrand ankommt. Der zunächst geteerte Forstweg windet sich recht...
Published by 27 September 2019, 22h59 (Photos:24)
Calanda

T5+

II

F

28 Jul 18

Felsberger Calanda via Südgrätli (Bike+Hike)
Bike+Hike Tour am frühen Morgen von Chur auf den Felsberger Calanda mit einer neuen, spannenden Kraxelroute Aus dem Tal auf die Calanda-Gipfel ist immer streng, aber natürlich auch schön - wenn man denn schon einen >2000 Höhenmeter Aufstieg vor der Haustür hat, will der auch ab und zu mal gemacht sein. Während ich in...
Published by 28 July 2018, 11h17 (Photos:17)

Felsberger Calanda (2697 m) - bike & hike from Unterkunkels
Start of the hike in Unterkunkels at 08:30 in the morning. With the mountain bike I followed the road towards Kunkelspass. This road is paved all the way. Somewhere past Oberkunkels as it became steeper, I mostly walked the bike. Near Kunkelspass, I left my mountain bike behind, and continued on foot up the white-red-white...
Published by 9 September 2017, 12h02 (Photos:44 | Comments:4 | Geodata:1)
St.Gallen

T5-

PD

24 Sep 16

Calanda-Trilogie und St. Gallens südlichster Punkt
Nach dem Ringelspitzund der Bike-Tour zu den nordöstlichen Extrempunktenfehlte nur noch der südlichste Punkt St. Gallens. Dieser liegt bei P. 2362 (Sattel), zwischen Taminser und Feldberger Calanda. Die Idee, das mit einer Überschreitung der Calanda-Hauptgipfel zu verbinden, war so naheliegend, dass sogar ich darauf kam....
Published by 24 September 2016, 21h01 (Photos:20)

Calanda +
Die komplette Calanda-Überschreitung in einem Stück Wetter und Zeitpunkt gut passend um die Calanda Gegend kennen zu lernen. Es gibt schon viele gute Berichte zb 1, 2, 3, wo von einer Teils-Überschreitung die Rede ist. Aber keinen Bericht wo das ganze Calanda-Massiv Überschritten wird und zwar in direkter Linie von Bad...
Published by 27 August 2016, 17h46 (Photos:43 | Geodata:1)

Felsberger Calanda ab Kunkelspass
Calanda-Überschreitung West - eine traumhafte Bergtour bei winterlichen Bedingungen Während der nordöstliche Teil der Calanda-Überschreitung eine teilweise exponierte Tour ist, sind die Grate und Felskämme südwestlich des Felsberger Calandas breit und aussichtsreich - und sehr einsam. Der Güllenchopf zwischen Taminser...
Published by 5 May 2016, 18h19 (Photos:21 | Comments:1)
Calanda

T5+

AD-

III

18 Aug 14

Calanda Überschreitung
Eine Tour für Steinböcke und Bierliebhaber – die (fast) komplette Calanda-Überschreitung Obwohl man ohne ein Calanda kaum über den Calanda kommt: Eine Tour für zu grosse Bierbäuche ist dies nicht, will man am Napoleon nicht sein persönliches Waterloo erleben. Etwas weniger kryptisch: Die Überschreitung vom Berger...
Published by 20 August 2014, 11h42 (Photos:32 | Comments:4)
Calanda

T6-

III

12 Nov 11

Haldensteiner & Felsberger Calanda (2806 & 2695 m)
Grandiose Kombination-Tour hoch über dem Rheintal [Tour AlpinosM im Alleingang] Das Calanda-Massiv verzeichnet auf der Karte gleich vier Gipfel mit dem Namen der bekannten Graubündner-Biermarke - die beiden höchsten, den Haldensteiner und den Felsberger Calanda, wollte ich heute besteigen. Als Tagestour mit 2600...
Published by 13 November 2011, 19h32 (Photos:27 | Geodata:1)

Calanda-Überschreitung (2 Gipfel + 1 Bier)
Der erste Oktobersonntag schien wie geschaffen für diese Wanderung. Es wurde ein weitgehend wolken- und nebelfreier und vor allem warmer Herbsttag angekündigt, und das war keineswegs zuviel versprochen. Beste Bedingungen also für diese XXL-Wandertour, die ich schon seit einer Weile unternehmen wollte, um die Grenzen...
Published by 6 October 2009, 23h34 (Photos:30)

Haldensteiner Calanda für Frühaufsteher
Der Wecker ging heute ungewöhnlich früh los. Das war natürlich gewollt, denn das Ziel war den Sonnenaufgang am Calanda zu geniessen. Um 5.00Uhr fuhr ich mit dem Auto in Haldenstein los und erreichte über den Alpweg um 5.30Uhr Punkt 1981 oberhalb des Neusäss. Dass ich nicht der einzige...
Published by 27 July 2009, 23h22 (Photos:20 | Comments:2)