Cholihütte 1093 m
3585 ft.
---
Hut in

15 hike reports

, 6 photo(s). Last visited :

14 Apr 17


Geo-Tags: CH-SG, Zürcher Oberland
Photos (6)
---
By Publication date · Last favs · By Popularity · Last Comment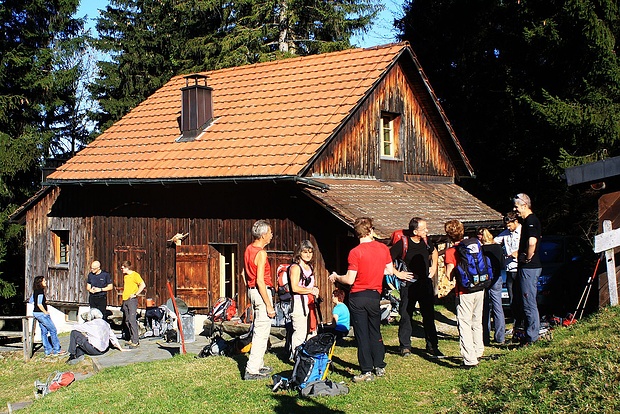 Foto vom 4.HIKR-Treffen in Cholihütte am 12./13.11.2011. Unsere Gruppe ist auf der Cholihütte (1093m) eingetroffen. © Sputnik
---
Reports (15)
---

De Wald à Wattwil, par la Höchhand et la Chrüzegg
English version here Une amie est venue passer le long week-end pascal en Suisse et nous avons l'intention de consacrer autant de temps que possible à la randonnée au cours des trois jours à notre disposition. Le printemps est arrivé, ce serait bien de commencer à constituer un semblant de forme physique en vue les mois...
Published by 20 April 2017, 19h42 (Photos:6)

Auf leisen Sohlen von Wald nach Libingen
Als ich von einer langen Bahnfahrt nach Hause komme, liegt ein Mail von Krokus vor: "Kommst du morgen auch mit, oder bist du zu müde?" Von wegen müde, das lass ich mir doch nicht entgehen, eine Schneeschuhtour im frisch verschneiten Oberland, sozusagen vor der Haustüre! Wir starten um 8 Uhr bei der Zürcher Höhenklinik in...
Published by 20 January 2015, 22h11 (Photos:38 | Comments:3 | Geodata:1)

Höchhand, Tössstock & andere ...
Für den Sonntag war schönes Wetter angesagt und ich wollte mich unbedingt wieder mal draussen betätigen und dies möglichst an der Sonne. Was jedoch unternehmen? Skifahren? – zu viele Leute. Skitour? – zu wenig Schnee oder zu heikle Verhältnisse. In der Nähe und somit in niederen Lagen wandern? – Risiko, dass man in der...
Published by 15 January 2014, 12h47 (Photos:32 | Geodata:1)

Farner: kids and schlittel and hike
Tobi und Lagopus rufen zwecks Veranstaltung eines gemeinsamen kids and hike-Happenings: Da lässt man sich natürlich nicht zwei Mal bitten… Start bei der zürcherischen Höhenklinik oberhalb Wald und auf dem bei vielen hikrn bekannten Weg über die unlängst in die Schlagzeilen geratene Cholihütte hoch zum Farner. Die 260...
Published by 16 February 2012, 20h20 (Photos:21 | Comments:2)

Hikr Treff 2011 - die Letzten werden die Ersten sein
Natürlich wieder einmalein typischerBerner!Er taucht erst auf, als aufgeräumt, geputzt und gepackt wird. Er hat gerade noch Zeit, sich auf dem abschliessenden Gruppenfoto in Szene zu setzen. Es reicht noch knapp, alle Hikr zu grüssen, in bekannte und unbekannte Gesichter zu schauen. In einemPunkt schlägt er aber alle...
Published by 16 November 2011, 08h56 (Photos:22 | Comments:11 | Geodata:1)

Hikr-Treff 2011 inclusive Schwarzenberg Ostwand
Endlich war es wieder soweit! Die meisten konnten es gar nicht abwarten und zählten förmlich die Tage bis zum diesjährigen Hikr-Treff. Der grosse Dank geht an Nordwand und dabuesse für die gesamte Organisation und nicht zuletzt für das Auswählen der Cholihütte. Das Wetter, ein Traum hier im Züri-Oberland! Vor einer...
Published by 13 November 2011, 12h45 (Photos:38 | Comments:2)

Hikr-Treffen 2011 - mit dem Schwarzenberg-E-Couloir
Wir vier älteren Semester nahmen es etwas gemütlicher im technischen Teil des Hikr-Treffens 2011 - anregend war's auf jeden Fall auch; doch davon später ... Bilderbuchwetter war dem Treffen beschieden; so konnte eine stattliche Gruppe beim Parkplatz Chrinnen den ersten kurzen Anstieg zur Cholihütte bei idealen...
Published by 13 November 2011, 14h25 (Photos:34 | Comments:3)

Nagelfluhgeschichten aus dem Zürcher Oberland - HIKR-Treff 2011
Hält sie oder hält sie nicht, das ist hier die Frage...Konkubinat mit Konglomerat....lieber die Wurzel in der Hand als den Stein auf dem Kopf...Fondue ins Kröpfchen, bis es leer ist das Töpfchen. Schon lange hatten wir uns auf dieses Wochenende gefreut und schon ist er wieder Geschichte, der HIKR-Treff 2011..und es hat uns...
Published by 13 November 2011, 14h52 (Photos:45 | Comments:12 | Geodata:1)

Hikr-Treff 2011 im ZH-Oberland incl. Schwarzenberg-Ostcouloir
Ein tolles Wochenende geht seinem Ende entgegen. Zeit das Hikr-Treffen im ZH-Oberland Revue passieren zu lassen, wobei das Meiste in den bereits publizierten Berichten schon gesagt ist. Wir waren sehr gespannt, die aus vielen Tourenberichten wohlbekannten Hikr's bei diesem Anlass leibhaftig kennenzulernen. Klasse war es und es...
Published by 13 November 2011, 16h51 (Photos:32 | Comments:6)

Hikr-Treff 2011: Schwarzenberg Ostwand
Wurzelklettern als Gruppenerlebnis. Ein Hikr-Treff in der Nähe und erst noch gutes Wetter, das wär doch die Gelegenheit, die digital bekannten Gesichter einmal in der Wirklichkeit zu sehen. Ich möchte noch mehr vom schönen Tag profitieren, so starte ich schon morgens mit einer Tour bis zur Cholihütte. Beim Aufstehen...
Published by 15 November 2011, 20h23 (Photos:45)