Bocchetta da la Furcela 2374 m
7787 ft.
---
Pass in

11 hike reports

, 2 photo(s). Last visited :

4 Aug 19


Geo-Tags: CH-GR
Photos (2)
---
By Publication date · Last favs · By Popularity · Last Comment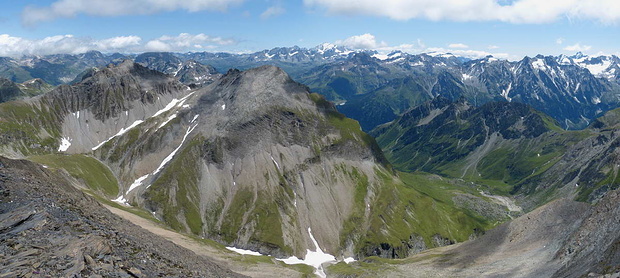 Panorama vom Piz Piot Hauptgipfel von ENE bis Südosten, vom Piz Julier bis Monte Disgrazia. © KraxelDani
---
Reports (11)
---

Pass da Cam mt 2456 anello da Roticcio
Con mio fratello Alberto siamo in val Furcela per fare il Piz Cam e vedere il bel panorama sui monti della Sciora, Cengalo e Badile ed anche per osservare il tratto franato del Cengalo. Partiamo da Roticcio (parcheggio gratuito per solo 5 auto) e saliamo dapprima per stradina e poi bel sentiero ripidino sino al bosco. La giornata...
Published by 7 August 2019, 20h29 (Photos:24 | Comments:2)

Piz Cam 2634 m
Anni fa eravamo stati al Piz Duan e avevamo notato l'indicazione per la Val di Cam e visto che c'era un omonimo Pizzo. Poi tutto è caduto nel dimenticatoio fino alla recente relazione di ivanbutti. La giornata è bella ma molto molto calda. Lasciamo l'auto al campo da tennis di Vicosoprano e imbocchiamo il sentiero nel...
Published by 29 June 2017, 09h44 (Photos:26 | Comments:4 | Geodata:1)

Piz Cam Mt. 2634 giornata fantastica
ivanbutti Era da un pò nella lista il Piz Cam, per cui quando Beppe lo propone aderisco subito. Partiamo da Roticcio verso le 07.30 in una giornata che si preannuncia molto ventosa, ma almeno non si suderà troppo, e di questi tempi non è poco. Poco dopo la partenza Lella non si sente in forma e pare voler mollare, per cui le...
Published by 20 June 2017, 23h06 (Photos:57 | Comments:6 | Geodata:1)

Piz Cam m 2634
Una giornata da cogliere al volo in previsione delle previste nevicate in quota, che mi costringeranno ad abbassare notevolmente il tiro (non skio, e se posso non ciaspolo). Fa un bel freddo quando c'incamminiamo da Roticcio per la Val Furcela, e la situazione non cambia nemmeno dopo Nambrun, ormai in pieno sole …...
Published by 5 November 2016, 15h46 (Photos:24 | Comments:25 | Geodata:1)
Bregaglia

T5+

F

I

13 Aug 16

Piz Blanch, Piz Cam and Piz Duan
How to get as far away from the Street Parade as possible, both geographically and in terms of atmosphere? A two day solo hike with bivouac in the Val Bregaglia seemed about right. The main inspiration for this route came from the Rother Selection "Schweiz 3000" guidebook, as well as from marmotta's 2012 Hikr report. Day 1...
Published by 18 August 2016, 21h19 (Photos:81 | Geodata:2)

Val da Cam mt 2433 -anello da Vicosoprano
Oggi sono solo e con previsioni meteo ottimali e come quasi tutti gli anni in questo periodo decido di effettuare la traversata della val da Cam in Bregaglia. Contrariamente ai precedenti seguo il giro inverso e cioè Vicosoprano-val da Cam-val Furcela-Vicosoprano. Lascio l'auto al parcheggio gratuito all'ingresso del paese che...
Published by 25 June 2015, 16h35 (Photos:44 | Comments:6)

Piz Cam in Val Bregaglia
Partiamocon l'idea di fare il Piz Duan, considerando che era una possibile meta per la gita di domenica scorsa e letti i report sull'itinerario. A Casaccia soffia un bel vento e scende qualche fiocco di neve. Siamo fiduciosi che le previsioni danno tempo decente e qualche miglioramento nel pomeriggio: così non sarà! La...
Published by 6 March 2014, 23h11 (Photos:9 | Comments:2 | Geodata:1)
Bregaglia

T6-

F

II

31 Aug 13

Piz Duan per la cresta NE
Oggi sono solo ma visto che era un pò di tempo che volevo salire al Piz Duan che Duan sia. Carico la traccia sul GPS ma ad un certo punto mi accorgo che non è quella giusta torno allora sui miei passi andando a cercare dei segni evidenti di vernice gialla e rossa, in realta un pò radi che mi indirizzano su una cresta che...
Published by 21 April 2014, 12h10 (Photos:3 | Geodata:1)

Piz Cam da Roticcio
La mattina è molto fresca quando parto da Roticcio verso le 7.30 diretto al Piz Cam, meteo permettendo. La salita è piacevole anche se il sole si lascia desiderare, passo da Nambrun e dall'Alp Furcela, e quando dopo due ore arrivo alla Bocchetta de la Furcela il vento diventa particolarmente insistente e freddo. Decido di...
Published by 27 August 2013, 16h35 (Photos:8)

Piz Cam (m.2634) da Casaccia
Montagna situata sul versante destro orografico della Val Bregaglia, sopra Vicosoprano. Partendo da Casaccia si raggiunge la cima con un ampio giro puntando prima a ovest lungo la Val Maroz e poi a sud. La prima parte è su sentiero nel bosco che taglia i tornanti della strada sterrata fino a sbucare, dopo circa 350 metri di...
Published by 2 July 2013, 17h10 (Photos:11)