Piz Duleda 2909 m
9542 ft.
---
Peak in

11 hike reports

, 52 photo(s). Last visited :

4 Oct 18


Geo-Tags: I
Photos (52)
---
By Publication date · Last favs · By Popularity · Last Comment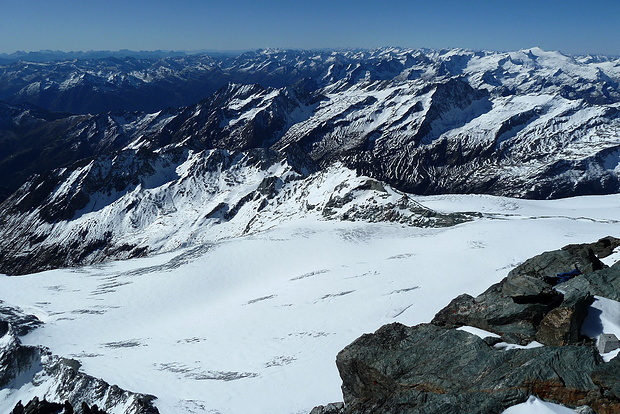 Vom Alpenhauptkamm geht der Blick südwestlich weiter bis zu den fernen Bergen der Ortler-, Presanella- und Brentagruppe. Links schließen sich die Zacken der Dolomiten an. © morphine
---
Reports (11)
---
Trentino-South Tirol

T3+

F

4 Oct 18
Stiller Alleingang auf den Piz Duleda
Um der Wandernarkolepsie einer Langkofelumspazierung zu entgehen, gehe ich heute allein und meines eigenen Weges. So kann ich getrost meinen dunklen wie auch lichten Gedanken nachhängen. Der Piz Duleda ist dafür ein adäquates Ziel. Den Einstieg kürze ich mit einer einsamen jedoch nicht ganz kostenlosen Fahrt auf den Col...
Published by 12 October 2018, 20h03 (Photos:36 | Geodata:1)
| | | |
| --- | --- | --- |
| Trentino-South Tirol | T2 | 7 Sep 17 |
Piz Duleda (2909m), Dolomiten
Vor gut 6 Jahren waren wir das letzte Mal im wunderschönen Langental unterwegs, damals war die östliche Puezspitze unser Ziel. Heute verschlug es mich eher zufällig hierher, denn Schuld war mal wieder das schwer vorhersagbare Wetter. Letztendlich erwies sich die Entscheidung als Glücksfall, denn das Wetter hielt einigermaßen...
Published by 9 November 2017, 11h35 (Photos:47 | Comments:4)
Trentino-South Tirol

T4+

I

PD-

28 Jul 16

Col dala Pieres + Piz Duleda
Finally, I've had another chance to visit the Dolomites, even if it was just for two days. The weather forecast for day one was not that great either, but we took our chance anyway, and we were rewarded for that. ---- We take the cable car up to Col Raiser and start in a slightly descending line past the Regensburger Hütte...
Published by 1 August 2016, 12h04 (Photos:51 | Geodata:1)
Trentino-South Tirol

T3

F

10 Jul 16

Piz Duleda (2909 m)
Chiara ......e vogliamo invece perderci un giro nel vicino parco Puez-Odle la domenica??? Non sia mai!!! ..... Il giro lo costruiamo strada facendo, prendendo spunto da una relazione di Cristina e Marco27, e tenendo sott'ochio sia il meteo (sono previste piogge nel pomeriggio), che l'incombenza della partenza per il rientro...
Published by 13 July 2016, 17h11 (Photos:39 | Comments:7 | Geodata:1)
Trentino-South Tirol

T3+

I

PD

1 Sep 15

Piz Duleda 2909m - Accanto all´Alta Via Dolomiti, gleich nebenan
Il Piz Duleda è vicino all´Alta Via Dolomiti No.2, ma nessuno si accorge di lui, tranne noi. Kein Mensch interessiert sich für den Piz Duleda, obwohl er nur ein paar Schritte neben dem vielbegangenen Dolomitenhöhenweg 2 liegt. Poco dopo il parcheggio si presenta, vista da qui una cima impressionante con la parete nord...
Published by 1 September 2015, 22h32 (Photos:20 | Comments:8)
Trentino-South Tirol

T4

PD

4 Jul 15

Piz Duleda (2909 mt.) - da Col Raiser
Si parte dalla stazione a monte della cabinovia Col Rasier (2107 mt., stazione a valle a Santa Cristina Val Gardena). Si segue in discesa il sentiero 4 per il rifugio Firenze su sentiero ghiaioso fino al Rif. Firenze (2037 mt.). Si continua in lieve discesa sul sentiero 2-3, si sale poi tra mughi e poi si continua in lungo...
Published by 7 July 2015, 17h58 (Photos:14)
Trentino-South Tirol

T4-

F

18 Oct 14

Piz Duleda 2909 e Cima Puez 2913 m
Un mese fa mai avrei pensato di poter tornare in Dolomiti entro l'anno, visto poi l'anno passato quando già ai primi di Ottobre facevamo i conti con la neve! E invece siamo ancora qui! Lasciamo l'auto al posteggio della Vallunga (ora libero) e tramite un sentiero/Via Crucis ci dirigiamo verso la località Daunëi....
Published by 24 October 2014, 09h40 (Photos:75 | Comments:4 | Geodata:1)
Trentino-South Tirol

T4

F

I

F

29 Jul 13

Dolomiti - ½ Alta Via n°2 (Bressanone - Lago di Fedaia)
DAY 1 Sant'Andrea – Malga Gampen A Sant'Andrea Q1067 si prende la comoda funivia (10 euro) per Valcroce Q2012. Coprire tale tracciato a piedi avrebbe richiesto una tappa in più, invece in questo modo possiamo estendere l'escursione giornaliera fino al Rifugio Genova. Da Valcroce si prende il facile ma non banale...
Published by 20 August 2013, 18h27 (Photos:141 | Comments:11)
Trentino-South Tirol

T3

F

16 Oct 11

Piz Duleda (Piz Duledes) 2909m
Sonntag: Nach der gestrigen Sass Rigais Überschreitung und einer zweiten Nacht auf der fast leeren Hütte lassen wir das Klettersteigzeug auf der Hütte und wandern durch das Val dla Roa bis kurz unterhalb der Furcola dla Roa (= Roascharte). Dort zweigt der Weg Nr. 3a - in den Ostalpen ist ja alles bestens markiert und...
Published by 16 August 2012, 15h20 (Photos:4)
Trentino-South Tirol

T2

F

9 Aug 06

Piz Duled, 2.909 m
Von Wolkenstein im Grödnertal mit der Seilbahn zum Col Raisier. In ca. 10 min auf bezeichnetem Steig hinab zur Geislerhütte, 2.037 m. An dieser vorbei und nun dem bezeichneten Steig zur Furc. Nives folgen. Der Steig führt durch ein Hochtal zunächst immer auf die Furchetta zu bis er nach rechts abzweigt und in...
Published by 4 October 2006, 13h05 (Photos:6)