Kreuzberg II 1970 m
6462 ft.
---
Peak in

8 hike reports

, 157 photo(s). Last visited :

17 Jun 14


Geo-Tags: Alpstein, CH-SG
Photos (157)
---
By Publication date · Last favs · By Popularity · Last Comment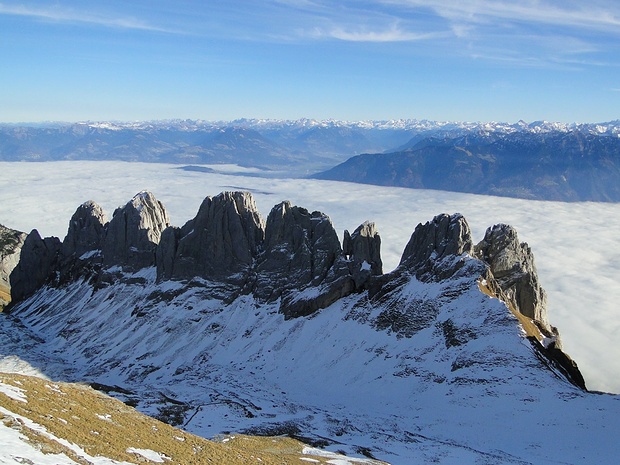 Auf dem Roslenfirst: Der tolle Blick zu den Kreuzbergen über dem Rheintaler Nebelmeer: Von links nach rechts sind sie nummeriert, von 1 - 8. © Ivo66
Reports (8)
---

Tüpflisueche Alpstein südliche Hauptkette
Seit 2012 versuche ich im Alpstein sämtliche auf der 25'000er Landeskarte kotierten Höhepunkte (Gipfel, Felstürme, Geländeerhebungen) zu besuchen. Dazu bin ich auf Schneeschuhtouren, Wanderungen, Berggängen und Klettertouren beinahe wöchentlich im St.Galler- und Appenzellerland unterwegs. (siehe:...
Published by 17 June 2014, 17h20 (Photos:276)

Kreuzberg I übers Seilbähnli
Seit meinem ersten Besuch der Kreuzberge reizte mich die eindrückliche Scharte zwischen dem ersten und zweiten Kreuzberg und die Geschichten über Seilbähnchen, die diese Spalte überbrückten. Nach einem Hinweis von longo hat es über die Spalte nie ein Fixseil gegeben, sondern die Seile musste immer selbst gespannnt...
Published by 21 June 2013, 07h33 (Photos:24)
St.Gallen

T6

II

29 Oct 11

K II und Versuch K V
Start in Sax (Brand) auf 620m. Kurz vor dem Start habe ich einen Mountainbikefahrer getroffen. Er war auf dem Weg zur Saxer Lücke (1649m) und wir haben uns indirekt zu einem Race verabredet (oben muss man ein Bike tragen). Unglücklicherweise habe ich in der Hektik schon bald nach dem Start gleich erstmal den falschen Abzweiger...
Published by 30 October 2011, 08h16 (Photos:7)
St.Gallen

T6

AD

V

3 Oct 10
Kreuzbergtraverse ohne Kreuz oder K VIII bis K II
Die Kreuzberge waren für mich bis jetzt eine gänzlich unbekante Region. Nachdem ich vor zwei Jahren die mitreissenden Berichte der Überschreitung dieser Zacken von Delta und Alpin_Rise las, wusste ich zumindest, dass ich da einmal hin muss. Lustigerweise sind es fast genau zwei Jahre seit deren Überschreitung. Und der Föhn...
Published by 5 October 2010, 23h25 (Photos:22 | Comments:6)

The hard Way from Toggenburg to Appenzellerland: Überschreitung der 8 Kreuzberge & Mutschen/Gätteri
Die Überschreitung der Kreuzberge gehört zu den Alpstein-Kletterklassikern . Obwohl etwas aus der Mode gekommen, bleibt die Tour landschafltich einmalig schön - vorausgesetzt, man lässt sich von einigen brüchigen Gratpassagen und zahlreichen luftigen Abseilmanövern nicht abschrecken. Für diese Mühen und den langen Zustieg...
Published by 30 September 2008, 15h36 (Photos:22 | Comments:1)
St.Gallen

T6

D

5a

27 Sep 08

Kreuzberg Traverse Plus
Eine der ganz grossen, klassischen Unternehmungen im Alpstein – ein Tag im vertikalen Reich der Kreuzberge! Zuerst mal: Danke Alpin_Rise für die Hammer-Tour! Hier geht's zum Kreuzberge-Bericht von Alpin_Rise. Die Traversierung der Kreuzberge ist eine der klassischen, anspruchsvollen Touren im Alpstein....
Published by 30 September 2008, 07h22 (Photos:18 | Comments:4)
Appenzell

T6

PD+

III

30 Aug 08

Gätterifirst und Kreuzberge II bis IV
Nachmittagstour im wilden Alpstein – Alpinwandern im Klettereldorado   Nachdem mein letztes Rencontre mit den Kreuzbergen vor drei Wochen ein nasses und kaltes Unterfangen waren, standen heute die Routen auf dem Programm, die damals in den Nebel gefallen waren. Gätterifirst und Kreuzberg II sind, falls sie...
Published by 16 September 2008, 07h37 (Photos:12)
St.Gallen

T6

III

26 Aug 08

Kreuzberge II bis IV
Die hoch über dem Rheintal thronenden, senkrecht aufgestellten Platten der Kreuzberge bedürfen keiner weiteren Beschreibung. Wenige sind für Alpinwanderer zugänglich, die anderen den KlettererInnen vorbehalten*. Einzigartig sind sie alle! Eine schnelle, luftige Feierabendtour in mystischer Nebelstimmung und nächtlicher...
Published by 27 August 2008, 21h11 (Photos:19 | Comments:3)