Grand Chavalard 2899 m
9509 ft.
---
Peak in

7 hike reports

, 66 photo(s). Last visited :

2 Jul 11


Geo-Tags: CH-VS
Photos (66)
---
By Publication date · Last favs · By Popularity · Last Comment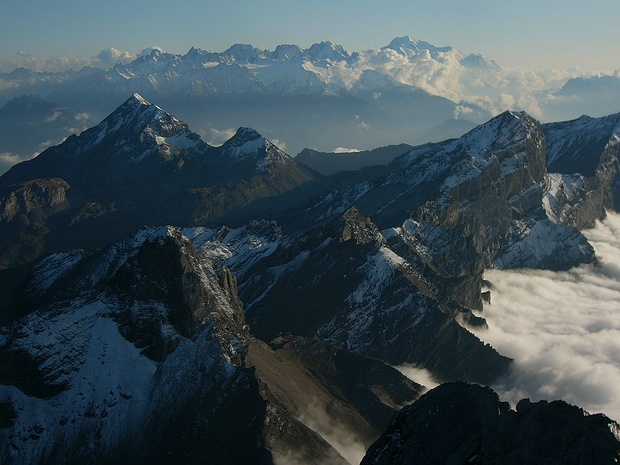 Gipfelaussicht vom Grand Muveran (3051,1m) zum Montblanc-Massiv. Links im Vordergrund ist die Pyramide Grand Chavalard (2899m) mit seinem Vorgipfel Six du Doe (2722m). Rechts ist der Dent Favre (2916,8m). © Sputnik
Reports (7)
---

Grand Chavalard 2899 m
Was macht man, wenn fürs Wochenende geniales Bergwetter vorausgesagt wird, man aber nur einen Tag, und den auch nicht ganz, zur Verfügung hat ? Wir konsultierten unsere Möchtegerneliste, dann stöberte ich kurz auf hikr herum und wir kamen zum Schluss, dass der Grand Chavalard das perfekte Ziel sein könnte... Diesen Berg...
Published by 5 July 2011, 17h39 (Photos:25 | Comments:5)

Bike & Hike auf den Grand Chavalard
Es sind nicht immer nur erfreuliche Gründe, weshalb man weit weg von zu Hause in eine möglichst fremde Gegend, die nicht mit etwelchen Erinnerung behaftet ist, will. Ausnahmsweise traf dies heute bei mir zu. Also wählte ich das Unterwallis als Ausgangspunkt; eine Gegend die mir bisher fast nur vom Durchreisen her bekannt...
Published by 4 October 2010, 21h55 (Photos:8)
| | | |
| --- | --- | --- |
| Unterwallis | T3+ | 29 Sep 10 |

Spuren im Schnee - auf dem Grand Chavalard
Der Grand Chavalard - eine mächtige über dem unteren Rhônetal trohnende Pyramide. Ein wunderbarer Aussichtsgipfel mit interessantem Aufstieg. Stellt sich jetzt nur die Frage, ob dieser Knapp-Nicht-Dreitausender auch nach den letzten Schneefällen noch unproblematisch besteigbar ist? Also nichts wie hin und einen Augenschein in...
Published by 30 September 2010, 11h37 (Photos:15 | Comments:2)

Fully - Grand Chavalard
Der Grand Chavalard ist ein auffälliger Eckpfeiler im Rhonetal. Obwohl nur knapp 2900m sieht man ihn bereits ganz auffällig vom Lötschberg kommend im Unterwallis stehen. Jedesmal wenn ich durch Martigny fahre, fesselt dieser Berg meinen Blick und entzieht der Stasse meine Aufmerksamkeit. Ich musste diesen langen...
Published by 6 September 2009, 21h55 (Photos:17 | Comments:5)
| | | |
| --- | --- | --- |
| Mittelwallis | T2 | 27 Sep 08 |

OVRONNAZ - Le Tour du GRAND-CHAVALARD
Promenade avec un paysage et un panorama de rêve. Découvrez le pré d'Euloi et sa flore, le Mont Blanc à l'arrivée au Col du Fenestral, les lacs de Fully et la plaine du Rhône entre Sorgno et l'Erié, tout au long d'un sentier agréable… Itinéraire: Jorasse (1/p) – Petit Pré – Euloi – Fenestral – Lac de Fully...
Published by 28 July 2008, 15h12 (Photos:2)
| | | |
| --- | --- | --- |
| Unterwallis | T3+ | 26 Jul 06 |

Top of Grand Chavalard
A great hike with fantastic views, getting progressively more difficult. The first part of the route is easy: a wide, flat trail, gently going upwards. It follows the cliffside and thus offers a great view over the valley. It also offers a great initial conditioning for looking down extremely steep slopes. The...
Published by 27 June 2007, 21h56 (Photos:6)
Le sommet du Chavalard
Randonée facile jusque au col mais à partir d'en dessous des pareavalanches la montée devient raide . Au bout du compte un superbe panorama sur la vallée du Rhône L'Erié(1788m.) Au lieu dit L'Erié se trouve un parc pour les véhicules En partant de lErié suivre le...
Published by 30 June 2003, 11h45