Torrione Magnaghi Centr. parete SE Fessura Gandin. Torrione Magnaghi Sett. parete S Via Lecco.
---
Region:
World » Italy » Lombardy
Date of the hike:
20 August 2015
Mountaineering grading:
D
Climbing grading:
V

(UIAA Grading System)

Waypoints:
Geo-Tags:
I
Access to start point:
Lecco - Pian dei Resinelli - Rifgio Porta - sentiero 7 Cresta Cermenati fino a prendere a dx il traverso per i Magnaghi- attraversare il Canalone Porta e si sale alla Bocchetta dei Prati la si supera e si risale il primo Torrione e poco dopo al secondo Torrione un evidente resinato su un terrazzino indica l'attacco.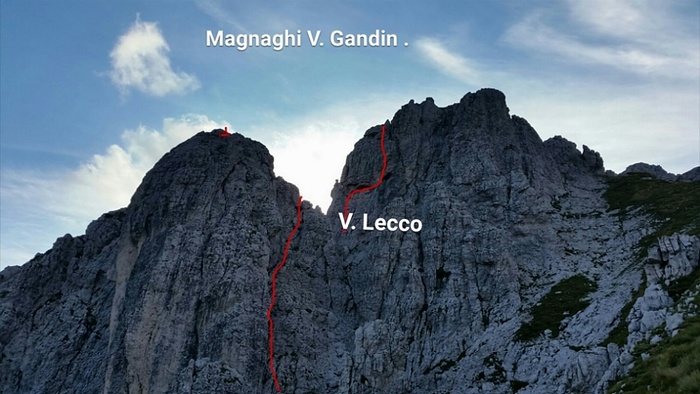 Dopo tanto tempo rieccomi quà!
Incominciamo dall' ultima ... Visti i recenti cambianenti di temperatura ... la scelta va sulle bellissime Grigne con un esposizione sud su uno dei celebri torrioni della Grignetta . La buona compagnia e l' ottima scelta dell' itinerario (concatenare due vie la Gandin e la Lecco passando dalla forcella G.L.A.S.G e ritorno dalla Senigallia) faranno di questa giornata un bel ricordo. ... poi a Ballabio tra birra e musica . Con Simone, Ermes, Eros .

-Via Gandin: Giovanni Gandin, Renzo Galbiati ed Eros Bonaiti, 6 Settembre 1931
160 m. (5L)
-Via Lecco: Vittorio Panzeri, Andrea Cattaneo Mario Galbusera Luglio 1934
140 m. (4L)

Bibliografia di riferimento: Pietro Buzzoni e Eugenio Pesci Versante Sud .
Hike partners:

pm1996
<![if !IE]>
<![endif]> <![if !IE]> <![endif]> <![if !IE]> <![endif]> <![if !IE]> <![endif]>
Minimap
0Km
Click to draw, click on the last point to end drawing
Gallery
---
Open in a new window · Open in this window