Pizzo di Claro
---
Region:
World » Switzerland » Tessin » Bellinzonese
Date of the hike:
8 September 2020
Hiking grading:
T3+ - Difficult Mountain hike
Waypoints:
Geo-Tags:
Gruppo Pizzo di Claro CH-GR CH-TI
Time:
8:45
Height gain:
2500 m

8200 ft.



Height loss:
2500 m

8200 ft.



La "chiamata" del Pizzo di Claro l'ho percepita il giorno in cui giunsi sul Piz de Molinera dove, una volta giunti in cima, appare in tutta la sua imponenza.
Per un po' avevo accantonato il pensiero, finchè
Gabrio
non mi ci ha fatto ripensare.
Decido di partire dal fondovalle, da Claro; a volte penso che per "comprendere" una montagna nella sua interezza, per diventare un tutt'uno con essa durante la salita, per apprezzarne la maestosità, sia necessario partire dal basso, senza l'aiuto di auto o funicolari.
In realtà non mi ero prefissato di salire obbligatoriamente, volevo salire fino al lago di Canee, per poi decidere in base alle sensazioni e alla stanchezza: 2500 metri di dislivello non sono pochi.
Durante la salita, in cui seguo le chiare indicazioni della vertical race Claro-Pizzo, le sensazioni sono buone: riesco a mantenere un passo adeguato, facendo alcune pause senza stancarmi troppo.
Fortunatamente, sia a Moncrino, che all'Alpe Peurett, che all'alpe di Canee sono presenti tre fresche fontane.
Una volta arrivato al
Lago di Canee
decido di salire: da qui la via si fa più difficile, in qualche occasione bisogna aiutarsi con le mani e la stanchezza si fa sentire.
Arrivato in cima purtroppo il paesaggio è abbastanza nascosto dalle nuvole, tuttavia sono incredulo e felicissimo di essere arrivato fin lassù.
Fortunatamente mi rimangono le energie per un'attenta discesa, anche perchè nella prima parte le pietre sono infide e bagnate e devo concentrarmi al 100% per evitare passi falsi.
Tempo di salita, pause comprese: 4:45
Tempo totale: 8:45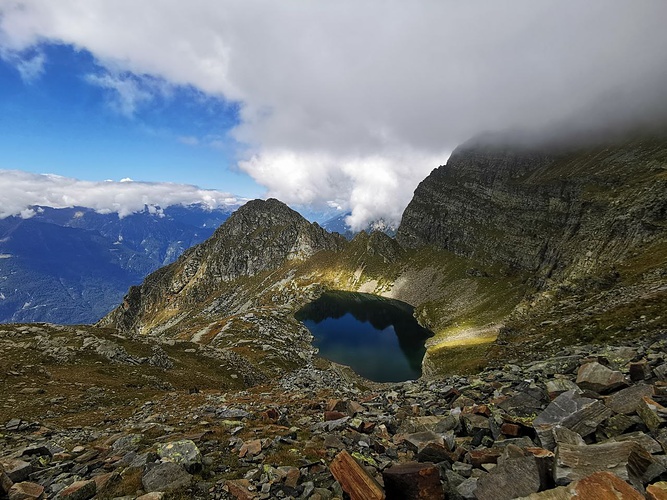 Hike partners:

karll
<![if !IE]>
<![endif]>
Minimap
0Km
Click to draw, click on the last point to end drawing
Gallery
---
Open in a new window · Open in this window