Bocca di Brenta 2552 m
8371 ft.
---
Pass in

9 hike reports

, 11 photo(s). Last visited :

23 Sep 18


Geo-Tags: I
Photos (11)
---
By Publication date · Last favs · By Popularity · Last Comment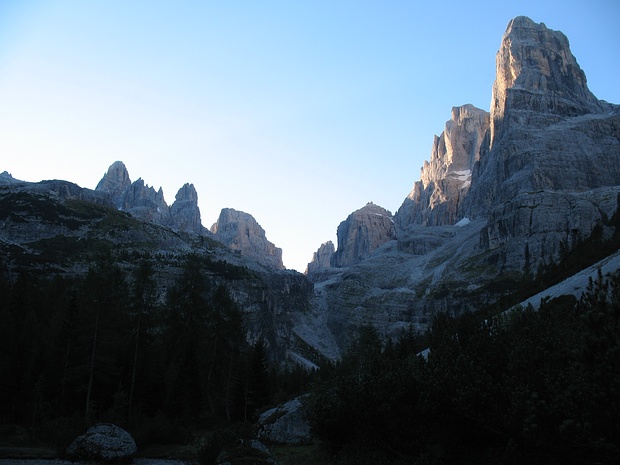 ..... ist der Talschluß des Val Brenta bereits zu erahnen. Das Rif. Brentei liegt links oben auf der Schrofenkuppe. © gero
---
Reports (9)
---
Trentino-South Tirol

T5-

PD+

23 Sep 18

Dolomites de la Brenta : Via ferrata des Bocchette Centrali
Début en fanfare de notre semaine Dolomites 2018. Ca doit être la 10ème fois ou presque qu'on y va (à ski, en famille, pour grimper...) et la 1ère fois qu'on affronte une météo pareille: 1/2journée vaguement voilée en 8jours, le reste du temps un insolent ciel bleu et lumineux qui nous aura finalement bien mis la...
Published by 2 October 2018, 16h43 (Photos:17 | Geodata:1)
Trentino-South Tirol

T2

AD+

IV

4 Aug 18

Tentativo Campanile Basso (2883 m)-Dolomiti del Brenta
Unico giorno di vacanze per me quest'estate, week end lungo nelle Dolomiti del Brenta, con base al campeggio del CAI di Malnate, presso Carisolo. Venerdì giornata relax al lago di Molveno, sabato destinazione Campanil Basso, 260 m di calcare dolomitico. Con me Raffaele e Matteo. Come consigliatoci partiamo in...
Published by 20 August 2018, 23h27 (Photos:16 | Comments:6 | Geodata:1)
Trentino-South Tirol

T4

F

AD

30 Jul 17

Via delle Bocchette (Alfredo Benini + Alte + Centrali)
The Bocchette trail in the Brenta Dolomites! A unique route, traversing along incredible ledges, from saddle (= bocchetta) to saddle, just below the highest peaks of the Brenta group. A via ferrata classic if there ever was one! As far as via ferrata is concerned, the routes are not particularly difficult (up to C / K3, mostly...
Published by 6 August 2017, 19h35 (Photos:173)
Trentino-South Tirol

T4+

I

PD+

26 Jul 17

Brenta-Durchquerung
Die den Dolomiten sehr ähnliche und im italienischen Sprachraum auch dazugehörende Brentagruppe ist bekannt für ihre Eisenwege, die Vie Ferrate. Ein Netz aus Klettersteigen durchzieht fast das gesamte Massiv, Hütten sind zahlreich vorhanden und so wundert es nicht, dass auch hier einiges los ist. Für unsere Tour wählten wir...
Published by 31 July 2017, 13h59 (Photos:25)
Trentino-South Tirol

T3+

F

25 Oct 14

Dolomiti di Brenta - Ferrata Spellini
A una settimana di distanza siamo ancora qui, ci stiamo prendendo gusto! Domenica scorsa ci avevano suggerito di andare a fare questa nuova ferrata, nuova si fa per dire perché ormai saranno quattro anni che c'è, che mette in collegamento la Via delle Bocchette Centrali con il Sentiero Attrezzato Osvaldo Orsi. Non...
Published by 28 October 2014, 14h44 (Photos:70 | Comments:15 | Geodata:1)
| | | |
| --- | --- | --- |
| Trentino-South Tirol | AD | 15 Sep 13 |

Bochetta Central
Die Brentagruppe bietet neben wunderbaren Kletterrouten auch eine Vielzahl an schönen Klettersteigen. Wir wählten mit dem Bochetta Central der laut Klettersteigführer die schönste Aussicht bietet. Schon beim Start wurde dies nicht erfüllt denn wir stiegen durch dichten Nebel auf. In der Hoffnung dieser würde sich mit der...
Published by 21 September 2013, 21h41 (Photos:11)
| | | |
| --- | --- | --- |
| Trentino-South Tirol | PD- | 4 Sep 13 |

Erkundung Brenta-West - Bocca di Brenta (2552 m), Bocca dei Camosci (2757 m)
BRENTA - welch faszinierendes Wort ! Schon lange trage ich den Gedanken in mir, dieses zugegebenermaßen recht weit entfernte Alpengebiet zu erkunden. Am Tag nach meiner Besteigung des Monte_Vioz war es soweit - und die hohen Erwartungen, die ich hatte, wurden mehr als befriedigt. Schon am Vorabend präsentierten sich bei der...
Published by 8 September 2013, 15h14 (Photos:77 | Comments:8 | Geodata:1)
| | | |
| --- | --- | --- |
| Trentino-South Tirol | F | 1 Sep 07 |

Brenta
Folgende Klettersteige habe ich in der Brenta gemacht: Sentiero Attrezzato Benini, Bocchette Centrali, Bocchette Alti, Sentiero Sosat, Sentiero Brentari, Sentiero E.Castiglioni 1.Tag Madonna di Campiglio - Graffer Hütte 2.Tag Graffer Hütte - Tuckett Hütte (Sentiero Attrezzato Benini) 3.Tag Tuckett Hütte...
Published by 1 October 2013, 23h13 (Photos:70)
| | | |
| --- | --- | --- |
| Trentino-South Tirol | F | 30 Jul 06 |

Tosa
Ambiente fantastico le Dolomiti di Brenta ma non semplice trovare il tempo bello. Salita al Brentei con sentiero e proseguiti al Pedrotti per la notte, ottimo trattamento. Seguita via normale classica con un camino facile ma con appigli unti e bagnati. Una volta sopra pare che il verticale si trasformi in solo orizzontale,...
Published by 4 September 2014, 15h20 (Photos:3)