Berger Calanda 2270 m
7446 ft.
---
Peak in

12 hike reports

, 47 photo(s). Last visited :

26 Jul 18


Geo-Tags: Calanda, CH-GR, CH-SG
Photos (47)
---
By Publication date · Last favs · By Popularity · Last Comment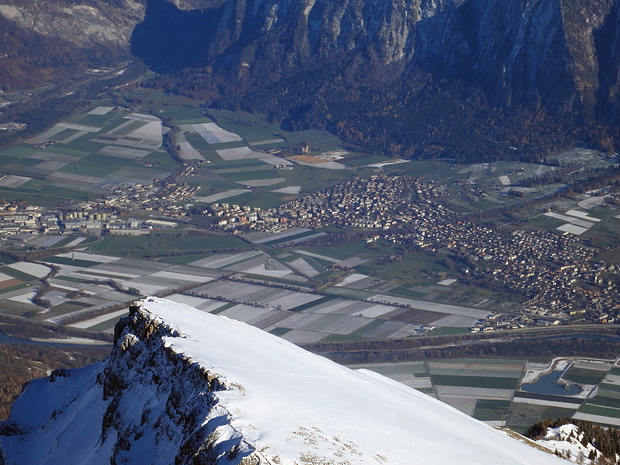 Aussichtskanzel über dem Rheintal: Wer genau hinschaut, erkennt den Skitourengänger, der gerade über die schiefe Ebene des Berger Calanda die Grathöhe erreicht hat © marmotta
---
Reports (12)
---

Rossfallenspitz (2632 m) - bike & hike from St. Margrethenberg
This hike covers the four peaks Stelli (2052 m), Brotjoggli (2115 m), Berger Calanda (2270 m), and last but not least Rossfallenspitz (2632 m). Start of the tour at 7:30 in the morning from St. Margrethenberg. First with the mountain bike on the paved road to Fürggli (P.1333 in the online maps). Then on the unpaved forest road...
Published by 27 July 2018, 11h09 (Photos:19 | Geodata:1)

Calanda +
Die komplette Calanda-Überschreitung in einem Stück Wetter und Zeitpunkt gut passend um die Calanda Gegend kennen zu lernen. Es gibt schon viele gute Berichte zb 1, 2, 3, wo von einer Teils-Überschreitung die Rede ist. Aber keinen Bericht wo das ganze Calanda-Massiv Überschritten wird und zwar in direkter Linie von Bad...
Published by 27 August 2016, 17h46 (Photos:43 | Geodata:1)
Calanda

T5+

AD-

III

7 Aug 16

Vom Berger zum Haldensteiner Calanda
Eine Wiederholungstat: Die Calanda-Überschreitung - die beste Tour am Bier-Massiv Die Calanda-Überschreitung ist ein Klassiker. Eine logischere Linie als von Nordost- nach Südwest über die Gipfel des Calanda-Massivs gibt es nicht. Erstaunlicherweise wird die Tour trotz den schönen Kraxel- und Kletterstellen, der...
Published by 8 August 2016, 17h50 (Photos:20)

Brotjoggli-Gesamttraverse: Da falle d' Ross vom Spitz!
Etwas letztes Lärchengold, aber nicht zu weit weg, sonnig, Neuland.... an die heutige Tour wurden mal wieder viele Ansprüche gestellt - die meisten konnte sie erfüllen, zudem passiert man Örtlichkeiten mit erfreulich originellen Namen wie Brotjoggli oder Guaggis. Der Anfang allerdings ein langes Einlaufen: Ab Furggels...
Published by 11 November 2015, 22h01 (Photos:18)

Berger Calanda (2309 m): Winter im Oktober!
Auch wenn der Berger Calanda kein bedeutender Gipfel im eigentlichen Sinne ist (genau genommen handelt es sich ja nur um die Schulter des Grats, den der "grosse" Haldensteiner Calanda nach Nordosten entsendet), so bietet er doch einen schönen Ausblick in die Bündner Alpen und die Silvretta sowie ins wilde Taminagebirge - ganz zu...
Published by 18 October 2015, 14h22 (Photos:24)

Rossfallenspitz 2640m + Berger Calanda 2270m
Im Winter ist die Besteigung der Rossfallenspitz eine lange und anspruchsvolle Tour. Sind es doch von Untervaz bis auf den Gipfel 2050 Hm. Im Sommer kann man mit dem Auto bis auf die Vazer Alp auf 1743m fahren, sind es "nur" noch um die 900 - 1000 Hm. Allerdings bleibt der Aufstieg steil (die letzten 50-100m sehr steil) und es hat...
Published by 3 October 2014, 18h59 (Photos:25)
Calanda

T5+

AD-

III

18 Aug 14

Calanda Überschreitung
Eine Tour für Steinböcke und Bierliebhaber – die (fast) komplette Calanda-Überschreitung Obwohl man ohne ein Calanda kaum über den Calanda kommt: Eine Tour für zu grosse Bierbäuche ist dies nicht, will man am Napoleon nicht sein persönliches Waterloo erleben. Etwas weniger kryptisch: Die Überschreitung vom Berger...
Published by 20 August 2014, 11h42 (Photos:32 | Comments:4)
Calanda

T5

AD

III

6 Aug 14

Der vergessene Calanda-Grat: vom Berger Calanda über Napoleon zum Haldensteiner Calanda
Der Calanda - der war da noch nicht schon oben. Eben. Während sich auf dem Haldensteiner Calanda sogar Moutainbiker tummeln, kommen diejenigen, die sich von der anderen Seite annähern, anderweitig zum Schwitzen und haben hoffentlich ein Bergseil dabei... Die Überschreitung über den vier Kilometer langen Grat vom Berger...
Published by 12 August 2014, 18h53 (Photos:50 | Comments:3 | Geodata:1)

Berger Calanda (2270 m) - Föhnsturm über dem spätsommerlichen Rheintal
Erstaunlich - über den Berger Calanda ist noch nicht sonderlich viel publiziert - ich will hier einen bescheidenen Beitrag leisten, eignet sich dieser Berg doch auf Grund der südseitigen Ausrichtung seines Normalweges als Wanderziel, wenn höhere Ziele im Frühjahr noch nicht bzw. im Herbst nicht mehr erreichbar sind. Der durchs...
Published by 4 November 2012, 16h47 (Photos:33 | Geodata:1)

Calanda circle tour
Finallywe arranged to make our first summer mountain tour of the season! We had already planned for a longer time to visit Haldensteiner Calanda (the idea came when we saw the beautiful massive of Calanda during ascent to near Falknis). We decided to start from Vättis mainly because our time limit – we only had two days, and...
Published by 25 September 2011, 13h59 (Photos:28 | Geodata:1)