Pizzo Ferrè 3103 m. e Cima de Val Loga Meridionale 3003 m. e Centrale 3004 m .
---
Region:
World » Italy » Lombardy
Date of the hike:
20 August 2013
Mountaineering grading:
PD
Climbing grading:
II

(UIAA Grading System)

Waypoints:
Geo-Tags:
Gruppo Tambo-Curciusa CH-GR I
Time:
9:30
Access to start point:
Chiavenna-statale 36 per il passo dello Spluga-Campodolcino-Montespluga

Accommodation:
Bivacco Cecchini 2773mt.

Maps:
1254-1255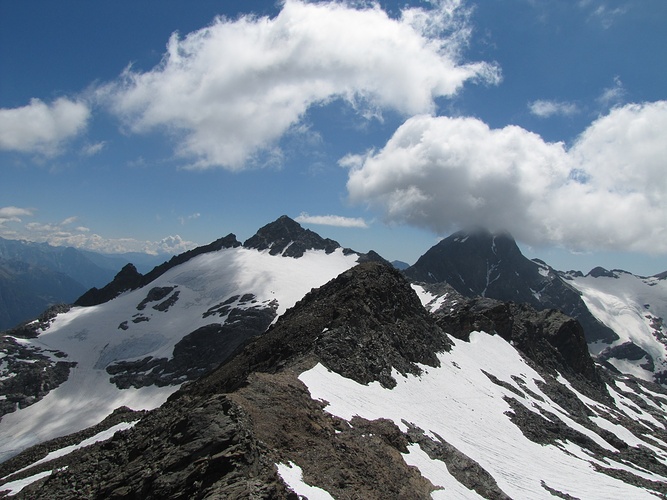 Cima dalle linee eleganti che si innalza a E della linea di confine tra la Sella dei Piani a Sw e la Sella del Ferrè.
7:20 : da Montespluga risaliamo arrivando al Bivacco Cecchini.
Attendiamo una buona mezzora aspettando che le nuvole se ne vadano.
Poi con altre due persone Marco e Matteo percorriamo il ghiacciaio senza problemi puntando dritti all'attacco roccioso. Proseguiamo sul filo di cresta che nella parte finale rimane più ripido/aereo ed esposto ma non difficile , raggiungendo la cima.
Ridiscendiamo, salutando i due Chiavennaschi e dallo stesso itinerario di salita puntiamo alla sella del Ferrè e come da programma sconfinando in Val Curciusa verso N stando poco sotto il filo di cresta .
Con percorso libero e non segnalato andiamo a prendere l'alta via poi abbandonandola , arrivando tra le due cime di Val Loga Meridionale e Centrale.
Entrambe richiedono una decina di minuti di salita con belle visioni sul Ferrè, la P. d. Zocconi e il Pizzo Tambo.
Poi seguendo ometti sparsi ritorniamo al Bivacco e Montespluga.
Altre belle 2 cime con l'amico Giordano e i simpatici Marco e Matteo.
Percorso da: - Montespluga-Bivacco Cecchini-P.Ferrè
T4
- Sella del Ferrè-Val Curciusa fino all' attacco delle 2 delle Cime di Val Loga Meridionale e
Centrale
T6
https://vimeo.com/72963341
Hike partners:

pm1996
<![if !IE]>
<![endif]> <![if !IE]> <![endif]> <![if !IE]> <![endif]> <![if !IE]> <![endif]>
Minimap
0Km
Click to draw, click on the last point to end drawing
Gallery
---
Open in a new window · Open in this window