Von der Lechquelle zum Spullersee.
---
Region:
World » Austria » Nördliche Ostalpen » Lechquellengebirge
Date of the hike:
30 August 2019
Hiking grading:
T3 - Difficult Mountain hike
Waypoints:
Geo-Tags:
A
Time:
4:00
Height gain:
785 m

2575 ft.



Height loss:
825 m

2706 ft.



Route:
11,7km

Access to start point:
Ortsbus Lech 7: Lech Rüfiplatz - Zug - Formarinsee

Access to end point:
Ortsbus Lech 6: Spullersee - Zug - Lech Rüfiplatz

Accommodation:
Freiburger Hütte, Ravensburger Hütte, Lech,

Lechquelle - Formarinsee - Freiburger Hütte - Steinernes Meer -
Gehrengrat - Dalaaser Schütz - Spullersee
Mit dem Wanderbus von Lech zur
Formarinsee.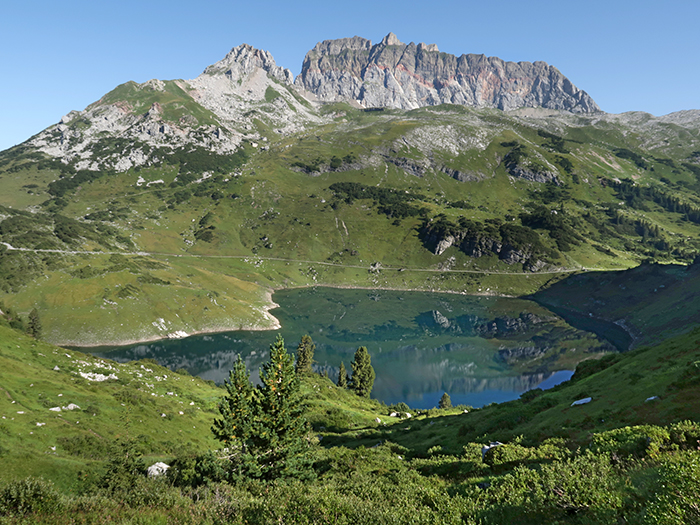 Auf der Hüttenstrasse zur
Freiburger Hütte
(bewirtet). Das Wetter ist super also ohne Stopp weiter. Leicht steigend auf gutem Pfad bis zur Karstebene, des
Steinernen Meer
. Recht mühsam gehbar ist dieser gut markierte Abschnitt.
Nach Norden haben wir freien Blick auf die
Rote Wand.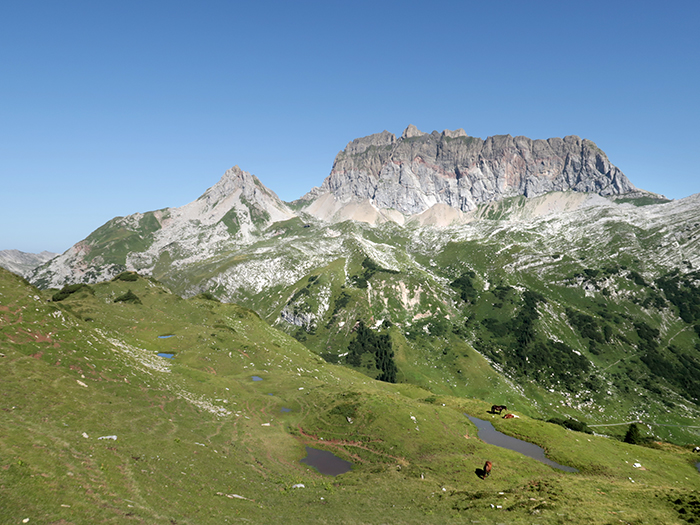 Ab der
Abzweigung Lechtal/Gehrengrat
ist der Wanderweg gut steigt jedoch steil bergauf. Der erste Felsriegel ist mit wenigen Handgriffen erklommen. Schön die Ebene des
Oberen Schütz
vor dem
Pöngertlekopf
und
Pfaffeneck
. Das Eck besitzt einen roten weissen Gipfelaufbau - fotogen.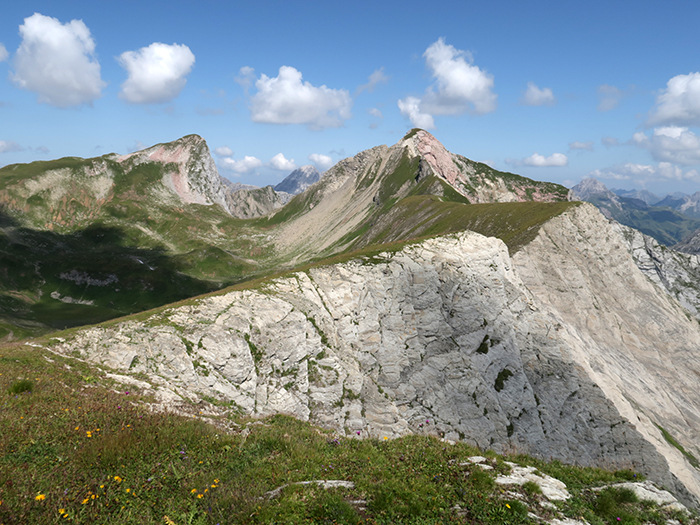 Nun steigt der Weg zum
Gehrengrat
noch einmal steil an. Oben an der Kante sieht man in die bröckelnden Hänge des Gehrengrates. Eindrücklich tief sind hier die Erosionsrinnen. Der Grat ist gut besucht etwa 100 Berggänger sind unterwegs oder geniessen die Sonne hoch über dem
Klostertal
.
Der Abstieg: Zweistufig durch einen Steilhang und über eine breite arg
abschüssige Grasrippe (T3) gelangen wir auf die sanft nach Osten abfallende
Dalaaser Schürz
. Der
Spullersee
erscheint spät in unserem Aussichtbereich.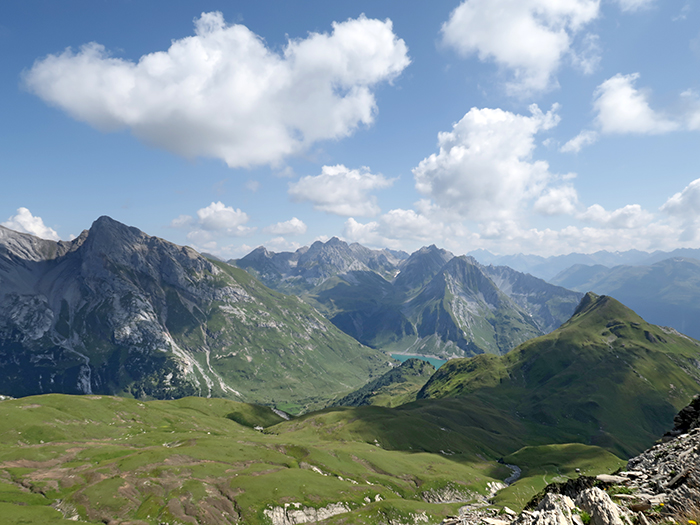 Auf der Seestrasse angekommen stört uns ein ohrenbetäubender Lärm. Ein Dieselgenerator dröhnt über das Wasser. Wir gehen deshalb auf dem kürzeren Weg zur Bushaltestelle an der nördlichen Staumauer.
Fazit: Schöne abwechslungsreiche Wanderung von der Lechquelle zum Spullersee.
Optimal mit ÖPNV erreichbar. Bravo Lech
Hike partners:

KurSal
<![if !IE]>
<![endif]> <![if !IE]> <![endif]> <![if !IE]> <![endif]> <![if !IE]> <![endif]>
Minimap
0Km
Click to draw, click on the last point to end drawing
Gallery
---

Slideshow
Open in a new window · Open in this window