Tegia Culm 2249 m
7377 ft.
---
Other in

4 hike reports

, 6 photo(s). Last visited :

4 Sep 19


Geo-Tags: CH-GR
Photos (6)
---
By Publication date · Last favs · By Popularity · Last Comment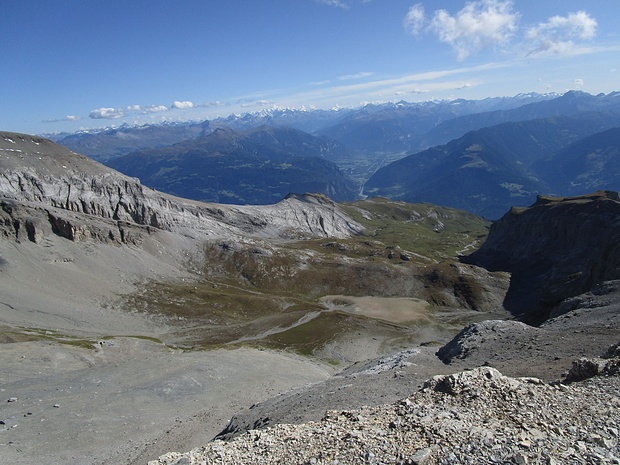 und das Stück auf dem Rücken oberhalb von Tegia Culm - das Gebäude selbst ist kaum, der Fahrweg dorthin jedoch ist besser erkennbar © dulac
---
Reports (4)
---

Im Banne des Ringelspitz
Ausschlaggebend zu dieser Wanderung war der Bericht « Ringelspitz & Crap Mats» von D!nu. Denn die Bilder von dieser Gegend, die er fotografiert hat, faszinieren mich und ich wollte mir das in Natura ansehen. Da es bereits einige Wegbeschreibungen von HiKr's ab Fidaz gibt und ebenfalls auch der Abstieg über die...
Published by 5 September 2019, 14h15 (Photos:39 | Comments:7)

Zu den Gletschermühlen im Val Maliens und fast auf den Crap Mats -lang und lohnende Tour ab/bis Trin
Bei meiner Grattour Fulenberg – Stätzer Horn wenige Tage zuvor war sehr gut zu erkennen gewesen, dass auch die Südflanken vom Crap Mats ob Trin schneefrei waren. Da ich das Gebiet um Tschep und Crap Mats bei meinem ersten Besuch im September ausserordentlich faszinierend fand, hatte ich mir schon damals vorgenommen, eine...
Published by 22 November 2015, 12h39 (Photos:66 | Comments:2)

5 peaks hike around Crap Mats
Given the hot summer weather I wanted to go for a hike at higher elevations. In the area around Crap Mats there was relatively little snow left, even with an elevation of 2500 - 3000 m. The hike included visits to Crap Mats (2947 m), Morchopf (2943 m), Tschep (2943 m), Tschep Sura (2838 m), and Tschep Sut (2666 m). In addition...
Published by 5 July 2015, 01h39 (Photos:36 | Geodata:1)

Crap Mats
Von Trin aus führt eine Gebührenpflichtige Strasse bis auf die Alp Mora hinauf. Die 20 Fr. muss man gleich nach dem Werkhof Trin bei einem Briefkasten der Gemeinde auf der rechten Seite der Strasse bezahlen. Man füllt die Quittung aus und legt sie mit den 20 Fr. In ein Couvert und wirft es in den Briefkasten ein. Die Strasse...
Published by 5 August 2013, 06h21 (Photos:56)