Piz Polaschin 3013 m
9883 ft.
---
Peak in

18 hike reports

, 167 photo(s). Last visited :

14 Aug 16


Geo-Tags: CH-GR
Photos (167)
---
By Publication date · Last favs · By Popularity · Last Comment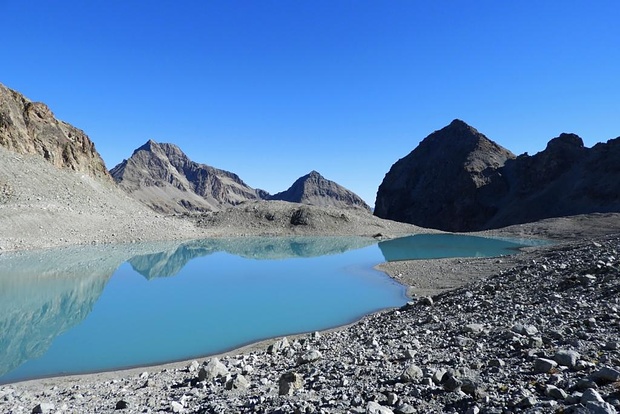 Hier bemerkte ich auf Distanz zwei weitere Berggänger die in Richtung Vadret Lagrev unterwegs waren © Flylu
---
Reports (18)
---

Piz Polaschin (3013 m) - ascent SW ridge, descent SE ridge
Another wonderful day in the mountains! After the long hike the day before I wanted to do a bit a shorter one, and my choice fell on Piz Polaschin. From the parking lot along the Julier pass road, I walked down along the main road for 300-400 m, to be able to cross the bridge over the creek. Soon after I reached the official...
Published by 15 August 2016, 16h15 (Photos:27 | Geodata:1)

Piz Polaschin, 3013m
Der Piz Polaschin ist ein eher weniger bekannter Berg oberhalb Silvaplana. Eigentlich erstaunlich, denn beim Überqueren des Julierpasses wirkt der Berg doch ziemlich dominant mit seiner schönen Pyramide. Auch ich wurde vor Jahren erst durch Hikr auf diesen Berg aufmerksam; allerdings stand er in der Prioritätenliste nie im...
Published by 9 August 2016, 06h24 (Photos:29 | Geodata:1)
Über den Chavagl zum Piz Polaschin 3013 m - Die Oberengadiner Aussichtskanzel der Sonderklasse
Der Piz Polaschinsticht dem aufmerksamenPassfahrer am Julier in beiden Richtungen ins Auge - von der Passhöhe kommend rechterhand als allein stehender Felskoloss und aus dem Engadin als gleichmässige Pyramide auf der linken Seite. Aus beiden Optiken lässt es sich kaum erahnen, dass dieser schöne Aussichtsgipfel recht einfach...
Published by 17 July 2016, 17h29 (Photos:24 | Comments:4)
Oberengadin

T4+

F

I

22 Aug 15

Piz Polashin m3013 Engadina
Bella cima il Polashin ma non salita spesso, "chiusa" come è da due must dell'Alta Engadina come il Piz Julier e il Piz Lagrev. Appunto la vistasu queste due montagne è uno dei punti di forza della salita odierna. Unica relazione in italiano è quella di Paolino pm1996 che è salito dalla cresta SE e sceso dalla cresta SO. Noi...
Published by 24 August 2015, 08h05 (Photos:19 | Comments:12)
piz polaschin
aggiungo le mie foto nel ricordo di una stupenda ascensione! Adricuasso
Published by 8 September 2015, 20h07 (Photos:20)
Published by 8 September 2015, 20h12 (Photos:9)
Oberengadin

T4

I

7 Sep 14

Piz Polaschin
Tag 2 unserer Tourenwoche im Oberengadin. Für heute Sonntag habe ich den Piz Polaschin ausgesucht. Sicher kein überlaufener Berg! Wir haben niemanden am Berg angetroffen. Beim Lej da la Tscheppa hatte es 3 Fischer, die glücklos waren. Aufgestiegen sind wir von der Julierpassstrasse dem markierten Bergweg folgend zu den Lejets...
Published by 14 September 2014, 20h57 (Photos:30)
Oberengadin

T4+

F

I

6 Oct 12

Piz Polaschin 3013 m. E-W e le anche del Dott. Froiler
Mi sembra un titolo di un un cartone animato... Dopo poco più di un anno di assenza dai monti dell'amico Gigi (recentemente iscritto alla comunità di Hikr ) causa tagliando alle anche gli propongo di testarle su un 3000 dell'Engadina. La proposta viene subito accettata, anche se a dire il vero gli volevo proporre il Piz...
Published by 8 October 2012, 15h50 (Photos:35 | Comments:23 | Geodata:1)

Piz Polaschin (3013 m) über den Südostgrat
Den Piz Polaschin kenne ich seit Kindsbeinen. Von unten. Diese riesige, sehr formschöne, fast symmetrisch aufragende Pyramide, die man da rechts sieht, wenn man die Passhöhe des Julier in Richtung Engadin und Silvaplana überquert. Von dieser (Nord-)Seite sowieso, sieht der Berg unbezwingbar aus. Was er nicht ist, Maveric hat's...
Published by 30 August 2012, 01h11 (Photos:24 | Geodata:1)
| | | |
| --- | --- | --- |
| Oberengadin | T4+ | 22 Jul 12 |
Piz Polaschin 3013 m - wieder Schneefall statt Sonnenschein
Die Wetterprognosen waren heute für das Oberengadin durchs Band vom feinsten: Viel Sonnenschein und vorwiegend blauer Himmel war vorausgesagt worden; genau das Richtige, um wieder mal dem hübschen Piz Polaschin einen Besuch abzustatten. Dazu kühle Temperaturen; genau das Richtige für sportliches Alpinwandern. Recht...
Published by 22 July 2012, 18h49 (Photos:30 | Comments:7)