Fiescherhorli 2893 m
9489 ft.
---
Peak in

17 hike reports

, 11 photo(s). Last visited :

10 Sep 15


Geo-Tags: CH-VS
Photos (11)
---
By Publication date · Last favs · By Popularity · Last Comment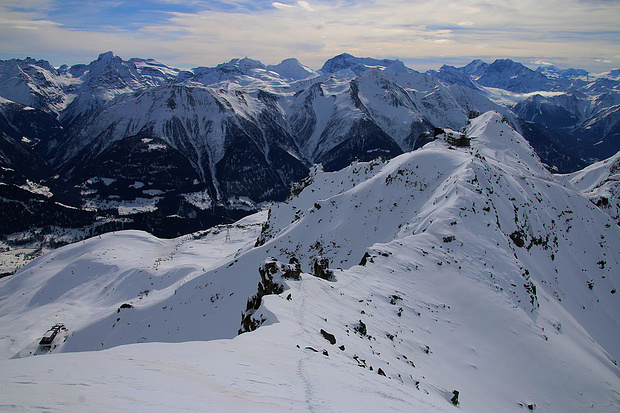 Rückblick vom Eggishorn (2926,7m) zur Bergstation beim Fiescherhorli (2893m). Dahinter breitet sich das Gipfelmeer des Simplon aus. Die auffälligsten Gipfel sind das Helsenhorn (links; 3272,1m), Monte Leone (mitte; 3553,4m) und das Fletschhorn (rechts; 3984,5m). © Sputnik
---
Reports (17)
---

Klettersteig Eggishorn
La settimana di vacanza in vallese può portare anche a fare una ferrata !!! scelgo una ferrata non troppo difficile e lunga (quindi, nonostante siamo lì, niente Leukerbad), ma con qualche emozione in più.... più che altro sviluppo in traverso, con finale in salita. Molto adrenalinici i due ponti sospesi incontrati: il...
Published by 4 August 2016, 15h13 (Photos:11)

Eggishorn
Schon mehrfach hatte ich von dem eindrücklichen Panorama gehört, welches sich den Bergwanderern auf den Gipfeln oberhalb von Fiescher- und Bettmeralp bietet. Die Aletsch-Jungfrau-Region gehört mittlerweile zum Unesco-Weltnaturerbe. Insbesondere der große Aletschgletscher ist von hier aus fast in seiner ganzen Länge zu...
Published by 22 July 2015, 11h23 (Photos:24)
Oberwallis

T4

PD+

14 Sep 14

Der im voraus gebuchte Traumtag
Ich kanns nicht anders wie im Titel sagen. Wenn man vom Wetterbericht her weiss, dass kaum Wolken am Himmel sind, und man eine Tour mit einer T-4 Wanderung plant und ein Klettersteig dazu hängt in einem UNESCO Weltkulturerbe, ja was kann da noch schief gehen? Heute jedenfalls gar nichts. Den Klettersteig am Eggishorn stand...
Published by 24 September 2014, 12h04 (Photos:12)
| | | |
| --- | --- | --- |
| Mittelwallis | T2 | 30 Aug 14 |

Eggishorn (2927m) - Märjelensee - Fiescheralp (2212m)
I've made this hike on my own. The route was quite easy, especially the part from the Gletscherstube to Fiescheralp. the weather was a bit cloudy and there were pretty strong winds, but there was some sun too. The views were spectacular and the Tällisee, Märjelensee and Aletsch glacier are very very beautiful. I made a shot cut...
Published by 9 August 2015, 06h24 (Photos:25 | Comments:1)
Oberwallis

T4

AD

27 Jul 14

Bettmerhorn and Eggishorn: high above the Aletsch Glacier
It takes some careful analysis of the weather forecast, plus commitment to travel long distances, if you want to find sunshine in the mountains this summer. This brought Abbi and myself to the Bettmeralp in the Oberwallis. Even then, when we reached the Bettmergrat cable car station, there was fog all around. We lingered about for...
Published by 4 August 2014, 21h08 (Photos:49)
Oberwallis

T2

PD+

17 Jul 14

Klettersteig am Eggishorn
So, heute soll es nun einen Klettersteig sein. Und bei diesen herrlichen Verhältnissen haben wir uns für das Eggishorn (mit Klettersteig) entschieden. Anreise durch das schöne Wallis bis nach Fiesch. Mit der Luftseilbahn anschliessend hoch zur Fiescheralp. Zuerst noch einen feinen Kaffee auf der Terrasse vom Hotel Eggishorn...
Published by 22 July 2014, 21h03 (Photos:28)
Oberwallis

T4

PD+

3 Oct 11

Vom Bettmerhorn aufs Eggishorn inklusive Klettersteig
Wenn langsam zu viele Touren auf der imaginären Wunschliste fungieren, besteht das Risiko, dass manche plötzlich vergessen gehen. So geschehen wäre das beinahe bei dieser hier. Gerade auf den letzten Drücker schafft sie es aber doch noch in unser 2011-Archiv und wird uns bestimmt noch lange in ausgezeichneter Erinnerung...
Published by 4 October 2011, 21h31 (Photos:23 | Comments:6 | Geodata:1)

Strahlhorn - Eggishorn - Bettmerhorn
DieseKonditionstour ist technisch nicht sonderlich schwer, dafür bietet sie schöne Ausblicke, insbesondere auf den Grossen Aletschgletscher. Und die verschiedenen Möglichkeiten für einen (relativ) knieschonenden Abstieg sind auch nicht zu verachten. Von Fieschertal auf markiertem Pfad zur Burghütte und weiter (blaue...
Published by 29 September 2011, 07h29 (Photos:12)

vom Bettmerhorn 2858m zum Eggishorn 2927m.........
.......e bitzeli ufe, e bitzeli gradus u e bitzeli abe. Das ganze über denBettmergrat. Das waren die einzigen Voraussetzungen für den heutigen, unserem letzten Ferientag, eine bombastische Aussicht und ohne Anstrengung sollte es sein. Vor vielen, vielen Jahren waren wir mit Kollegen schon mal auf dem Bettmerhorn und wir...
Published by 10 September 2011, 22h37 (Photos:17)

UNESCO HÖHENWEG (Bettmerhorn - Eggishorn)
Nederlands & Deutsch mit video. Deutsch: Ab dem Bergstation von Bettmerhorn. Start eine Schöne Alpine Wanderung. Ab dem Bergstation ist es eine halbe stunde laufen zum Bettmerhorn. Diese weg lauft uber Treppe und Felsen. Ab dem Bettmerhorn lauft der wanderweg immer über Felsen. Dem ganze wanderweg hatt mann Schönen...
Published by 30 August 2011, 15h58 (Photos:2 | Comments:1)