Pizzo Ruggia 2289 m
7508 ft.
---
Peak in

3 hike reports

, 39 photo(s). Last visited :

11 Dec 10


Geo-Tags: I, Vigezzo
Photos (39)
---
By Publication date · Last favs · By Popularity · Last Comment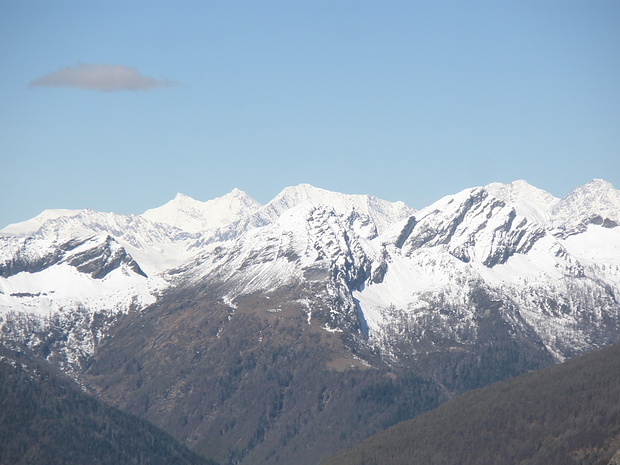 Pioda di Crana e Pizzo Ruggia in primo piano. Dietro, Alphubel, Täschhorn, Dom, Pizzo d'Andolla, Weissmies, Lagginhorn e Fletschhorn © tapio
Reports (3)
---

Pizzo Ruggia 2289 m
Malesco, ore 14,30 ufficio del Sindaco........ Tu, Tu, Tu, Tu, Tu......... "PRONTO!!". "BUON GIORNO SIG MARCO, PERMETTA CHE MI PRESENTI. SONO OLINDO CAMINO SINDACO DI MALESCO!.....LA CHIAMAVO COME RAPPRESENTANTE DELLA COMUNITA' VIGEZZINA......... ESSENDO VENUTI A CONOSCENZA DELLE VOSTRE INNUMEREVOLI FREQUENTAZIONI SUGLI ERTI...
Published by 12 December 2010, 20h34 (Photos:33 | Geodata:1)

Pizzo Ruggia
Pizzo Ruggia is a very nice little peak between the northern side of Val Vigezzo and Valle Onsernone. Reaching it's summit is a relatively comfortable scramble unless you hit snow. The latter was our case. We, ten members of CAI - Laveno and the 4-legged Margot, started from our parking place just below Arvogno under some...
Published by 31 May 2010, 10h48 (Photos:14)

Pizzo Ruggia
Wanderung auf den vergessenen Pizzo Ruggia im hintersten, wilden Teil des Onsernonetals. Valle Onsernone – ein wildes Tessiner Tal! Allerdings hebt es sich durch verschiedene "Spezialitäten" von seinen Bruder- und Schwestertälern ab: Die Landesgrenze verläuft hier nicht auf der...
Published by 3 October 2008, 08h05 (Photos:1)