Chüebodenhorn 3070m (3067m)
---
Region:
World » Switzerland » Tessin » Bellinzonese
Date of the hike:
29 September 2011
Hiking grading:
T4 - High-level Alpine hike
Climbing grading:
I

(UIAA Grading System)

Waypoints:
Geo-Tags:
CH-TI CH-VS Gruppo Pizzo Rotondo
Height gain:
1450 m

4756 ft.



Height loss:
1450 m

4756 ft.



Route:
All'Acqua - Gerenpass - Chüebodenhorn und zurück

Deutscher Text in der Mitte.
Encontraras un texto en castellano en la mitad de la pagina después del alemán. Al final de la pagina están las imágenes, espero que disfrutas las imágenes como nosotros lo hemos hecho esta día fantástico…
You will find English text at the end of the page including the pictures below / down of the report. I hope you will enjoy the pictures as we did it on this amazing day...
-----------------------------------------------------------------------------------------
Chüebodenhorn
Wunderschöne Wanderung in einem einsamen Gebiet. Hauptziel ist der Gerenpass, mit einer der schönsten Panorama auf die Berner Alpen mit dem immer grösser wertenden See. Schlussendlich entschieden wir uns die paar Höhenmeter bis zum Chüebodenhorn zu bewältigen… oder beinahe, es fehlten uns 3 Meter – die haben wir uns geschenkt, da leider kein Gipfelkreuz dieser herrliche Berg schmückt und wir bei 3067m ein gemütliche Liegefläche für Nora zur Verfügung steht…
Route
All'Acqua - Gerenpass - Chüebodenhorn und zurück
Der Weg ist teilweise mit roten Pfeile oder Steinmänchen markiert - – bereits bestens in hikr in verschiedene Sprachen dokumentiert.
Empfehlung:
Nicht über den Grat sondern wirklich auf dem SW / W-Rücken hinauf kraxeln. Folgt man die Rote Pfeile erreicht man etwa bei 2850m einen ausgesetzten "sandigen" Aufstieg mit nur wenige Steine die einen sicheren halt gewähren… Ist machbar, aber unsere Nora benötigte Hilfe und war nicht einfach und angenehm, dies auch ohne Hund.
Der Abstieg sind wir ausschliesslich auf dem Rücken geblieben.
Dennoch aufgepasst, auch grössere Steine können in Bewegung kommen.
Die Bilder sprechen für sich…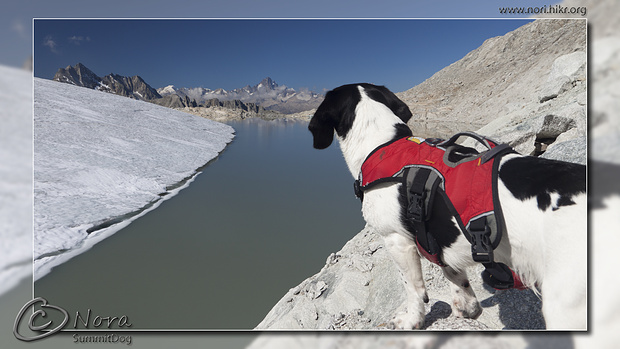 Fazit:
Für uns und unsere Hündin Nora gibt es keine schönere Zeit, als gemeinsam in der Natur zu sein, und dass Nora frei durch die Landschaft streifen kann und auf Schritt und Tritt dabei ist. Einen Tag mehr, haben wir unvergessliche Momente zusammen verbracht.
-----------------------------------------------------------------------------------------
Chüebodenhorn
Hermosa excursión en una zona aislada. El objetivo principal es la puerto Gerenpass, con una de las más bellas panorámicas de los Alpes de Berna. Finalmente decidamos subir la montaña Chüebodenhorn... o casi, nos faltan 3 metros, que nos ahorramos ya que tenemos un bloque de piedra que nos sirve para disfrutar la panorámica desde aquí. Por otra parte, lamentablemente la cumbre no dispone de una cruz.
Ruta
All'Acqua - Gerenpass - Chüebodenhorn y la espalda
El camino está parcialmente marcados con marcas de color rojo o monjitos (montones de piedra que orientan del camino). Por otra parte, ya está bien documentado en Hikr en diferentes idiomas.
Recomendación:
Sugiero subir en el laterial SW / W en lugar de la cresta. Si sigue las marcas o flechas rojas llegaras un pasaje expuesto, con "arena" y pocas piedras que te pueden ayudar como apoyo. Es posible y Nora necesitaba ayuda. No fue fácil y agradable, incluso sin el perro.
El descenso, completamente en la espalto de la montaña.
Sin embargo, ten cuidado, incluso las piedras más grandes pueden empezar a moverse.
Las imágenes hablan por sí solas ...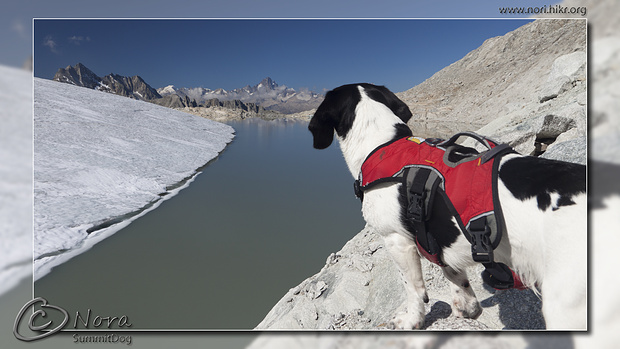 En resumen
Para nosotros y nuestra perra Nora no hay momentos mas hermoso, que estar juntos en la naturaleza y que Nora puede gozar la libertad en paisajes maravillosos. Una día mas hemos pasado inolvidables momentos juntos.
-----------------------------------------------------------------------------------------
Dog hiking
Quest for happiness and the sublime
Chüebodenhorn
Beautiful hike in a secluded area. The main objective is the Gerenpass, with one of the most beautiful panorama of the Bernese Alps. Finally we decided hike the few meters to the mountain Chüebodenhorn... or nearly so, we are missing 3 meters - which we have given to us, because unfortunately no summit cross adorns this magnificent mountain At this level we also find big stone as lounge to enjoy with Nora de Panorama.
Route
All'Acqua - Gerenpass - Chüebodenhorn and back
The trail is partially marked with red points or stone signs - already well documented in hikr in different languages.
Recommendation:
Ascent not via the ridge and stay on the SW / W mount side. If you follow the red sign, you will reach on a altitude of 2850m a "sandy" and exposed rise with a few stones to give a secure hold ... Feasible, but we needed help to Nora. Even without dog not easy and pleasant.
The descent, we stay entirely on the back of the mountain.
However, beware, even larger stones can get moving.
The pictures speak for themselves ...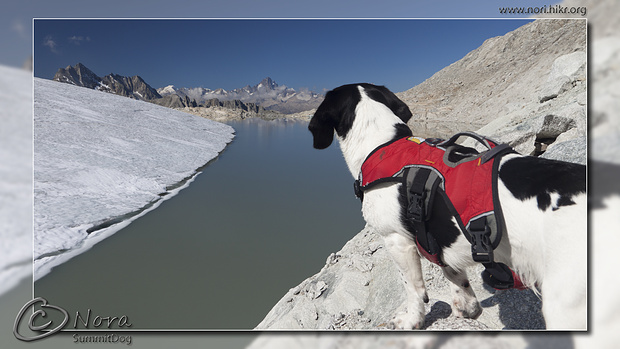 Conclusion:
For us and for our dog Nora there is nothing more important than passing the time together so that Nora can experience freedom in the unique world of the mountains, being with nature in the middle of nowhere and far away from civilization. One day more, we experienced memorable and unique moments that will last for ever.
Hike partners:

Nora
<![if !IE]>
<![endif]> <![if !IE]> <![endif]> <![if !IE]> <![endif]> <![if !IE]> <![endif]>
Minimap
0Km
Click to draw, click on the last point to end drawing
Gallery
---
Open in a new window · Open in this window