Muot da la Pischa 3025 m
9922 ft.
---
Peak in

12 hike reports

, 27 photo(s). Last visited :

13 Jul 20


Geo-Tags: CH-GR
Photos (27)
---
By Publication date · Last favs · By Popularity · Last Comment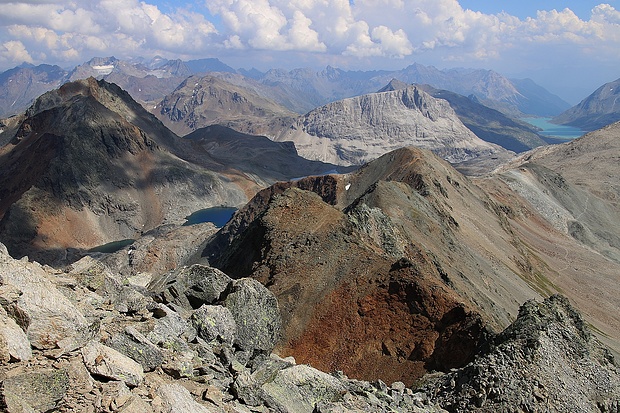 Rückblick von der Chamanna Georgy (3202m) auf den begangenen Grat vom Mout da la Pischa (3026m) aus rechts der Bildmitte. Der Gipfel in der Gratmitte ist der Hauptgipfel der Crasta Languard (3095m), rechts vorn steht der Languard Pitschen (3124m). © Sputnik
---
Reports (12)
---
| | | |
| --- | --- | --- |
| Oberengadin | T4- | 13 Jul 20 |

Muot da la Pischa, 3025 m
Der Muot da la Pischa ist ein unbedeutender 3000er zwischen Piz Languard und Piz Albris. Er ist relativ einfach und trotzdem wenig besucht. Mehrere Wege führen von verschiedenen Seiten bis an den Gipfelaufbau heran. Beschrieben wird hier der Aufstieg von der Diavolezza Talstation über das Val da Fain, Fuorcla Pischa, Südgipfel,...
Published by 13 July 2020, 21h09 (Photos:32)
| | | |
| --- | --- | --- |
| Berninagebiet | T3 | 9 Jul 20 |

Muot da la Pischa (3025m)
Es ist schon 8 Jahren her das wir auf den Muot da la Pischa standen und weil die Gegend rundum Lej da la Pischa so schon ist war es jetzt Zeit um der Muot nochmals ein Besuch zu erstatten. Es ist ein einfach zu erreichen 3000-er und einmal auf die Hochebene S-chüella sind viele schöne Flecken ohne al zu viel Mühe zu erreichen....
Published by 24 August 2020, 19h07 (Photos:36 | Comments:3 | Geodata:1)
| | | |
| --- | --- | --- |
| Oberengadin | T3+ | 12 Oct 19 |

Piz Languard (3263 m) & Muot da la Pischa (3025 m)
Great hike to Piz Languard (3263 m) & Muot da la Pischa (3025 m). The weather was perfect with mild temperatures and hardly any wind. Great views to surrounding mountains, and I got to see a couple of ibex close up! First I took the chair lift from Pontresina up to Alp Languard, and then I started my hike at 8:45 AM. I...
Published by 12 October 2019, 21h05 (Photos:39 | Geodata:1)
| | | |
| --- | --- | --- |
| Berninagebiet | AD | 16 Feb 19 |

Piz Pischa und Piz Albris
Fantastische Skitour über drei einsame Bündner 3000er Es war vor ziemlich genau 16 Jahren als wir eine ähnliche Tour, damals mit der unendlich langen Abfahrt durchs Val Chamuera, schon einmal unter die Ski genommen hatten. Die Verhältnisse sind auch jetzt wieder ähnlich wie im erinnerungswürdigen Winter 2003 - perfektes...
Published by 19 February 2019, 09h25 (Photos:26 | Comments:1)
Oberengadin

T5+

PD

II

5 Aug 17

Muot da la Pischa (3026m), Piz Languard (3261,9m) und zwei weitere Gipfel
CRASTA LANGUARD - EIN KRAXELGRAT ÜBER 3000m HÖHE. Endlich hatte ich wieder ein Wochenende Zeit, es ist August und meine eigentliche Bergtourenzeit 2017 beginnt reichlich spät im Jahr. Zum Auftakt sollten es fünf Dreitausender sein, vier davon habe ich erreicht. Auf den Fünften, Piz Albris (3165,9m), den ich am Sonntag...
Published by 9 August 2017, 19h29 (Photos:60 | Comments:2)
Oberengadin

T6-

II

8 Sep 16

Crasta Languard / Piz Languard
Tag 6 unserer Bergwoche im Engadin. Es geisterte mir schon lange im Kopf herum den Piz Languard zu besteigen, aber über die Crasta Languard als Zugabe. Nun heute war die Zeit gekommen. Mit der Sesselbahn schwebten wir auf die Alp Languard. Weiter marschierten wir auf dem unteren Weg zum Punkt 2486 Stevel V.Languard. Wobei von...
Published by 19 September 2016, 21h19 (Photos:36)
Oberengadin

T5+

II

2 Oct 14

Piz Languard mit Abstieg über Crasta Languard
Nachdem wir am Vortag gemütlich unterwegs waren, wollten wir am letzten Tag unseres Engadinaufenthaltes die wieder scheinende Sonne noch einmal nutzen und noch einmal einen höheren Gipfel angehen. Die kecke Spitze des Piz Languard sollte es diesmal sein. Der normale Aufstieg ist mit T3 für viele machbar. Im Hinterkopf geisterte...
Published by 16 October 2014, 21h39 (Photos:40)

Nicht ganz solo am Muot da la Pischa (3026 m)
Traumtag im Oberengadin. Da waren schon ein paar Leute unterwegs, aber zum Glück und wie fast immer, blieben sie auf den ausgetrampelten Pfaden. Trotzdem wurde aus meiner für den Genuss von Einsamkeit geplanten Soloüberschreitung des Muot da la Pischa nichts, denn der Berg war von Steinwild belagert! Am westlichen Ende des...
Published by 9 September 2012, 15h51 (Photos:31 | Comments:10 | Geodata:1)

Ueberschreitung Muot da la Pischa - Steinbockrevier im Pischagebiet
Die Herren der Pischaseen sind heute mehr als zwei Dutzend Steinböcke, ein friedlicher alpiner Logenplatz mit freier Sicht ins Berninagebiet. Ein Siestarevier, welches sie sich nicht durch ein paar Wanderer streitig machen lassen. Von der Bahnstation Diavolezza nehmen wir den Wanderweg ins Val Fain, über eine steile Grasflanke...
Published by 8 August 2012, 08h05 (Photos:35)
Muot de La Pischa 3026m
Eigentlich hatten wir heute anderes vor, doch die vielen Wolken verhinderten Touren, bei denen absolute Orientierung gefragt war. Also fuhren wir zur Bahnstation Diavolezza und starteten dort gegenüber auf der anderen Sraßenseite Richtung Fuorcla Pischa. Zunächst ging es auf einer Fahrstraße ins Val da Fain. Das verließen...
Published by 3 August 2012, 20h56