Muchetta - Vorgipfel 2587 m
8485 ft.
---
Peak in

2 hike reports

, 10 photo(s). Last visited :

27 Sep 19
Photos (10)
---
By Publication date · Last favs · By Popularity · Last Comment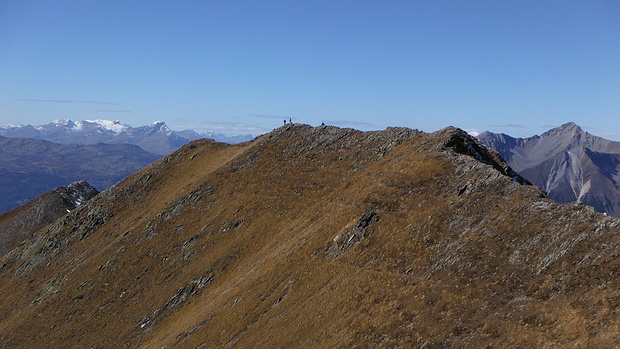 View back to the summit of Muchetta, which really is just the highest point on a long ridge. © Roald
---
Reports (2)
---

Herbst Rot über Monstein
Davos Monstein - Bodmen - Büelenhorn - Fil da Stugl - Stulsergart - Muchetta - Curtins - Runsolas - Stugl - Bergün - Bravuogn Digitale Schweizerkarte Wie das Postauto in Monstein wendet ist spektakulär. Die Hinterachse steht ein Meter vom Abgrund, die letzten vier Sitzreihen hängen so in der Luft... Kein Problem auch heute...
Published by 29 September 2019, 03h17 (Photos:6 | Geodata:1)

Muchetta (2622 m) - bike & hike from Filisur
Muchetta is a mountain east of and above the village Filisur. There is a white-red-white marked trail all the way from Filisur up to the summit, but this ascent implies a hefty 1600 m elevation gain. To at least make the descent a bit easier on the knees, I brought my mountain bike along. I mostly walked the bike uphill on the...
Published by 14 October 2017, 11h03 (Photos:31 | Geodata:1)