Monstein 1619 m
5310 ft.
---
Locality in

60 hike reports

, 15 photo(s). Last visited :

21 Feb 21


Geo-Tags: CH-GR
Photos (15)
---
By Publication date · Last favs · By Popularity · Last Comment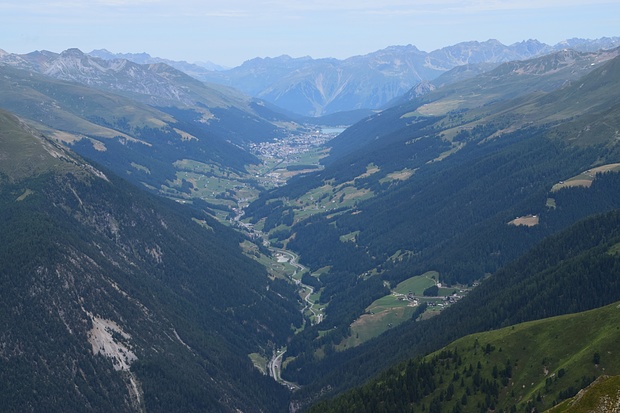 Hinten sieht man den Davoser See, aber auch Monstein, mein Start/Ziel ist noch ganz schön weit weg. © countryboy
---
Reports (60)
---

Gletscher Ducan
Nach dem Älplihornam Vortag stand heute der Gletscher Ducan auf dem Programm. Und mindestens am Wetter sollte es nicht scheitern. Die ersten knapp 2 Stunden Aufstieg waren schon vom Vortag bekannt. Von der Fanezfurgga traversierten wir zur Ducanfurgga. Heute bei diesen Bedingungen und Tageszeit sicher kein Problem. Der...
Published by 22 February 2021, 10h41 (Photos:12 | Comments:2 | Geodata:2)

Älplihorn
Immer wieder bin ich begeistert, wenn eine Tour und das Datum Monate vorher geplant wird und an diesem Wochenende solch hervorragendes Wetter und so super Bedingungen herrschen. Wir reisten sehr früh nach Monstein an. Das lohnt sich, nur schon wegen der Parkplätze. Ausser man möchte durch das ganze Dörfchen laufen ;-)...
Published by 22 February 2021, 10h40 (Photos:13 | Geodata:2)

Chrachenhorn (2891 m) - snow shoe hike from Monstein
Great snow shoe hike to the summit of Chrachenhorn, with start and end in Monstein. Start of the hike at 8:30 AM. The temperature was around -4°C. In Monstein there was approx. 5 cm of fresh snow from yesterday. I followed a brand new ski track in the direction of Oberalp. Further up I saw two groups of skiers ahead of me. But...
Published by 20 February 2020, 20h09 (Photos:34 | Geodata:1)

Älplihorn Wintergipfel 3000 m
Das Älplihorn liegt zwischen dem Sertigtal und Monstein. Der einfachste Aufstieg erfolgt von Süden über den Gratrücken, der keine besonderen Schwierigkeiten aufweist. Gegen das Sertig fallen die Wände umso steiler ab. Möglich wäre auch eine Besteigung via Nord-Grat vom Leidbachhorn, diese Route ist aber wesentlich...
Published by 19 October 2019, 06h50 (Photos:35)

Herbst Rot über Monstein
Davos Monstein - Bodmen - Büelenhorn - Fil da Stugl - Stulsergart - Muchetta - Curtins - Runsolas - Stugl - Bergün - Bravuogn Digitale Schweizerkarte Wie das Postauto in Monstein wendet ist spektakulär. Die Hinterachse steht ein Meter vom Abgrund, die letzten vier Sitzreihen hängen so in der Luft... Kein Problem auch heute...
Published by 29 September 2019, 03h17 (Photos:6 | Geodata:1)

Gipshorn 2813 m
Das Gipshorn liegt in der Kette Büelenhorn – Mäschenfurgga, zusammen mit dem Mäschengrat bildet es einen scharfkantigen Übergang zwischen dem Val da Stugl und der Inneralpen von Monstein. Als wir am 30.06.19 auf dem Chrachenhorn waren stach uns die imposante Felsformation ins Auge. Die Landschaft um den Gipfel auf der...
Published by 5 August 2019, 20h45 (Photos:30)

Büelenhorn (2806 m) - bike & hike from Monstein
Nice bike & hike from Davos Monstein via Inneralp to Büelenhorn on the wrw marked trail. From Monstein up to Mäschenboden I partially biked, and partially I just walked the bike. I parked the bike shortly before Mäschenboden and continued on foot from there. Above elevation 2300 m there were lots of nice and colorful...
Published by 5 August 2019, 22h03 (Photos:38 | Geodata:1)

Gar ke leidi Sach, das Horn vom leide Bach!
Vor dem Schwingfest ist nach dem Schwingfest: Während vorvorgestern die Vorbereitungen auf Hochtouren liefen, sitzen heute im "Walserhus" stämmige Mannsbilder, von den harten Kämpfen des Vortages gezeichnet, beim Frühstück, während draussen aufgeräumt und aufgeladen wird und wir uns um halb 10 ein Käfeli gönnen. Wir...
Published by 30 July 2019, 20h44 (Photos:20)

Chrachenhorn 2891 m Überschreitung
Das Chrachenhorn liegt in der Region Davos hinter dem Bierdörflein Monstein und ist einfach zu erreichen. 3 Grate ziehen sich zum Berg hoch. Eingefasst von 3 Passübergängen bieten sich verschiedene Tourenmöglichkeiten. Der bekannteste Übergang dürfte die Fanezfurgga sein, bildet diese den höchsten Übergang des Wanderwegs...
Published by 6 July 2019, 13h58 (Photos:20)

Schneeschuhtour Fanezfurgga und Älplihorn 3005 m
Diese Tourenbeschreibung vereint zwei Varianten: Will man eine einfache Schneeschuhtour gehen, kann man nur bis zur Fanezfurgga laufen, sucht man dagegen alpine Abenteuer kann man gleich das Älplihorn angehen. Der Anfang ist für beide Touren gleich: Vom Parkplatz am Eingang des Örtchens Monstein geht's bis ans Dorfende. Von...
Published by 6 May 2019, 00h05 (Photos:9 | Geodata:1)