Chämtner Tobel 613 m
2011 ft.
---
Other in

4 hike reports

, 1 photo(s). Last visited :

25 Jan 18
Photos (1)
---
By Publication date · Last favs · By Popularity · Last Comment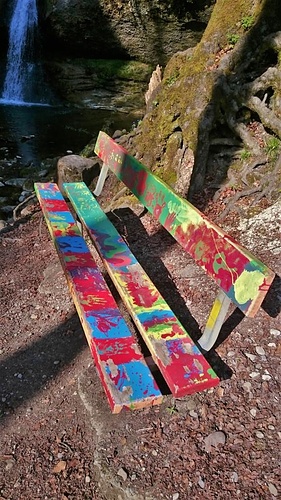 (60) Kemptner Tobel, Zürcher Oberland. Eine wunderschöne, bunte Bank bei einem wunderschönen Wasserfall. BANK 19 von: iuturna © iuturna
---
Reports (4)
---

Tobel uf, Tobel ab - von Kempten nach Hinwil
Wir steigen in Kempten, einem Quartier Wetzikons, aus der S3 und queren durch die Wohnhäuser zum Chämtnerbach. Auf der rechten Flussseite erreichen wir flussaufwärts in wenigen Schritten den Chrattenweiher. Viele Enten schnattern da schon. Es dauert eine Weile, bis wir nach der Müli auf den Waldweg abzweigen können. Bald...
Published by 27 January 2018, 19h55 (Photos:32 | Comments:1 | Geodata:1)

Bänke und ihre Aussichten - ein Hikr.org-Gemeinschaftsbericht
Traumziel Aussichtsbank! Wir setzen uns. Ganze Bergstöcke grüßen herüber: der Watzmann! Und der Kaiser. Servus! Ja, so schön kann es sein, aber mal ehrlich, haben die meisten Bänke nicht ganz andere Ausblicke? 12 Hikr. sind dieser Frage nachgegangen, waren auf Motivsuche und haben außerdem ihre Archive gesichtet…mit...
Published by 8 November 2016, 23h36 (Photos:287 | Comments:14)

Large round Uster-East
23.4.2017 Grosse Runde Uster-Ost On this Sunday, at 10 o'clock I decided to go for a hike. The weather was beautiful and there was no hurry. I didn't really have a plan where I would go to. Just wanded to find out how far I could walk in one day. As there are plenty of hiking guideposts as well as bus and train stations, it's...
Published by 6 August 2017, 21h22 (Photos:64 | Comments:2)
Rosinli
Dauerregen und eine nicht loszuwerdende Erkältung lassen "unwürdige" Ziele plötzlich zu begehrten Projekten werden - oder: manchmal muss man auf kleiner Flamme kochen, nicht weil das lauwarme Essen besonders schmeckt, sondern weil Hungern keine Option ist... Wobei es ja Möglichkeiten gäbe, dass auch diese Tour zu etwas...
Published by 19 June 2016, 12h01 (Photos:10 | Comments:5)