Alvaneu Bad 957 m
3139 ft.
---
Locality in

3 hike reports

, 2 photo(s). Last visited :

19 Oct 17
Photos (2)
---
By Publication date · Last favs · By Popularity · Last Comment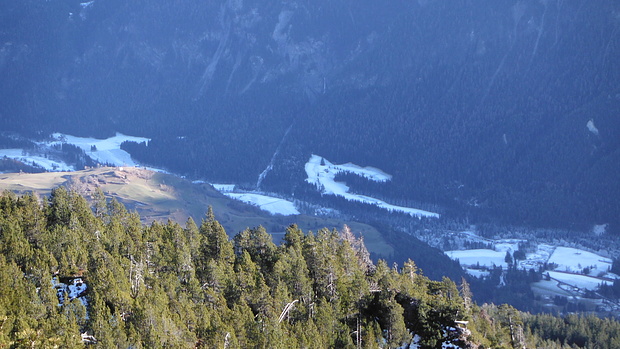 Down in the valley (between Surava and Alvaneu Bad) it was in the shade all day, and the fields and trees are still frosted over. © Roald
---
Reports (3)
---

Albula III, Filisur bis Tiefencastel
Kalt ist es an diesem Morgen. Der Boden ist zum Teil gefroren. Der Weg der Albula entlang liegt auf der linken Seite des Flusses und vorerst durchwegs im Schatten. Auf der andern Talseite ist es sonnig und wahrscheinlich ein wenig wärmer. So gehe ich in Richtung Alvaneu Bad. Dort beim Bäderzentrum gehe ich über die Brücke, um...
Published by 22 October 2017, 09h07 (Photos:29)
Albulatal

AD

IV

22 Aug 17

Bergüner Stöcke
dem Schaftobelbach entlang und über den Bot digl Uors in die Ela-Hütte: das ist ein abwechslungsreicher und schöner hüttenzustieg. anfangs Schaftobel allerdings findet man eine tafel dass angeblich der weg aus Sicherheitsgründen gesperrt sei. also gesperrt war überhaupt nichts. wir konnten gut durchgehen. die erste...
Published by 3 September 2017, 21h47 (Photos:51)

Von Filisur zum imposanten Landwasserviadukt und weiter nach Tiefencastel
Ein traumhafter Frühlingstag zeichnet sich ab, und was eignet sich da besser, als einen Ausflug ins Albulatal zu machen. Ich folge vom Bahnhof Filisur dem Bahnweg bis zum Landwasseraussichtspunkt Süd. Hier geniesse ich einen spektakulären Blick auf dieses imposante Bauwerk. Danach steige ich steil hinunter zur Landwasser....
Published by 26 April 2015, 21h45 (Photos:24)