Alpoglerberg 1841 m
6038 ft.
---
Peak in

7 hike reports

, 13 photo(s). Last visited :

11 Jun 15


Geo-Tags: CH-OW, Hagleren und Giswilerstöcke
Photos (13)
---
By Publication date · Last favs · By Popularity · Last Comment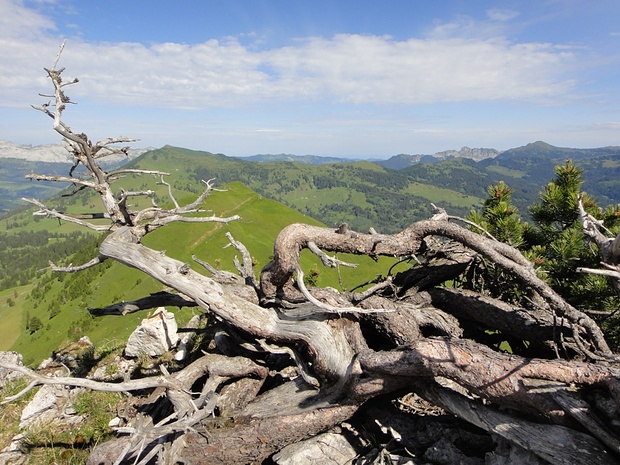 herrlicher Blick hinüber zum Alpoglerberg, dahinter Teile der Schratteflue (links leuchtend), Nünalpstock, Schwändiliflue und Fürstei © Felix
Reports (7)
---
Obwalden

T5+

II

11 Jun 15
Schafnase 2010m via NW-Grat
Dutzende Hikr-Berichte können nicht lügen... Schon länger schwirrt mir diese Tour im Kopf herum. Zu lange dachte ich mir und ging sie jetzt endlich mal an. Ein gutes Dutzend Hikr sind diese Route bereits gegangen und sogut wie allen gefiel sie - ein vielversprechender Anfang! Rauf gehts mit dem PKW von Giswil auf der sog....
Published by 12 June 2015, 04h33 (Photos:11)
Alpoglerberg 1'841m
Ein wunderschöner Tag, der für eine kleine Bergtour am Nachmittag genützt werden musste: mein Auto fand einen Platz am Glaubenbielenpass (bei 1'565m), von wo ich die Forststrasse hinauf zur Jänzimatt wanderte. An der Wegverzweigung habe ich mich links gehalten und bei der kleinen Holzkapelle wieder links auf den deutlich...
Published by 23 September 2014, 21h52

Kein Hengst dafuer auf den Alpoglerberg 1841m
Ich wusste dass der Tag grau wuerde aber dennoch wollte ich auf den viel bestiegenen Hengst! was ich nicht wusste, ist dass die Strasse von Giswil nach Soerenberg im Winter nicht geraeumt wird :( Item, dachte ich, als ich das Schild in Giswil sah, und fuhr halt auf die Moerlialp. Auch gut, denn ich musste ja am fruehen...
Published by 22 February 2014, 17h38 (Photos:6)

Alpinkraxeltour auf die Schafnase und Rossflue
Diese Tour stand schon lange auf meiner Prioritätenliste und heute war es nun soweit, mit Pasci und Sissy_vs durfte dich diese schöne Kraxeltour geniessen. Alpoglen (T3) Gestartet sind wir auf dem grossen Parkplatz auf der Sörenbergerseite unterhalb des Glaubenbielenpass. Zuerst der Passstrasse entlang hinauf auf zur...
Published by 30 April 2011, 18h45 (Photos:59 | Comments:2)

Gratwanderung vom Glaubenbielen- zum Brünigpass – oder ein Malheur kommt selten allein
Wenn hikr Grössen wie Zaza über die Gräte um den Giswilerstock von einer lohnenden Kraxelei schreiben, Sputnik von einer der schönsten Kraxeltouren der Zentalschweizer Voralpen spricht und auch Delta sagt, dass es alles bietet, was das Herz begehrt, kann man wohl nicht schief gehen… Auch sonst werden...
Published by 8 October 2009, 20h04 (Photos:18)

Alpoglerberg 1841m, Giswilerstock / Schafnase 2011m und Rossflue 2084m
EINE SEHR LOHNENSWERTE KRAXELTOUR. Meine OW-Gipfel Nummer 60 bis 62. Der Tourenstart gestaltete sich chaotisch. Da ich frühmorgens den falschen Zug in Luzern erwischte, verpasste ich das Postauto in Schüpfheim nach Sörenberg. Marko war zu dieser Zeit schon mit dem Fahhrrad auf dem Parkplatz Glaubenbielen...
Published by 29 June 2009, 18h37 (Photos:21)
Obwalden

T5

II

F

28 Jun 09

bike & hike zur Schafnase und Rossflue
bike and hike and climb tour im Alpenvorland. Start war in Giswil. Auf der sogenannten Panoramastraße gehts gemütlich hochwörts zum Glaubenbühlenpass. Diese ersten 1200hm gingen eigendlich schnell rum. Sputnik ließ ein wenig auf sich warten,also bin ich schonmal vorausgegangen. Erst das bike versteckt,...
Published by 5 July 2009, 17h10 (Photos:29 | Geodata:1)