Pizza Naira 2870 m
9414 ft.
---
Peak in

10 hike reports

, 58 photo(s). Last visited :

24 Sep 16


Geo-Tags: CH-GR
Photos (58)
---
By Publication date · Last favs · By Popularity · Last Comment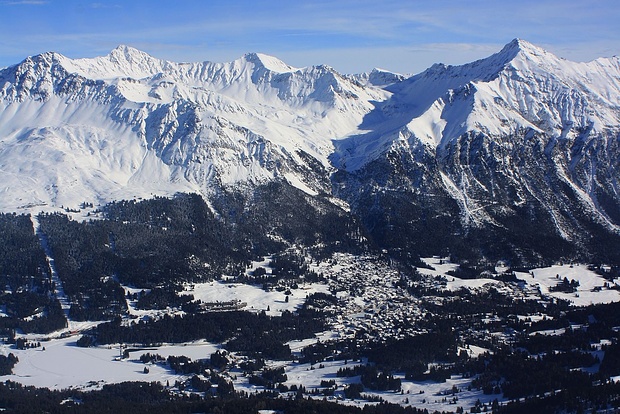 Piz Danis (2497m): Das Feriendorf Lenzerheide / Lai (1476m) liegt einen Kilometer tiefer unterhalb eines schönen Bergpanoramas. Die Gipfel von links nach rechts sind: Parpaner Rothorn Westgipfel (2861m), Aroser Rothorn (2980m), Pizza Naira (2870m) und Lenzer Horn (2906m). © Sputnik
---
Reports (10)
---
Lenzerheide

T4+

I

24 Sep 16

Pizza Naira and Aroser Rothorn
I started out in Lenzerheide, hiking up towards Alp Sanaspans on the marked trail. During the first part through the residential area I had some difficulty finding the right way, but eventually I made it onto the trail to Alp Sanaspans (T2, maybe T3 in a few places). From Alp Sanaspans on the marked trail in direction...
Published by 25 September 2016, 15h15 (Photos:39 | Geodata:1)
Schanfigg

T5

PD+

II

22 Jul 13
Über zackige Grate von Arosa nach Lenzerheide
Zu dritt inklusive Lokführer fahre ich um 5.15 Uhr mit der neuen Allegra -Holper-Kombination von Chur nach Arosa. Um 6.15 fülle ich am Bahnhofbrunnen nochmal meinen Tank und laufe hinunter zur Brücke beim Müliboden, einem sehr schönen Teil von Arosa. Via Fahrstrasse gelange ich zum Sender und in Wegspuren zur kühnen Hütte...
Published by 24 July 2013, 17h22
Lenzerheide

T5+

III

6 Oct 12

Rothörner und andere bunte Berge
Durch die Berichte von Schlumpf(zum Bericht) und Delta(zum Bericht) auf die Idee gebracht und wegen eines immer noch beleidigten Knies in umgekehrter Reihenfolge habe ich diese mit meinem treuen Kletter- und Bergkameraden Paul (der noch nicht hier auf Hikr vertreten ist) teils nachgestiegen. Eigentlich wollten wir ursprünglich...
Published by 7 October 2012, 17h00 (Photos:97 | Geodata:1)
Schanfigg

T5+

II

5 Oct 12

Aroser Rothorn (2980m) und Lenzer Horn (2906m)
Das Aroser Rothorn steht schon lange auf meiner Wunschliste. Im SAC-Führer "Alpinwandern" finde ich eine Route hinüber aufs Lenzer Horn. Mein Interesse ist geweckt. Arosa - Aroser Rothorn - T3 In Arosa angekommen stelle ich fest, dass das Aroser Rothorn schneebedeckt ist. Viel scheint es aber nicht zu sein. Ich beschliesse,...
Published by 7 October 2012, 19h44 (Photos:36 | Comments:3 | Geodata:1)

Die Rothörner und das Lenzer Horn
Eine lohnende Grattour auf fünf Gipfel über der Lenzerheide Die Lenzerheide ist mir aus meiner Kindheit ein guter Begriff. Hier habe ich damals das Skifahren gelernt - und die Berge um Umkreis bestaunt. Noch nie habe ich die Region allerdings erwandert. Dabei gibt es eine Vielzahl von gut begehbaren, aussichtsreichenGraten...
Published by 3 September 2012, 19h47 (Photos:59)
Schanfigg

PD

II

27 Jun 11

Von Arosa zum Lenzerhorn
Im leeren Zug erreiche ich Arosa um 12:09 Uhr. Es scheint wohl nicht der Hit, denn es ist ausgesprochen still als ich den Ortsausgang ansteuere. Von der Hütte Uf den Budemji 2182 m führt noch ein Pfad bis unter die Mittaglücke ca. 2350 m, die man leicht erreicht. Am schönen Punkt 2491 m mache ich noch 15 Minuten Vesperpause,...
Published by 30 June 2011, 18h17 (Photos:18)

Aroser Rothorn (2980 m) - Pizza Naira (2870 m)
War mir Arosa bislang nur als hochgelegener Skiort (um die ich gewöhnlich einen grossen Bogen mache) und Veranstaltungsort des Humorfestivals bekannt, wollte ich diese Region nun doch einmal wandertechnisch erkunden und deren höchsten Gipfel, das Aroser Rothorn (2980 m) besteigen, dessen Lage und Höhe eine...
Published by 17 September 2009, 22h37 (Photos:33)
| | | |
| --- | --- | --- |
| Lenzerheide | AD+ | 13 Apr 09 |

Pizza Naira (2870m)
Bis zu diesem Ostermontag machte ich um den Gebirgsstock rund um das Aroser Rothorn einen grossen Bogen. Zu abschreckend wirkten die Skigebiete von Lenzerheide und Arosa . Verlässt man aber die gängigen Varianten, hat man wunderbare Skitourengipfel für sich alleine, so z.B. die Pizza Naira (nein, nicht die mit...
Published by 14 April 2009, 22h50 (Photos:8)

Über 5 Gipfel zum Lenzer Horn 2906m
Von der Mittelstation Rothornbahn über das Parpaner Weisshorn 2824m, Parpaner Rothorn 2861m (Überschreitung), Aroser Rothorn 2980m (Überschreitung), Pizza Naira 2870m (Überschreitung), Piz Mez 2730m (Überschreitung), Lenzer Horn 2906m zurück zur Talstation Rothornbahn. Um gleich etwas Höhe zu...
Published by 12 August 2008, 18h51 (Photos:30 | Comments:1)

Pizza Naira 2870m
Eindrückliche Rundtour mit Ausgangspunkt Parpaner Rothorn. Zuerst über das Aroser Rothorn, dann über den Pizza Naira und zu guter Letzt über das Lenzer Horn.Der Pizza Naira Nordgrat ist etwas exponiert und hat leichte Kraxelstellen.
Published by 22 November 2006, 17h26 (Photos:5)