Muot da Crasta 2289 m
7508 ft.
---
Peak in

4 hike reports

, 1 photo(s). Last visited :

10 Sep 20


Geo-Tags: CH-GR
Photos (1)
---
By Publication date · Last favs · By Popularity · Last Comment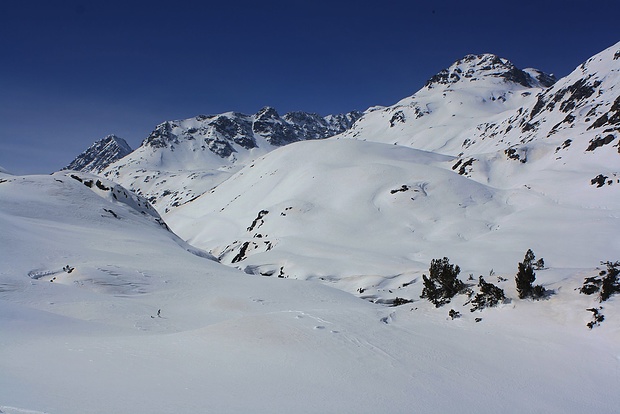 Ich folgte der Aufstiegspur von den Alphütten Zembers da Suvretta die südlich des Beverbaches talaufwäets führt. Die bedeutete aber einige Höhenmeter mehr da ich etwas talaufwärts wieder steil zum Bach abfahren musste. Enfacher wäre es gewesen den Schneebuckel Muot da Crasta (2289m) in der Bildmitte oberhalb des Baches zu traversieren was ich auf dem Rückweg auch machte. Rechts oben ist der Piz Chembels (2981m), der Eckpfeiler des Piz Laviner Ostsüdostgrates. © Sputnik
---
Reports (4)
---

Jenasch hutte mt 2652 traversata La Veduta-Spinas
Erano anni che volevo fare il giro "La Veduta-Spinas" e finalmente oggi si è realizzato. Con mio fratello Giorgio lasciamo l'auto all'ospizio La Veduta poco sotto il pass Julier prorpio all'inizio del sentiero. La giornata è serena anche se la meteo prevede nuvole e forse qualche goccia....La signora dell'Ospizio addirittura ci...
Published by 11 September 2020, 20h54 (Photos:31 | Comments:2)

Preda - Fuorcla Laviner (3022m) - Spinas
Unsere erste Hikr Bericht, ein Tour die schon ein Paar mal beschrieben worden ist aber die heutige Situation macht dieser Bericht von Nutzen. Wir starten in Preda 1789m. Bei der Tunnelbaustelle sind ein wenig Parkplätzen die gratis zu benutzen sind. Alternative könnte man bei Naz parkieren oder mit dem Zug anreisen....
Published by 16 September 2017, 17h36 (Photos:46 | Geodata:1)

Preda to Bregaglia - Graubünden high hike
A beautiful 5 day walk across Graubünden finishing in the wild and beautiful Bregaglia. Day 1 - Train journey to Preda. This is a journey in itself, the lovely Rhätische Bahn trains wind up to the top of the Albula Pass where you get out into instant natural beauty. From here it's a simple walk pass mirror clear lakes...
Published by 25 March 2017, 01h37 (Photos:26 | Comments:2 | Geodata:1)
Oberengadin

PD

PD+

3 Apr 15
el viento viene el viento se va ...
el viento viene el viento se va Wartend in der warmen Stube unter einem knatternden Dach, Niklas – der Sturm und eine positive Wendung. berggiis und ich hatten Ferien – endlich (!) – und diese wollten wir so richtig auskosten. Ski's, Felle, Harscheisen, Helm, Klettergurt, Skischuhe, Seil, Pickel, Lawinensonde,...
Published by 24 May 2015, 11h56 (Photos:35 | Comments:4)