Leidbachfurgga 2727 m
8945 ft.
---
Pass in

6 hike reports

, 12 photo(s). Last visited :

21 Jul 20


Geo-Tags: CH-GR
Photos (12)
---
By Publication date · Last favs · By Popularity · Last Comment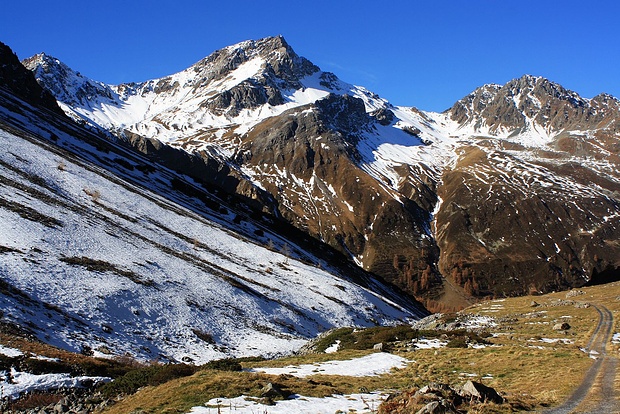 In prächtigen Herbstfarben und ein wenig eingeschneit präsentiert sich das Älplihorn (3005,6m) aus dem Chüealptal. Rechts vom Älplihorn, durch die Leidbachfurgga (2727m) getrennt, steht das Leidbachhorn (2908m), links vom Älplihorn, durch die Bärentällifurgga (2745m) getrennt, der namenlose Gipfel P.2844m. © Sputnik
---
Reports (6)
---

Leidbachhorn 2907 m
Das Leidbachhorn mit seiner markanten Zackenkrone thront über dem Rinerhorn mit seinen vielen Wintersporttouristen. Von den alpinen Stationen macht das Leidbachhorn einen unnahbaren Eindruck. Auch im Sommer lädt der Gipfel wenig zur Besteigung ein, zumal das dahinter gelegene Älplihorn 100 m höher ist, dadurch die umfassendere...
Published by 22 July 2020, 14h59 (Photos:21)

Leidbachhorn (2907 m) - hike from Sertig
Leidbachhorn (2907 m) is a mountain just west of Sertig (Davos area). The neighboring mountain Älplihorn is more well known and more often visited. Start in Sertig at 8:30 AM. I followed the unmarked trail up towards Alpeli (T2). The start of this trail is a bit difficult to find. From Alpeli I proceeded in northwesterly...
Published by 1 September 2019, 15h52 (Photos:26 | Geodata:1)

Gar ke leidi Sach, das Horn vom leide Bach!
Vor dem Schwingfest ist nach dem Schwingfest: Während vorvorgestern die Vorbereitungen auf Hochtouren liefen, sitzen heute im "Walserhus" stämmige Mannsbilder, von den harten Kämpfen des Vortages gezeichnet, beim Frühstück, während draussen aufgeräumt und aufgeladen wird und wir uns um halb 10 ein Käfeli gönnen. Wir...
Published by 30 July 2019, 20h44 (Photos:20)

Leidbachhorn 2908 m
Das schroffe Leidbachhorn ist zwischen der Davoser Fraktionsgemeinde Monstein und dem Sertigtal gelegen. Im Süden wird es durch die Scharte der Lidbachfurgga vom Älplihorn getrennt. Der Nordgrat steigt rasch zu den begrasten Hängen des Rinerhorns ab. Namensgebend für den Berg ist der etwa 3 km lange Leidbach welcher im...
Published by 10 October 2018, 21h06 (Photos:23)

Leidbachhorn 2907 m
Das Rinerhorn ist ein bekannter Skiberg in der Region Davos, das darüber liegende Leidbachhorn hingegen ein wenig bekannter Berg. Es ist ein wild zerklüfteter Felsgipfel mit vielen Graten und Türmen. Das Gestein ist von der brüchigeren Sorte. Das nachfolgende Älplihorn ist wieder bekannter und öfter begangen, da auch höher....
Published by 30 July 2018, 19h52 (Photos:21)

Einsame Gipfel in der Heimat...
Warum in die Ferne schweifen, das Gute liegt so nah! Eigentlich war diese Tour nicht weit oben auf meiner Liste. Ok, sie war gar noch nicht auf der Liste. Ich wollte aber nicht weit fahren und so entschied ich mir für etwas lokales. Und es hat sich gelohnt! Mit der Gondelbahn gings zur Bergstation der Rinerhornbahn. Um ein...
Published by 14 October 2008, 07h33 (Photos:15 | Comments:4 | Geodata:1)