Pic de Comapedrosa / Pic de Coma Pedrosa 2939 m
9640 ft.
---
Peak in

7 hike reports

, 19 photo(s). Last visited :

19 Jun 16


Geo-Tags: AND
---
Routes (2)
---
Photos (19)
---
By Publication date · Last favs · By Popularity · Last Comment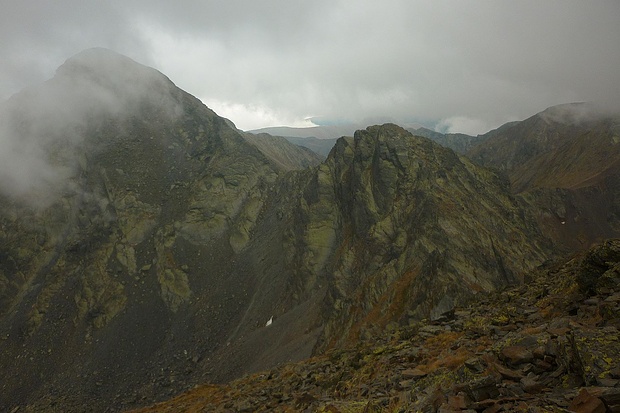 Aussicht von der Roca Entravessada (2925m) auf den Pic de Comapedrosa (2939m) und Pic de Baiau (2881m). Zwischen den beiden Gipfeln ist die Collada del Forat dels Malhiverns (2823m). © Sputnik
Reports (7)
---

Comapedrosa, Landeshöhepunkt Andorra (2943 m)
Die Speicherkarte meiner Spiegelreflexkamera ist leider defekt und so kann ich hier leider nurdie Fotos von meiner kleinen Kamera bzw. Handy zeigen. Selbst eine Firma zur Datenrettung konnte sie nach 6-monatiger Analyse nicht wiederherstellen, da der Controller der SD-Karte defekt ist, was bei dieser Bauweise der Speicherkarte...
Published by 14 April 2017, 18h06 (Photos:33 | Comments:2)

Comapedrosa (2.939 m) - Höchster Berg von Andorra
Für eine gute Woche reisen wir in die Pyrenäen. Unser erstes Tourenziel ist dabei der Comapedrosa. Dieser Berg befindet sich im Westen von Andorra - nahe der Grenze zu Spanien. Mit 2.939 m ist er der Landeshöhepunkt des Kleinstaates und wird offenbar relativhäufig bestiegen. Entsprechend gibt es bereits auch die eine...
Published by 25 September 2015, 11h48 (Photos:56 | Comments:6 | Geodata:1)

Coma Pedrosa (2943m), der hoechste Berg Andorras, Sued-Nord-Ueberschreitung
Ein Bericht von sputnik und Kollegen ueber die Besteigung des Landeshoehepunktes von Andorra hat mich auf die Idee gebracht, diese Tour zu unternehmen. Ich bin dieses Jahr zum erstenmal seit Langem im Sommer nicht in die Alpen gefahren, sondern etwas weiter suedlich in die Pyrenaeen, die ich schon vor 5 Jahren einmal kennenlernen...
Published by 16 September 2015, 08h44 (Photos:17 | Comments:2 | Geodata:1)
Andorra

T6

PD

II

19 Oct 13

Pic de Comapedrosa 2939m und 2 weitere Gipfel
HÖCHSTER GIPFEL ANDORRAS: PIC DE COMAPEDROSA 2939m Eigentlich sollte die Tour auf Andorras Landeshöhepunkt eine relativ einfache Bergtour sein, doch sie endete völlig chaotisch denn von uns drei Tourengänger stieg jeder ungewollt in ein anderes Land ab. Ich kam zwar in unserem Hotel in La Masana in Andorra wie geplant an,...
Published by 26 October 2013, 18h21 (Photos:118 | Comments:13)

Pic de Coma Pedrosa, 2943m - eine Supertour mit ungeahntem Ausgang ...
Eine wunderschöne, relativ einfache T3-Tour, welche einen ungewohnten Ausgang nahm. Dass die Tour letztlich in einem veritablen Fiasko endete, war so tatsächlich nicht voraussehbar. Man könnte auch sagen "was passiert, wenn sich die kleinen (Denk-)Fehler summieren" ... Doch der Reihe nach … Andorra ist der flächenmässig...
Published by 23 October 2013, 19h49 (Photos:66 | Comments:15)

Puig de Coma Pedrosa 2942m
Höchster Berg Andorras, von Arinsal aus gesehen dominiert er das Tal. Der Aufstieg ist aber "hinten rum" und deshalb nicht ganz kurz. Aber um aus dem mit hässlichen Bausünden garnierten Tal zu entfliehen war uns jedes Mittel recht... Parking: wenn man aus Arinsal "oben" rausfährt, nach dem ersten Tunnel gleich rechts...
Published by 20 July 2012, 20h33 (Photos:7 | Comments:2)

Zum Top of Andorra (Pic de Coma Pedrosa)
Dies war unser erster Besuch von Andorra und wir hatten keine Ahnung, dass Unmengen an Franzosen nur allein zum billig tanken ins Fürstentum kommen. Wir aber kamen auf unserer Fahrt nach Santiago de Compostela zum Bergwandern in den Pyrenäenstaat. Nach einer ruhigen Nacht auf dem Camping Xixerella fuhren wir zum...
Published by 31 March 2009, 00h34 (Photos:7 | Comments:1)