Piz Blas (3019m)
---
Region:
World » Switzerland » Tessin » Bellinzonese
Date of the hike:
26 September 2011
Hiking grading:
T4+ - High-level Alpine hike
Mountaineering grading:
F
Climbing grading:
I

(UIAA Grading System)

Waypoints:
Geo-Tags:
CH-GR CH-TI Gruppo Piz Blas Gruppo Pizzo del Sole
Time:
1 days
Height gain:
1100 m

3608 ft.



Height loss:
1100 m

3608 ft.



Route:
Lago Ritom – Lago Scuro – Lago di Dentro – Punkt 2539m - Punkt 2648m - Bocchetta del Blas - Piz Blas

Access to start point:
Lago Ritom

Deutscher Text in der Mitte.
Encontraras un texto en castellano en la mitad de la pagina después del alemán. Al final de la pagina están las imágenes, espero que disfrutas las imágenes como nosotros lo hemos hecho esta día fantástico…
You will find English text at the end of the page including the pictures below / down of the report. I hope you will enjoy the pictures as we did it on this amazing day...
-----------------------------------------------------------------------------------------
Piz Blas (3019m)
Link mit 360 Grad Panorama vom Piz Blas:
http://www.360cities.net/image/panorama-biz-blas-3019m-switzerland
Lohnenswerte und wunderschöne Tageswanderung in einem einsamen Gebiet. Die Tour ist abwechslungsreich mit herrlichen Aussichten auf die verschiedenen Seen und auf dem Piz Blas wird man meiner eindrucksvoller Rundsicht belohnt.
Der Aufstieg mit Hund ist machbar, aber auf den letzten Höhenmeter benötigt der Hund Unterstützung – Mensch und speziell Hund müssen sich in diesem Gelände vertraut sein und gute Erfahrung haben.
Gelände teilweise instabil und auch grössere Steine können im steilen Geländer in Bewegung kommen. Vorsicht ist aber immer geboten
Route:
Lago Ritom – Lago Scuro – Lago di Dentro – Punkt 2539m - Punkt 2648m - Bocchetta del Blas - Piz Blas
Angenehmer Wanderweg von Lago die Ritom bis zum Lago di Dentro (Capanna Cadlimo). Die Cap lassen wir rechts liegen und steigen direkt gegen Punkt 2539m und von dort folgt man die Wegspuren und Steinmännchen bis zum Punkt 2648m unterhalb von Piz Blas. Der Weg ist bis zu diesem Punkt angenehm - T2. Unser Weg führt über Geröllhalde bis zum Bocchetta del Blas und schlussendlich die letzten und steilen 150m auf den Gipfel – Wegspuren vorhanden und die Orientierung einfach. Diese letzte 150m Höhendifferenz ist Nora (unsere Hündin) sicherheitshalber angeseilt. Nora liebt es immer an ausgesetzten Stellen die Aussicht zu geniessen. Das gibt immer tolle Bilder, aber eben, es ist doch sehr ausgesetzt (Vorsicht ist aber immer geboten)…
…die Bilder sprechen für sich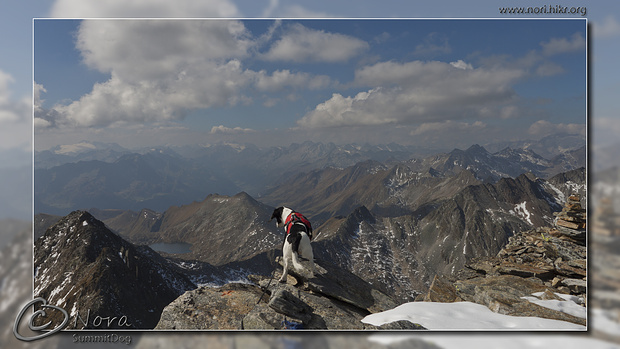 Fazit:
Für uns und unsere Hündin Nora gibt es keine schönere Zeit, als gemeinsam in der Natur zu sein, und dass Nora frei durch die Landschaft streifen kann und auf Schritt und Tritt dabei ist. Einen Tag mehr, haben wir unvergessliche Momente zusammen verbracht.
-----------------------------------------------------------------------------------------
Piz Blas (3019m)

Enlace con panorama de 360 grados desde el Piz Blas:
http://www.360cities.net/image/panorama-biz-blas-3019m-switzerland
Gratificante y hermosa caminata en una zona aislada. El recorrido es muy variado, con magníficas vistas a los lagos, así como recompensado con panorámica impresionante del la montaña Piz Blas.
La subida con perro es factible, pero los últimos metros el perro requiere ayuda - hombre y en especial el perro tiene que estar acostumbrado en zona alpina y tener buena experiencia.
A veces, terreno inestable y piedras más grandes se pueden poner en marcha en barandilla empinada. La precaución es siempre recomendable
Ruta:
Ritom Lago - Lago Scuro - Lago di Dentro - punto 2539m - punto 2648m - Bocchetta Blas - Piz Blas
Caminata agradable de la Ritom Lago a Lago di Dentro (Capanna Cadlimo). El alberge lo dejamos a nuestra derecha y subimos directamente al punto 2539m y desde allí seguir el camino y mojones de caminos al punto 2648m a los piez de la montaña Blas Piz. El camino hasta este punto agradable - T2. Nuestro camino nos lleva a través de pedregal pendiente al Bocchetta Blas Desde aquí los último 150 metros empinados a la cumbre –. Esta última diferencia de 150m esta Nora (nuestro perra) con correa por razones de seguridad. Nora le encanta pegarse siempre mirador en los sitios expuestos. Siempre son buenas fotos, pero es muy expuesta (pero la precaución es siempre necesario) ...
…Las imágenes hablan por sí solas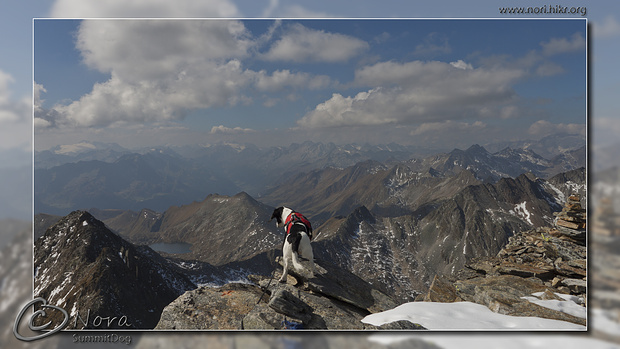 En resumen
Para nosotros y nuestra perra Nora no hay momentos mas hermoso, que estar juntos en la naturaleza y que Nora puede gozar la libertad en paisajes maravillosos. Una día mas hemos pasado inolvidables momentos juntos.
-----------------------------------------------------------------------------------------
Dog hiking
Quest for happiness and the sublime
Piz Blas (3019m)

Link with 360 degree panorama from the Piz Blas:
http://www.360cities.net/image/panorama-biz-blas-3019m-switzerland
Rewarding and beautiful day hike in a secluded area. The tour is varied with magnificent views of the various lakes and on the mountain Piz Blas will be rewarded with a impressive panoramic.
The rise with dog is feasible, but the last few meters dog required assistance - man and in especially the dog have to be familiar in this area and need to have good experience.
Sometimes unstable terrain and larger stones can be set in motion in steep railing. Caution is always advisable
Route:
Ritom Lake - Lago Scuro - Lago di Dentro - point 2539m - point 2648m - Bocchetta del Blas - Piz Blas
Pleasant hike from the Lake Ritom to Lago di Dentro (Capanna Cadlimo). The cap we have the right and climb directly to point 2539m and from there follow the cairns of trails to the point 2648m below Piz Blas. The road up to this point pleasant - T2. Our path leads through scree to Bocchetta del Blas and finally the last 150m to the summit and being steep - trails available and the orientation easy. This last 150m altitude difference Nora on leash (our dog) for safety reasons. Nora loves to always hold on to places exposed and lookout. Always great pictures, but it is very exposed (caution is always necessary)...
… The pictures speak for themselves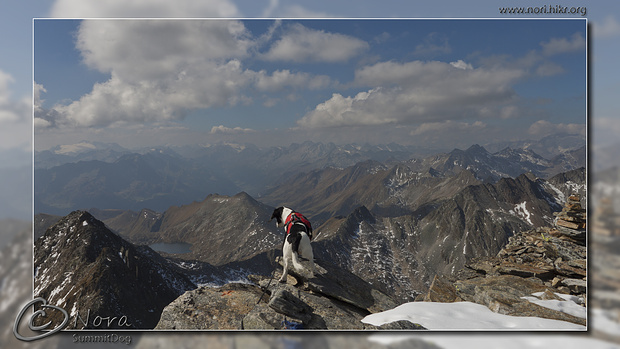 Conclusion:
For us and for our dog Nora there is nothing more important than passing the time together so that Nora can experience freedom in the unique world of the mountains, being with nature in the middle of nowhere and far away from civilization. One day more, we experienced memorable and unique moments that will last for ever.
Hike partners:

Nora
<![if !IE]>
<![endif]> <![if !IE]> <![endif]> <![if !IE]> <![endif]> <![if !IE]> <![endif]>
Minimap
0Km
Click to draw, click on the last point to end drawing
Gallery
---
Open in a new window · Open in this window