Seta - P.2213m 2213 m
7259 ft.
---
Peak in

4 hike reports

, 16 photo(s). Last visited :

17 Nov 18


Geo-Tags: CH-GR
Photos (16)
---
By Publication date · Last favs · By Popularity · Last Comment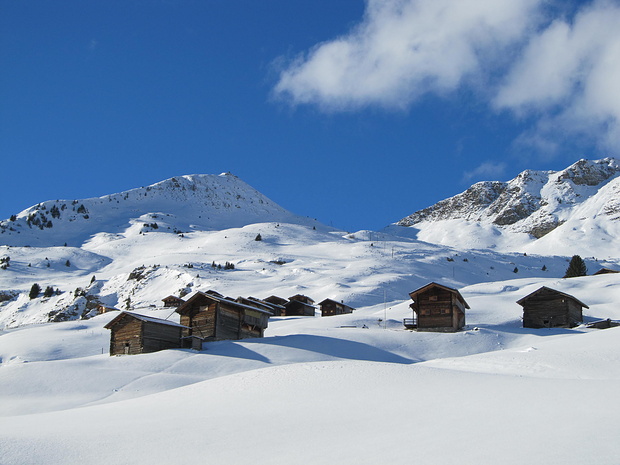 Landschaft wie aus dem Bilderbuch Den/die Seta 2212m haben wir letzten Winter mit den Schneeschuhen erobert © alpstein
---
Reports (4)
---

Mattjisch Horn (2460 m) - bike & hike from Langwies
Mattjisch Horn (2460 m) has been described here on hikr.org a number of times already, but I think this is the first time as a bike & hike report. Start of the tour in Langwies shortly before 9:00 AM. I followed the forest road from Langwies all the way up to P.2079 (Seta), mostly walking the bike. The first 2.5 km of this...
Published by 18 November 2018, 00h11 (Photos:23 | Geodata:1)

Über die Blackter Flüe
Sehr schöne und spannende Schneeschuhtour über einen im Winter selten begangenen Gipfel mit schmalen Schneegraten Wieder die dieser Tage allgegenwärtige Frage: To ski or not to ski? Zwecks Schonung des Belags fiel die Entscheidung schon wieder auf die Schneeschuhe, was sich rückblickend für eine Tour im Mittelbünden...
Published by 12 January 2016, 07h57 (Photos:17)

Bei Traumwetter mit Schneeschuhen ins Fondei
Seta 2212 m - HIKR-Wintererstbesteigung Es sind erst 10 Tage her, dass mich chaeppi durch das Schneeschuhparadies im Schanfigg gelotst hat. Beim gestrigen Blick auf die Wetterkarten kristallisierte sich die Region erneut für ein Unternehmen mit den Schneeschuhen heraus. Wenn nicht hier, wo dann in der Schweiz konnte man für...
Published by 19 January 2013, 19h07 (Photos:24 | Comments:10)

Von Langwies über das Mattjischhorn(2461m) nach Jenaz
Vom Schanfigg ins Prättigau-das ist eine lange Tour in überwiegend grüner Umgebung mit schönem Rundblick vom Mattjischhorn.Warum man diesen grasigen Berg "Horn" nennt ist unklar,er ist vielmehr eine runde grüne Kuppe,die ohne alpine Ansprüche erreicht werden kann.Wählt man den Aufstieg von Süden über die Blackter Flue,so...
Published by 7 June 2011, 23h29 (Photos:57 | Geodata:1)