Heidenhaus von Malvaglia 518 m
1699 ft.
---
Ruin in

2 hike reports

, 34 photo(s). Last visited :

21 Oct 18
Photos (34)
---
By Publication date · Last favs · By Popularity · Last Comment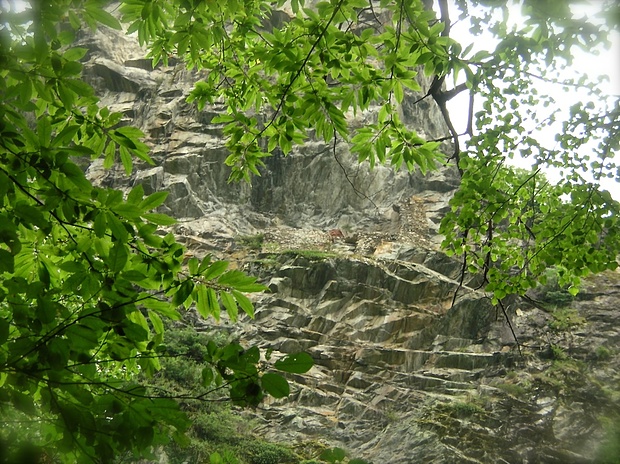 ♩♪♫♩♬...Break On Through To The Other Side...♫♪♩♬♫ (The Doors) www.youtube.com/watch?v=CqLdDKy2XUQ ________ ___ ⬆⬆⬆...Die Heidenhäuser von unten...⬆⬆⬆ ______ _ Aus der Tiefe der Orinoschlucht Da bin ich auf der orographisch rechten Seite des Orino so weit wie möglich in die Schlucht hinunter gestiegen, um die Häuser aus der Tiefe zu sehen. Zwischen mir und den Häusern am Felsen fliesst der Orino durch seine Schlucht. ____________________________ ________________ Von diesem Platz aus kann man im Prinzip die Heidenhäuser von unten sehen. Ich sage "im Prinzip", weil es ist nicht so ganz einfach ist, im Sommer vor allem, wegen der üppigen Vegetation. Es ist, als ob man ein Dach aus Ästen und Blättern über dem Kopf hätte: Die Äste als Dachbalken, die Blätter als Schindeln. Aber von den Heidenhäuseren oben am Felsen auf der anderen Seite des Orino und der Schlucht sah ich vorerst nichts, nada, zero. Aber weil ich nicht so schnell aufgebe, nicht immer jedenfalls, entdeckte ich nach einigem sturen Suchen zwei Löcher im Blätterdach und kriegte die Häuser ein paarmal vor die Linse. Zwar nur mit Zoom. Ohne Zoom ist auf dem Display nur ein grauer Flecken (der Felsen) zwischen einer Menge Blättern zu sehen. Obwohl die Fotos nicht gerade die Besten sind, war ich stolz und glücklich und trug sie nach Hause, wie ein zufriedener Jäger seine Beute. ______________________________ _____________ © mong
---
Reports (2)
---
| | | |
| --- | --- | --- |
| Bellinzonese | T2 | 21 Oct 18 |

Garmagnünach e Muncrech
Tempo fa la Televisione Svizzera trasmise un documentario in cui si parlava di due fratelli che vivevano tutto l'anno in Val Malvaglia in un alpeggio a quasi 1500 metri di quota. Cercai, dapprima inutilmente, sulla cartina dove fosse il posto poi con l'aiuto di internet e con una carta più aggiornata lo trovai: a 1476 metri fra...
Published by 24 October 2018, 09h42 (Photos:73 | Comments:6 | Geodata:1)
| | | |
| --- | --- | --- |
| Bellinzonese | T6 | 15 Apr 13 |

Die Heidenhäuser von Dongio und Malvaglia
Heidenspass und Heidenfest Heidenlärmund Heidengeld Heidenarbeit Heidentum Heidenvolk und Heidenangst Heidenkrach im Heidenturm Heidenrespekt und Heidekraut Heidenreich und'von der Heide' Heidis Lehr- und Wanderjahre Heidemarie und Adelheid Der Mädchenname Heide Die Lüneburger Heide Heiden AR...
Published by 15 August 2013, 21h35 (Photos:207 | Comments:30)