Klettersteig Fruttstägä 1950 m
6396 ft.
---
Via ferrata in

6 hike reports

, 46 photo(s). Last visited :

6 Jul 19
Photos (46)
---
By Publication date · Last favs · By Popularity · Last Comment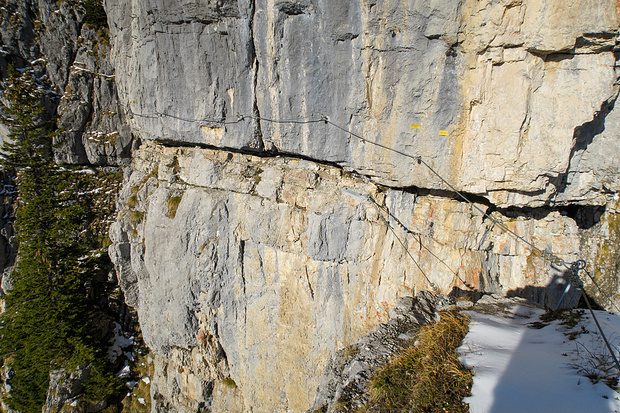 Der ausgesetzte Quergang "Jochi-Tritt". Eine straff gespannte Zweiseilbrücke führt in den abdrängenden Quergang hinein. Tritte finden sich auf dem Felsband. Die Stelle ist eigentlich nicht sonderlich schwierig. © Chrichen
---
Reports (6)
---

Fruttstägä & Spilauer Stock
Diese wunderbare Tour habe ich schon länger in der ToDo Liste. Neuerdings gibt es entlang der auf hikr.org bereits beschriebenen Tour auch noch einen Klettersteig, welchen man Ideal als warm-up einbinden kann. Dieser fordert jedoch, die Rundtour in umgekehrter Richtung zu begehen. Nach unserer letzten Unternehmung, wo wir den...
Published by 15 July 2019, 07h26 (Photos:36 | Geodata:1)
Klettersteig Fruttstägä und Gamperstock (2275m)
Der Winter hatte anfangs November in den Bergen bereits ansatzweise Einzug gehalten. Dennoch wollte ich bei prächtigem Wetter einen Tag frei nehmen um eine kurze Wanderung zu machen. Dabei entschied ich mich für den Klettersteig Fruttstägä und den Gamperstock. Hauptziel war es, die Sonne zu geniessen! Leider hatte ich...
Published by 29 November 2017, 08h17 (Photos:88 | Comments:1)

Klettersteig "Fruttstägä" e Chinzig Chulm 2073 m.
Oggi qualcosa di nuovo per me! Ho accettato molto volentieri l'invito di Felix Felix ed Ursula Ursula. Destinazione la via ferrata Klettersteig "Fruttstägä" nel Cantone Uri. Siamo un gruppetto di sei persone. Dopo aver lasciato le macchine nel parcheggio gratuito della funivia Brügg , telefoniamo all'addetto per avvisarlo...
Published by 21 May 2017, 21h07 (Photos:46 | Comments:3)

Fruttstägä: kurzer, anspruchsvoller, KS zum Saisonauftakt
Nach der Fahrt mit der LSB (die Tickets sind in der Mittelstation Riedlig erhältlich) hoch zum Berggasthaus Biel ziehen wir bei viel Sonnenschein los zum erst vor wenigen Jahren eingerichteten Klettersteig. Über blumenreiche Alpweiden führt der BWW via Vorder Weissenboden und P. 1755 zum P. 1803; teils etwas geröllig leitet...
Published by 16 June 2017, 08h19 (Photos:42)

Fruttstägä via ferrata + Chaiserstock
The Fruttstägä via ferrata is two years old but is yet to see it's first Hikr ascent. It's a short route that can be done in half a day, or it can be the start of a longer tour in the Chaiserstock massif. We go for the second option. From Biel/Kinzig, signposts show the way to the start of the Fruttstägä via ferrata (K4-)....
Published by 18 July 2016, 21h24 (Photos:61 | Comments:1 | Geodata:1)
Meine Sammlung von Klettersteigen (35 Ideen)
In der schönen Schweiz haben wir viele Berge. Grosse Berge und kleinere. Auf kleine Berge führt nicht selten ein Stahlseil empor. So zählen wir heute in den Alpen mehr als Tausend solcher Einrichtungen.Nach meinem Bericht der Sammlung von Seeumrundungen habe ich nun meine Klettersteigberichte in einem separaten...
Published by 6 November 2015, 22h19 (Photos:35)