K'ari lič / Քարի լիճ 3190 m
10463 ft.
---
Lake in

3 hike reports

, 16 photo(s). Last visited :

5 Sep 19


Geo-Tags: AM
Photos (16)
---
By Publication date · Last favs · By Popularity · Last Comment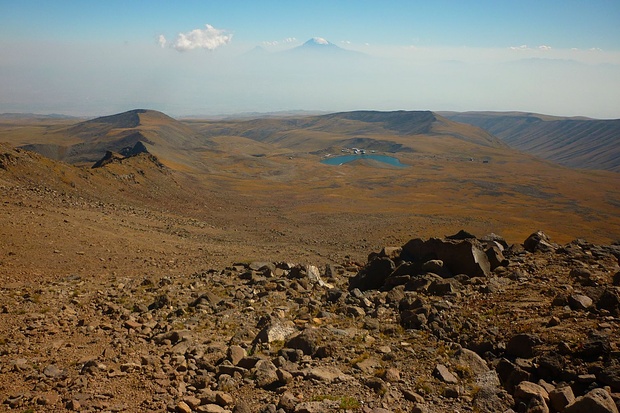 Zum Greifen nah, doch die Dimensionen täuschen in der weite des Bergmassifs. Bis zum Hotel am Bergsee Քարի լիճ (K'ari lič) ist noch mehr über eine Stunde zu Marschieren! © Sputnik
---
Reports (3)
---

Aragats Westgipfel (4001 m)
Nach 50 Touren ist es nun quasi amtlich, dass sich nahezu alle Bergtouristen in Armenien am Aragats versammeln. Während der anderen Bergwanderungen habe ich nur Hirten getroffen. Natürlich ist der mächtige Schichtvulkan vor den Toren der Metropole Jerewan ein Blickmagnet und als einziger Viertausender des Landes natürlich...
Published by 2 December 2019, 01h32 (Photos:6 | Geodata:1)

Crossing Aragats from Geghadzor in the North via all four peaks and Amberd to the South in three Day
Not many tourists are travelling in Armenia without visiting the highest mountain of the country - Mount Aragats with its for peaks around 4000 m height. Easy to reach from the capital Yerevan a vast amount of people are driving up to Kari Lake on 3200 m. After an easy hike the stream of tourists reaches the southern peak at 3900...
Published by 31 January 2018, 22h52 (Photos:15 | Geodata:4)

3 x Aragats + X = Armeniens höchste Gipfel
Die Sommerferien 2015 führen uns nach Armenien. Hier erwarten den Besucher unzählige historische Stätteninmitten herrlicher Landschaft und immer wieder auch gastfreundliche Einheimische. Bei einem ersten Aufenthalt vor etlichen Jahren konnten wir bereits einige der schönen Seiten des Landes kennenlernen. Andererseits zeugen...
Published by 8 April 2016, 01h06 (Photos:120 | Comments:6 | Geodata:5)