Wildkamm 1886 m
6186 ft.
---
Other in

17 hike reports

, 10 photo(s). Last visited :

21 Oct 18


Geo-Tags: CH-GL, CH-SZ, Oberseegruppe
Photos (10)
---
By Publication date · Last favs · By Popularity · Last Comment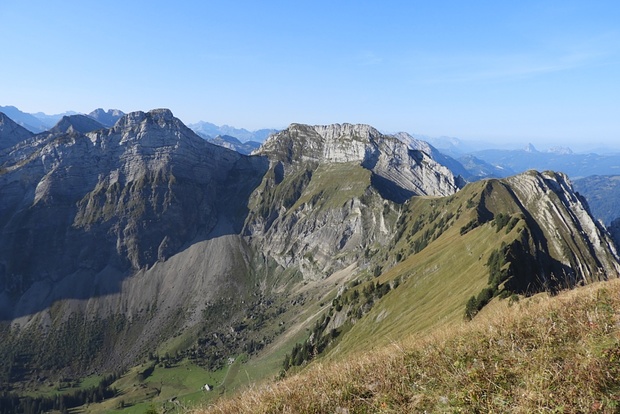 Nach der kurzen Rast auf dem Tierberg ging ich weiter über den Wildchamm zum Bockmattlistock. © Flylu
---
Reports (17)
---

Bärensoolspitz und Tierberg
Wir lassen den Wagen bei der Stafelbrücke stehen. Den Umweg über die Brunnmettlenalp sparen wir uns, indem wir auf dem Forstweg zum Girsboden wandern. Beim Stäfeli schwatzen wir eine Weile mit einer Näfelserin, die hier einen Teil der Hänge mäht. Ihr Mann sei auf der Jagd und demnach auch in der Gegend anzutreffen. Nach...
Published by 1 December 2018, 15h00 (Photos:16 | Geodata:1)

Bockmattlistock (1931m) und Tierberg (1989m) - von Innerthal nach Näfels
Fast auf den Tag genau ein Jahr zuvor war ich zum ersten Mal auf dem Bockmattlistock und hatte damals den Tierberg und seinen formvollendeten Grat bewundert. Den musste ich unbedingt auch einmal begehen, hatte ich mir damals geschworen.   Heute wollte ich diesen Schwur einlösen. Start in Innerthal-Post und zunächst...
Published by 4 November 2018, 13h45 (Photos:46)

Herrliche Tour zum Tierberg, Bockmattlistock und Schiberg
Für die heutige Tour bin ich mit den Hunden nach Stafelbrücke gefahren und starteten dort kurz vor halb acht Uhr in Richtung Ahornen. Kaum waren wir unterwegs musste ich die Hunde zurück rufen, denn ein Tanklastwagen von der Firma Helicopter Rotex überholte uns, wenig später folgten noch ein Holzkran und mehrere Fahrzeuge...
Published by 22 September 2018, 14h45 (Photos:43 | Comments:16)

Über den Tierberg
Sehr lohnende, alpine Wanderung aus dem Oberseetal Obwohl ich die Region zwischen Wägital und dem Glarnerland wirklich ziemlich gut kenne, war ich den markierten, blau-weissen Wanderweg von Ahornen zum Bockmattli noch nie gegangen. Eine absolut lohnende Route, die an einem glasklaren Frühherbst-Tag perfekt ist. Die...
Published by 20 October 2018, 12h06 (Photos:19)

Wägital: Nordwest-Tour
Startpunkt war die Bushaltestelle Post in Innerthal. Bei angenehmen Temperaturen (um die 25 Grad), Sonne und Wolken im stetigem Wechsel, ging es zunächst auf den Bockmattli. Danach über den Wildkamm auf den Tierberg und wieder zurück zum Bockmattlipass, über Schneeschmelzi und Furgge auf den Schiberg. Als Abschluss noch kurz...
Published by 18 August 2017, 10h45 (Photos:4)

Osterzelten am Obersee
Die Wetterprognosen für dieses Osterwochenende liessen begrenzten Spielraum für alpine Unternehmungen. Mit einem Zeltausflug sowie der Tierberg/Bockmattli Rundtour haben wir alles richtig gemacht. Einzig der Karfreitag schien einigermassen geeignet für einen lohnenswerten Bergtag an diesem Osterwochenende. Nichts desto trotz...
Published by 16 April 2017, 23h39 (Photos:11)

Gratüberquerung Tierberg-Bockmattli
Ich hatte einen Bericht von Ivo66 gelesen. Da wusste ich, diese Tour möchte ich auch machen. An diesem Samstag schien es perfekt. Das Wetter war makellos und da ich letzte Woche auf dem Bockmattlipass war (Siehe Bericht) wusste ich, das es fast kein Schnee mehr haben dürfte. Obwohl Ivo schrieb, das es in Bruunmettlen...
Published by 9 April 2017, 16h12 (Photos:16)

Schöne Bescherung (1) - Bockmattli, Tierberg und Söligrat
Der Plan war, den Brünnelistock von der einfacheren Seite, nämlich via Schneeschmelzi, anzugehen. Doch schon von Ahornen aus war zu sehen, dass in der Mulde unter der Furgge noch sehr viel Schnee lag. Doch versuchen konnte ich es ja .. Auf dem markierten Weg von Brunnmettlen auf das Bockmattli, dann hinunter zum...
Published by 30 December 2016, 17h11 (Photos:18)

Schöner Grat vom Bärensolspitz zum Bockmattli
Unerwarteterweise kann man noch spätherbstliche Wanderungen unternehmen. Eine Gratwanderung, die ich schon lange unternehmen wollte ist fällig! Etwa drei Kilometer Voralpengrat warten auf meine Mitwanderer und mich. Wir starten am Bahnhof Näfels-Mollis und gehen durch Buchenwald die ersten Höhenmeter den Kreuzweg entlang...
Published by 7 December 2016, 18h29 (Photos:25)

Bockmattlistock + Tierberg
We start our hike at the Brunnmettlenalp, reached by car on an unpaved road from the upper end of the Obersee. There is ample parking at the end of the public road at ca. 1175m. We continue on foot to Ahornen where we join the alpine route onto the Tierberg. At P. 1524 (signpost), there is choice between two different paths. We...
Published by 1 November 2016, 20h42 (Photos:40 | Geodata:1)