Wildhuser Schafberg 2373 m
7783 ft.
---
Peak in

116 hike reports

, 1241 photo(s). Last visited :

13 Jun 19


Geo-Tags: Alpstein, CH-SG
Routes (2)
---
Photos (1241)
---
By Publication date · Last favs · By Popularity · Last Comment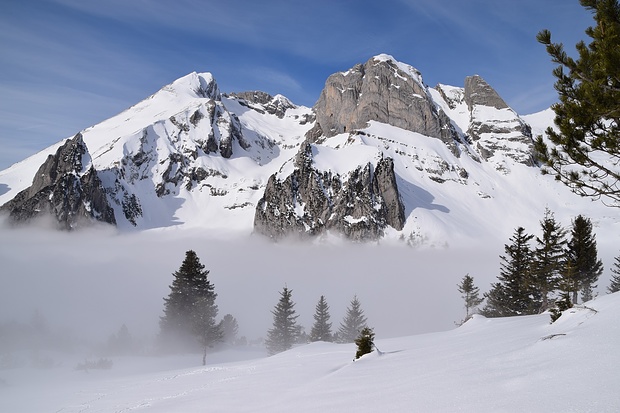 Vor dem Wiedereintritt in die Nebelatmosphäre nochmal ein Blick auf Alpsteinschönheiten... © countryboy
---
Reports (116)
---
Appenzell

T5

VII

13 Jun 19

Schafbergwand - Sandi in the moon
Für Juni noch viel Schnee und nicht recht warm. Daher Schafbergwand mit Südexpositon gerade recht. Von der Nacht vorher rann noch ziemlich Wasser über die Wand, aber die Hoffnung stirbt nie... Langstrasse schrieben wir denn auch wegen Nässe ab und konzentrierten uns auf unser Hauptziel: Sandi in the moon. Letzte Woche war die...
Published by 14 June 2019, 21h20 (Photos:11)

Wildhuser Schafberg
Erst bei Gamplüt kriege ich an diesem Tag die Sonne zu Gesicht. Bei der Schäferhütte lege ich dann eine erste Pause ein, um das Nebelmeer zu bewundern. Meinen ursprünglichen Plan, den kecken Zehenspitz zu besteigen, werfe ich im Sattel unter der Schafbergwand über den Haufen. Es pfeift ein eisiger Wind durch die Gegend. Zu...
Published by 8 December 2018, 16h31 (Photos:16 | Comments:1 | Geodata:1)

Wildhuser Schafberg 2373m
Spatherbst-Tour auf den Wildhuser Schofberg Beste Wetteraussichten für dieses Wochenede für eine tolle Herbst-Tour über der Nebelgrenze, bevor der Wintereinbruch kommt. Ca. 10 Jahre ist es her, seit wir das letze Mal auf dem Schofberg waren. Mit der ersten Fahrt der Gamplütbahn fuhren wir aus dem Nebel hoch auf die...
Published by 19 November 2018, 14h48 (Photos:25 | Comments:2)

Wildhuser Schafberg 2373 m via Ostwandrinne - Immer wieder ein Highlight im Alpstein
Der Wildhuser Schafberg ist der dritthöchste Berg im Alpstein und bietet dementsprechend eine hervorragende Aussicht. Da er von Gamplüt aus über einen Bergwanderweg - der allerdings an Langeweile kaum zu überbieten ist - einfach erreichbar ist, wird er entsprechend häufig besucht. Das muss aber niemanden abschrecken, diesen...
Published by 11 November 2018, 19h33 (Photos:24)
St.Gallen

T5+

III

15 Jul 18
Altmann und Schafberg
Lange ist es her, seit ich das letzte Mal im Alpstein unterwegs war - so lange, dass ich verpasst habe, dass der Parkplatz inzwischen gebührenpflichtig ist. Selbstverständlich habe ich just heute gerade genug Münz bis 10:30 Uhr dabei, was auch bei forscher Gangart kaum reicht... Ich starte also mit schlechtem Gewissen in...
Published by 15 July 2018, 19h39 (Photos:19 | Comments:2)
Wildhuser Schafberg via Ostwandrinne
Kurz entschlossen packten meine Frau und ich unsere Sachen zusammen und gingen am Sonntag Abend mit dem Zelt los. Wir biwakierten bei meinen Eltern auf dem Hügel, den der Bauer hatte frisch "gheued". So war mir klar das ich nicht am frühen morgen auf eine Tour kann. Zudem sollte es nochmals ein sehr warmer Tag werden mit...
Published by 2 July 2018, 22h59 (Photos:21)

Wildhuser Schafberg (2373 m) - zum Sonnenaufgang mit Biwak
Schon wieder langes Wochenende, schon wieder Alpstein, schon wieder mit Zelt. Wildhauser Schafberg, Jöchli und Altmann sollten auf dem Programm stehen, hat dann allerdings nicht ganz so funktioniert. Tag 1: Wildhaus - Gamplüt T2; 20 min: Erst recht spät am Abend treffen wir uns in Wildhaus und machen uns auf in...
Published by 9 June 2018, 15h37 (Photos:38)
St.Gallen

AD

II

AD

7 Dec 17

Wildhuser Schafberg & Altmann Südkamin
Ein Bericht über wunderbare Abendstimmungen und einen Tösstaler Ultralight-Bergsteiger im Alpstein... Schafberg Relativ spontan entsteht die Idee einer Nachmittagstour auf den Schafberg mit 560. Bis wir in Wildhaus sind und weil es über die neue Kamera von 560 und vergangene Touren einiges auszutauschen gibt, wird dann aber...
Published by 13 December 2017, 22h33 (Photos:36 | Comments:12)

Wildhuser Schafberg 2373 m via Ostwandrinne - Für einmal als Feierabendtour
Warmes, schönes Wetter, kein Gewitterrisiko, spätes Eindunkeln: Das braucht es, um wieder mal am späten Nachmittag zu einer Bergtour aufzubrechen, die sonst in der Regel als Tagestour begangen wird. Ich entschied mich für einen der in meinen Augen schönsten Aufstiege im Alpstein, der Ostwandrinne am Wildhuser Schafberg....
Published by 6 July 2017, 19h05 (Photos:24)

Wildhuser Schafberg
Frühsommer-Tour auf Wildhuser Schafberg (2373m) Aufstieg von Wildhaus über Gamplüt, Schöferhütte, Mietplatz, Schafbergsattel und Wildhuser Schafberg Vorgipfel (2363m) auf den Wildhuser Schafberg (2373m). Bis zum Vorgipfel leicht (T3), von dort etwa 10m ausgesetzt abklettern (T4, Stelle I-II) und dann in 10 Minuten leicht...
Published by 5 November 2017, 20h14 (Photos:24)