Walenboden 1920 m
6298 ft.
---
Other in

9 hike reports

, 2 photo(s). Last visited :

21 Jul 19


Geo-Tags: CH-GL
Photos (2)
---
By Publication date · Last favs · By Popularity · Last Comment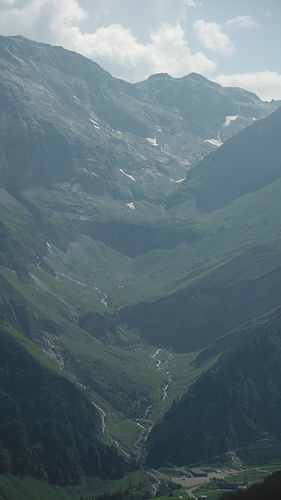 View to the valley which leads to the Panix pass. Many scenic waterfalls in that valley, see for example http://www.hikr.org/tour/post103722.html. © Roald
---
Reports (9)
---

Transglarus : Rueun - Elm - Weisstannen [trailrun]
Parcours classique mais souvent spectaculaire à travers le massif impressionnant des Alpes Glaronnaises. Les traileurs enragés passeront à la journée - mais dans ce cas sans faire le détour par le Heubützlipass. Sur 2 jours on a le temps de profiter des lieux (et en particulier de l'accueil de Flo et Nicole à Matt !), on...
Published by 24 July 2019, 10h29 (Photos:12 | Comments:2 | Geodata:1)

Gletscherhorn und Vorab
Bis ich diese Zeilen schreibe, ist die Tour (fast) ein ganz normaler Wanderweg geworden. Da das alles nicht so geplant war, hier dennoch ein paar Zeilen. Bei einer Tour auf das Mittaghorn vor zwei Jahren habe ich den eindrücklichen Talkessel der Martinsmad kennengelernt - da wollte ich schon immer mal hoch. Der Weg über den...
Published by 12 September 2018, 22h07 (Photos:20 | Comments:1 | Geodata:1)

Hausstock mit Abfahrt über Ober Chämmler
Für dieses Wochenende wollte der gute Tiefschnee und das schöne Wetter nicht bis nach unten kommen, dann gehen wir halt zu ihm rauf. Anfänglich war das Wetter für den Samstag bewölkt, was sich dann um 11 in den Webcams von Laax änderte. Mit dem Auto nach Wichlen gefahren, gestartet um 12 Uhr mit Sonnenschein und einem lauen...
Published by 19 February 2018, 18h45 (Photos:18 | Comments:3)

2-Tagestour Kistenpass - Panixerpass
Eigentlich wurde diese Tour bzw. ein grosser Teil davon bereits sehr schön von kopfsalat (http://www.hikr.org/tour/post98721.html) beschrieben, der anscheinend am selben Tag ein paar Stunden vor mir unterwegs war. Habe nun eine Weile mit mir gerungen, ob ich bei seinem super Bericht überhaupt noch meinen Senf dazugeben soll, da...
Published by 1 September 2015, 22h12 (Photos:27 | Comments:5)

Hausstock (3158m)
Allerspätestens seit unserem winterlichen Besuch auf dem Panixerpass rückte der Hausstock auf unsere To-do-Liste. Natürlich stand für uns eine Besteigung mit Ski im Vordergrund. Vor zwei Wochen gab uns die Tour auf den Gross Ruchen quasi die Bestätigung dafür, dass wir der Aufgabe konditionell locker gewachsen sein...
Published by 28 April 2015, 00h02 (Photos:32)

Crap Tgietschen (2624m) via Panixerpass
Unten Nebel, oben schön, so das Wetter der letzten Wochen. Wie immer in der Zwischensaison stellte sich uns vergangene Woche die Frage, auf welche Art es in die Berge gehen sollte. Wir entschieden uns für Bergschuhe, dazu Schneeschuhe und Steigeisen im Gepäck, denn Skitouren machen zurzeit kaum Sinn. Das einigermassen...
Published by 8 December 2014, 23h07 (Photos:28 | Comments:2)

Panixer pass & Crap Tgietschen (2624 m)
On this hike I went up from Walenbrugg up to Panixer pass. Along this route there are numerous scenic waterfalls! From the Panixer pass I continued to the summit of Crap Tgietschen aka Rotstock 2624 m. There is no trail or path from Panixer pass to Crap Tgietschen, but the terrain is not very difficult (T3), and it's only 200 m...
Published by 8 January 2016, 22h25 (Photos:21)

Chalchhörner - markantes Couloir (Pt. 2542m)
Dem angekündigten Hochnebel fürs Wochenende wollte ich unbedingt entfliehen! So hoffte ich im Chlital etwas schöneres Wetter und vielleicht sogar Sonnenschein zu finden. Am Samstag morgen trafen wir uns in Mollis und machten uns bei Nebelsuppe und leichtem Schneefall auf nach Elm - Wichlen, wo wir von klarem Himmel, aber...
Published by 24 February 2013, 20h28 (Photos:10)

Glarner und Bündner Vorab
10. September 2012: Elm - Martinsmadhütte Für morgen ist die zweite Dreitausender-Besteigung meiner Ost-West-Durchquerung geplant. Daher fahre ich - zwei Wochen nach der Drei-Tage-Wanderung von Bad Ragaz nach Elm - noch einmal in die Schweiz. Da der Aufstieg zur Martinsmadhütte nicht besonders lang ist, breche ich erst in...
Published by 20 November 2019, 10h40 (Photos:19)