Vorauen 850 m
2788 ft.
---
Other in

18 hike reports

, 7 photo(s). Last visited :

14 Jul 19
Photos (7)
---
By Publication date · Last favs · By Popularity · Last Comment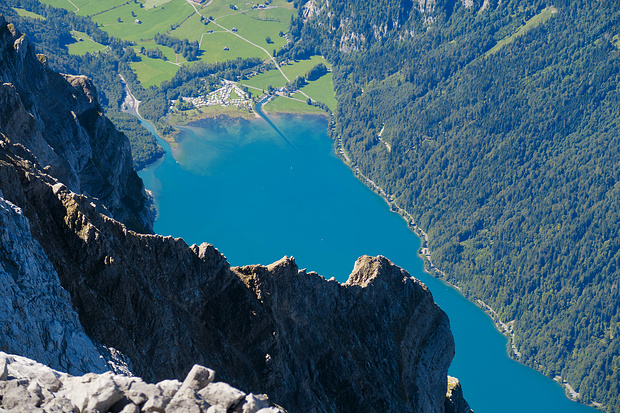 Der Camping Vorauen aus der Vogelperspektive. Eine Woche später werden wir dort unser Zelt aufschlagen :-) © Chrichen
---
Reports (18)
---
Glarus

T6-

PD-

I

27 Oct 19
Bike and Hike auf den Bächistock
Heute sollte nochmals einer der letzten schönen Herbsttage werden und jeder würde wohl unterwegs sein. Wir wollten jedoch Einsamkeit und so entschieden wir uns für die Glärnischregion. Dort ist jeweils praktisch niemand unterwegs sobald die Hütte geschlossen hat. Route Mit dem Bike von Vorauen via Käsern zum Bikedepot in...
Published by 27 October 2019, 20h09

Glärnisch Ruchen
Wie schon das Wochenende zuvor ist der eigentliche Plan nicht ganz aufgegangen und der Plan B ist eingetreten. Nachdem mehrfach Züge nach Bern ausgefallen sind, haben wir extrem spontan umentschieden, ins Glarus zu fahren und den Glärnisch - Ruchen als Tagestour anzugehen. Der Länge der Tour entsprechend sind wir um viertel...
Published by 16 July 2019, 21h46 (Photos:16)

Vorderglärnisch Westflanke direkt und Fryfad
Nach meinen letzten Touren fühle ich mich bereit für den Fryfad, nicht wegen der Ausdauer oder Können sondern wegen der Psyche. Dabei hänge ich noch ein anderes Projekt vorn an, das ich in keinem Führer und auch nicht im Internet gefunden habe. Justus hat hier eine grosse Vorleistung erbracht, ohne diese hätte ich mich wohl...
Published by 10 September 2018, 12h38 (Photos:65 | Comments:5)

Nichts zu klönen am Klöntalersee
Heute verschlägts uns in den Kanton Glarus. Hier gibt es wunderschöne Wanderungen und die Gegend lässt nun wirklich diesbezüglich keine Wünsche offen. Umso erstaunlicher, wir sind das erste mal im Kanton Glarus auf Wanderschaft. Wir starten unsere Wanderung in Netstal. Durch diese nette Ortschaft laufen wir zuerst oft auf...
Published by 27 August 2018, 17h26 (Photos:12 | Comments:3)

Ochsenchopf (2179 m) - bike & hike from Klöntal
Ochsenchopf (2179 m) is an impressive mountain between the valleys Wägital and Klöntal. You can hike there from either side, but the final ascent on the typical route will be the same. From the western end of Klöntalersee, the mountain looks particularly impressive, and it's hard to believe that the summit can be reached on a...
Published by 24 July 2018, 21h20 (Photos:35 | Geodata:1)

Glarner Alpen
Ich hatte es eigentlich schon abgeschrieben, dieses Jahr noch in die Glarner Alpen zu starten. Ich war noch nie dort, aber sehe bei meinen anderen Touren des Öfteren die beeindruckenden Berge. Heute war ein herrlicher und sonniger Spätsommertag. Die Chance ließ ich mir also nicht entgehen. Startpunkt der Tour war Klöntal...
Published by 21 September 2017, 20h29 (Photos:7 | Comments:3)

Prachtstag am Ochsenchopf (2179 m)
Bei einem "Ochsenchopf" würde man einen Berg erwarten, der einem Kuhkopf mit Hörnern ähnelt. Doch der Ochsenchopf hat seinen Namen - wie so oft - von der darunterliegenden Alp Ochsenfeld bekommen. Ochsen (kastrierte männliche Rinder) waren früher als Zugtiere unentbehrlich. Pferde spielten für Überlandtransporte eine...
Published by 26 May 2017, 16h05 (Photos:9)

Dejenstock 2021m im Klöntal
Der Dejenstock bietet beim Aufstieg stets gute Ansichten auf den mächtigen Glärnisch. Los geht es am Beginn des Klöntaler Sees unterhalb Unterherbig bei einem kleinen Parkplatz. Der weg führt ziemlich steil bergan durch den Wald und über Almwiesen Richtung Dejenalpe. Bevor es wieder etwas bergab geht kommt ein kleines...
Published by 24 June 2016, 17h23 (Photos:22)

Eine Schneeschuhtour zum Mättlistock die es dann doch nicht wurde
Ich war vor neun Jahren das letztemal auf einer Wanderung in dieser Gegend, da bin ich aber in Richtung Gumen gewandert. Heute soll's eine Schneeschuhtour zum Mättlistock werden. Das war zumindest meine Idee. Das Auto parkierten wir in der Nähe des Restaurants Rhodannenberg und gingen ca. zehn Minuten der Seestrasse entlang...
Published by 27 March 2016, 14h44 (Photos:39 | Comments:2)

Glärnisch-Ruchen Nordwand R212 teils über Frifad
Mein zweiterBesuch in der beeindruckenden Glärnisch Ruchen Nordwand. Die Route R212 quert die halbe Wand nach Westen um dann wieder zurückquerend kurz oberhalb der Ruchennadel auf dem Westgrat zu Enden. Also das dürfte eine recht lange Angelegenheit werden. Schön das im Juli so lange hell ist, und esam Wetter derzeit nichts...
Published by 15 July 2015, 22h54 (Photos:39 | Comments:12)