Tossen / Dossenhorn / Dossen 3138 m
10293 ft.
---
Peak in

18 hike reports

, 86 photo(s). Last visited :

31 Jul 20


Geo-Tags: CH-BE
Photos (86)
---
By Publication date · Last favs · By Popularity · Last Comment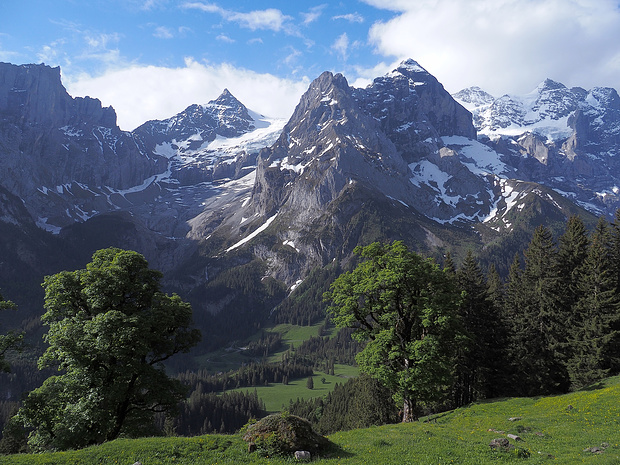 Hinten die mächtigen Berge des Rosenlauitals. Vorne nicht minder mächtig zwei Bergahornbäume. © johnny68
---
Reports (18)
---
Jungfraugebiet

T6

PD

III

31 Jul 20

Dossen/Ränfenhorn
On a very warm Friday, we start the hike from the nice hotel of Rosenlaui towards the Dossenhütte (if you have the chance, visit the Gletscherschlucht Rosenlaui, it will connect directly to the path to the Dossenhütte). After a few hundred meters of altitude gain, we leave the forest to enter in the glacial valley of the...
Published by 3 August 2020, 21h38 (Photos:11)
Oberhasli

T6

PD+

II

31 Aug 19

Überschreitung Dossen - Ränfenhorn
Lohnende Überschreitung von Rosenlaui ins Urbachtal: Tag 1: Rosenlaui - Dossenhütte (T4, 1300hm Aufstieg, 6,2km, 4:45h) Tag 2: Dossenhütte - Dossen - Ränfenhorn - Gaulihütte (900hm Aufstieg, 1325hm Abstieg, 12,7km, 8h) Tag 3: Gaulihütte - Urbachtal (T3, 100hm Aufstieg, 1400hm Abstieg, 9,1km, 3:15h) Bei der...
Published by 2 April 2020, 20h57 (Photos:1 | Geodata:3)

Dossen
Am Vorabend hatten t2star und ich an einer Tour aufs Kleine Wellhorn herumstudiert, die Sache aber letztlich wegen Bernds knappem Zeitplan auf ein anderes Mal verschoben. Hingegen empfahl mir der Kamerad den Dossen, ebenfalls eine sehr schöne Tour. Die etwas lange Reise mit Zug und Bus bis Rosenlaui ist heute eine kurzweilige...
Published by 14 July 2018, 17h50 (Photos:10)
Oberhasli

T4+

PD+

III

29 Jul 16

Dossen (3138m), Rosenhorn (3688m) & Ränfenhorn (3255m)
Vor zwei Jahren brachen wir am Dossensattel unsere Tour aufs Rosen- bzw. Ränfenhorn ab und begnügten uns mit der geglückten Begehung des Dossengrats. Über Nacht hatte uns damals das Wetter unerwartet einen Strich durch die Rechnung gemacht. Das Resultat: Raureif, Eis und Schnee. In der selben Konstellation wie damals...
Published by 3 August 2016, 01h35 (Photos:51 | Geodata:1)
Oberhasli

T4

PD+

III

11 Jul 16

Dossen - Ränfenhorn
Das Wochenende war bereits vorüber, doch statt zur Arbeit pendeln zu müssen, hatten wir heute das Vergnügen den schönen Montag an der frischen Luft verbringen. Nachdem wir gestern bereits um 2:45 aufgestanden sind um über das Willsgrätli und das Wetterhorn zur Dossenhütte zu gelangen (siehe Bericht von xaendi),...
Published by 13 July 2016, 21h58 (Photos:37 | Comments:2)
Oberhasli

PD+

III

15 Jul 15

Dossenhorn via Nordgrat
Dossen 3138 via Nordgrat Tag 1 Wir parkierten unser Auto auf der Rosenlaui 1360m. Die Parkgebühren sind CHF 8.00 für 36 Stunden.DasTicket kann bei der Zahlstelle kurz vor dem Parkplatz bezogen werden. Der Weg führt uns durch die Rosenlauischlucht angenehm im Schatten der Bäume, hoch zum Dossenweg. Dabei haben wir den...
Published by 16 July 2015, 16h41 (Photos:59 | Comments:2)
Oberhasli

PD+

3

31 Aug 13

Über den Grat auf den Dossen
Nordgrat - Dossen (3138m). Viel muss man zur Tour eigentlich nicht mehr sagen: Die abwechslungsreiche und nicht allzu lange Hochtour im Berner Oberland startet an der über einen recht anspruchsvollen Zustieg erreichbaren Dossenhütte, die auf dem Dossengrat oberhalb des Rosenlauigletschers thront. Einiges der schönen...
Published by 3 September 2013, 22h34 (Photos:60)
Oberhasli

T5

AD-

IV

14 Jul 13

Hoch- und Klettertouren im einsamen Gauligebiet
Die Region um den Gauligletscher im Berner Oberland ist eine recht ruhige Bergregion. Das liegt zum einen daran, dass die Gipfel "im Schatten" der benachbarten 4000er gern übersehen werden. Zum anderen sind aber auch die Hüttenzustiege lang und mitunter gar nicht so einfach. Zu bieten hat diese Gegend aber eine Menge: Tolle...
Published by 25 July 2013, 14h17 (Photos:31 | Comments:2)
Oberhasli

T5

AD-

PD-

12 Jul 13

Dossenhorn-Überschreitung, Ränfenhorn vor grossartiger Rosenlaui-Kulisse
Eine Tages-Hochtour ab Zürich in der Berner Alpen sollte es endlich wieder einmal sein. Das wir uns mit dem Dossen- und Ränfenhorn nicht nur eine der schönsten Alpenkulissen und 2100 Höhenmeter sondern auch gleichzeitig einen der anspruchsvollsten Hüttenzustiege ausgesucht hatten, bemerkte ich eigentlich erst unterwegs so...
Published by 17 July 2013, 07h36 (Photos:58 | Geodata:1)
Jungfraugebiet

PD+

IV

7 Jul 13
Rosenhorn et Dossen
Accès à la DossernHutte en randonnée alpine très sympa. Rosenhorn : belle traversée glacière et sommet en arrête pas trop difficile. Dossen : petit sommet en voie d'escalade en IV maximum.
Published by 21 October 2013, 14h18 (Photos:9)