Stockberg 1781 m
5842 ft.
---
Peak in

97 hike reports

, 530 photo(s). Last visited :

23 Dec 21


Geo-Tags: CH-SG
Routes (1)
---
Photos (530)
---
By Publication date · Last favs · By Popularity · Last Comment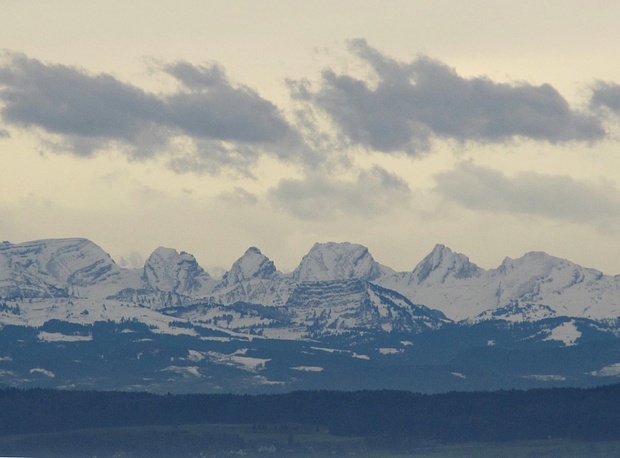 Sonntag und Montag waren von guter Alpensicht, aber auch stürmischen Verhältnissen mit starken Sturmböen geprägt, die uns heute einen Hindernislauf bescherten. © alpstein
---
Reports (97)
---

Nachts auf dem Stockberg 1781müM mit Feuer und Glühwein & Co.
Nach der Arbeit heute wollte Susanne eine Mondscheintour unternehmen und ich schlug ihr den Stockberg am Risipass vor. Susanne schleppte nebst gekochten Marroni zusätzlich Holzscheitli im Rucksack mit und ich sorgte mit Glühwein und Weihnachtsguezli für das Leibliche Wohl. Als wir um 16:30 bei Bernhalden starteten, zeigte...
Published by 25 December 2021, 17h52 (Photos:25)

Wie der Bock am Stock
Während die einen in einem Schnurz den NE-Grat des Fletschhorns durchsteigen, scheitern die anderen am ENE-Grat des Stockbergs - verschiedene Welten;-)! Nun gut, den Gipfel habe ich dann schon noch erreicht, aber am Grat war schon beim 2. und nicht erst, wie erwartet, beim 3. oder 4. Nagelfluhband Schluss. Dennoch eine hübsche...
Published by 22 August 2021, 19h35 (Photos:9 | Comments:4)

Stockberg
Pw bis Stein (SG) Aufstieg Rauboden - Rueboden - Ahorn - Risipass - Stockberg Ursprünglich wollte ich einen der Churfirsten besteigen. Wegen des Schnees habe ich mich aber für den Stockberg entschieden. Eine gute Wahl.
Published by 15 June 2021, 07h42 (Photos:15)
St.Gallen

T3

WT3

18 Apr 21

Stockberg
The snow reports were uncertain, so I took full snow snowshoe gear to get up to Stockberg, starting from Stein. Initially it was mostly mud and fields, but soon I hit some snow. The snow was not quite deep enough to use the snowshoes, at least initially, but still managed to be annoying for boots. Visibility was nearly zero when I...
Published by 18 April 2021, 22h01 (Photos:3 | Geodata:1)

Stockberg (1781) - Skitour ab Lutertannen
Wer hätte das gedacht, dass Anfang April noch einmal der kleine Stockberg mit Ski möglich ist! Letztes Jahr waren wir Ende März dort schon zu Fuss! Der Neuschnee der letzten Tage musste für eine kurze Tour genutzt werden. Weil ich mir auf der Nordseite besser Schneelage erhoffte, nahm ich den etwas längeren Zustieg von...
Published by 13 April 2021, 23h02 (Photos:8 | Geodata:1)

Schneeschuhtour zum Stockberg mit Skip
Vor knapp drei Jahren war ich mit Aron auf dem Stockberg, heute war ich mit Skip unterwegs. Ich machte mit ihm fast die gleiche Tour wie damals mit Aron. Daher schreibe ich keinen grossen Tourenbericht, ihr könnt aber die ungefähre Route unter https://www.hikr.org/tour/post130359.html einsehen.
Published by 14 February 2021, 19h40 (Photos:36)

Stockberg (1782m) - Auftakt zum Schlusskapitel des diesjährigen Bergsommers
Bereits Ende November und nach zwischenzeitlichem Schneefall wieder schönstes (Berg-)Wetter: Doch zu Beginn dieser Woche tappte ich noch etwas im Dunkeln was jetzt noch bzw. wieder möglich sein könnte. Zugleich wollte ich aber auch nicht zu hoch greifen. Und so verfiel ich auf den Stockberg, mässig hoch und mit Aufstieg auf...
Published by 11 December 2020, 11h15 (Photos:28)

Stockberg 1782m, immer wieder schön
Der Stockberg gehört zu den beliebtesten einfachen Zielen in der Ostschweiz. Seine Lage westlich des Alpsteins, ganz nah am Säntis mit schönem Blick auf dessen Vorberge und die Speer-Mattstock-Kette machen ihn zu einem 1a-Aussichtsberg. Auch im Winter ist er einfach zu erreichen, selbst bei etwas unsicheren Verhältnissen....
Published by 6 October 2020, 10h00 (Photos:15 | Geodata:1)

Panorama M-Bike + Hike Route 2, von Lehmen (Weissbad) zum Stockberg (1782 m)
Mit dem E-Bike durch die Alpen zu fahren und die Tour noch mit einer Wanderung auf einen Berggipfel zu ergänzen ist durchaus reizvoll. Heute am 5. Juli möchte ich einen Teil der Panorama Bike Route, 3 Etappe, befahren und dabei einen «Wander-Abstecher» auf den Stockberg machen. Um ca. 8.00 Uhr starte ich mit der Tour beim...
Published by 11 July 2020, 13h50 (Photos:51 | Geodata:1)

Stockberg
Auf dem Stockberg war ich letzmals vor elf Jahren mit Schneeschuhen und in dichtem Nebel. Heute wollte ich mir einmal die Aussicht bei besserem Wetter anschauen. Ab dem Bahnhof Nesslau meist auf asphaltierter Alpstrasse bis Hagisegg. Weiter via Rüteli - Amsler zur Stockeneregg. Stellenweise herrschten in diesem Aufstieg noch...
Published by 1 July 2020, 14h55 (Photos:11)