Steinigberg / Schluchigrat 2088 m
6849 ft.
---
Peak in

19 hike reports

, 33 photo(s). Last visited :

27 Jul 20


Geo-Tags: Stanserhornkette, CH-NW, CH-OW
Photos (33)
---
By Publication date · Last favs · By Popularity · Last Comment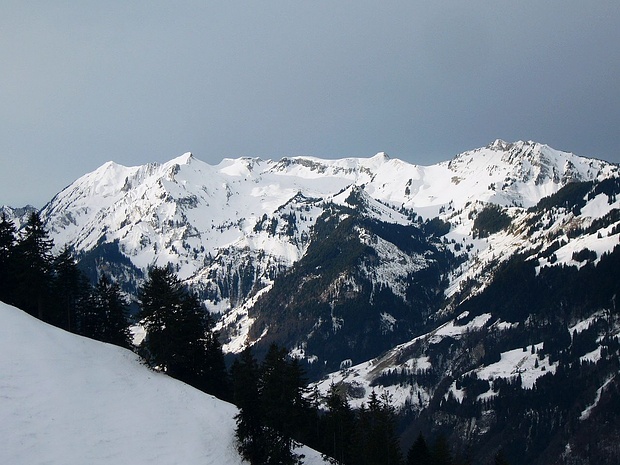 Oberhalb der Mittlist Hütti beleuchtet die Sonne die Gratkette vom Schluchgrat zum Arvigrat. Die Gipfel: Ganz links ist der Steiniberg-Schluchigrat (2088m). Dem Grat nach rechts über die felsigen Zacken der Wagenleis (2055m) folgt die Pyramide vom Schluchberg (2106m). Weiter rechts in der Mitte über der Felswand ist der Gräfimattstand (2050m) und noch weiter rechts folgt die Kuppe Gräfimattnollen (2034,6m). Der mächtige Klotz ganz Rechts ist dann der Arvigrat (2014m). © Sputnik
---
Reports (19)
---

Storeggpass - Wagenleis - Wirzweli
Diese Wanderung unternahm ich letztmals in ähnlicher Form vor sieben Jahren. Damals war die Route noch nicht wie auf den neuen Karten als Wanderweg markiert. Kürzlich herrschte auf Hikr eine kurze Diskussion über die Schwierigkeitsbewertung des nun stellenweise neu ausgebauten Weg. Freundlicherweise hat roger_h den Weg...
Published by 28 July 2020, 16h22 (Photos:27 | Comments:2)

Storeggpass / Arvigrat / Wirzweli
Geplante Tour: Eine etwas längere Gratwanderung von Grafenort zum Storeggpass. Weiter via Lachengrätli, Schluchigrat, Schluchberg, Gräfimattstand, Gräfimattnollen, Gräfimattgrat und Arvigrat bis zum Wirzweli. Route: Anreise von Luzern mit der Zentralbahn bis zu Bahnhof Grafenort. Entlang der Engelberger Aa...
Published by 4 November 2020, 18h56 (Photos:23)

Schluchberg (2106m) & Gräfimattstand (2050m)
Von der Storegg zum Ächerlipass, diese Tour habe ich mir schon seit Jahren für den Herbst gemerkt. Nun, wo uns der Nebel weit in die Höhe und bereits in weisse Gefilde nötigte, wollten wir uns die Sache mal aus der Nähe anschauen. Von Grafenort liefen wir nach Mettlen und gondelten mit der Luftseilbahn in die Höhe....
Published by 3 November 2015, 20h45 (Photos:19)

Vom Widderfeld Stock bis zum Arvigrat
Am Arvigrat bin ich diesen Winter mit den Skiern gescheitert, darum habe ich mir vorgenommen das ganze im Sommer zu wiederholen, jedoch mit mehr Anlaufstrecke, sodass ich dann auch das Gipfelkreuz des Arvigrates abklatschen kann. Die Tour vom Widderfeld Stock bis zum Arvigrat ist bereits gut dokumentiert hier bei hikr.org und so...
Published by 1 November 2014, 21h01 (Photos:18 | Geodata:1)

Von Melchtal nach Wirzweli - Konfrontationstherapie im Selbstversuch
Ein paar Faktoren kamen zusammen, aus denen diese Tour entstand: - nicht zu weit von Basel - anspruchsvoll - Höhenangst - Konfrontationstherapie - die unvergleichliche hikr Datenbank und heraus kam die Besteigung des Widderfeldstocks durch den Chrachen. Danach noch ein wenig der Stanserhornkette entlang und irgendwo...
Published by 20 September 2014, 14h58 (Photos:54 | Comments:8 | Geodata:1)

vom Storegghorn zum Laucherenstock
Da ja der Föhn in den letzten Tagen gute Arbeit geleistet hat, durfte es heute wieder einmal etwas höher hinauf. Es ist schon etliche Jahre her seit ich zum letzten Mal in dieser schönen Gegend unterwegs war. Auch hatte ich bei früheren Wanderungen in der Umgebung das Storegghorn noch nie bestiegen. Das sollte heute nachgeholt...
Published by 23 October 2013, 20h31 (Photos:23 | Comments:5)

From Widderfeldstock to Arvigrat
When I'm on my own, I often like to push myself on a rather long hike. That was also the idea this Sunday: first climb the Widderfeldstock and the continue north along the ridge for as long as I feel like.   Wanting to be well-rested, I don't start particularly early. The 08:04 train from Zürich brings me via Luzern...
Published by 24 September 2013, 22h48 (Photos:43 | Comments:2)

Herbstlich unterwegs am Schluchigrat
In den letzten Wochen durfte ich einige schöne Tage in den Bergen erleben, anstrengen mussten ich mich nicht zu sehr. Meist gab es auf diesen Wegen auch grösseres Publikum. Das durfte sich gerne auch einmal wieder ändern. Für diese Tour war also eine weniger begangene Route, mehr Höhenmeter und ein interessanter Grat...
Published by 15 September 2013, 15h29 (Photos:25)
Nidwalden

T6

AD-

III

6 Jul 13

Engelberg – Stans Extrem
Diesmal hat es geklappt! Von Engelberg auf den Jochpass, über alle Gipfel entlang des Grates bis aufs Stanserhorn und wieder runter nach Stans. Ein langer Tag mit über 40 Kilometern, 5000m Aufstieg und 5500m Abstieg. Intensive 22 Stunden mit Klettern entlang luftiger Felskanten, Kraxeln auf wilden Graten und Wandern durch...
Published by 11 July 2013, 22h58 (Photos:55 | Comments:17 | Geodata:1)

Gratwanderung von Engelberg nach Wirzweli
Dieses Wochenende war ausnahmsweise mal wieder eine Solo-Tour angesagt. Der Grat zwischen Storegg und Arvigratgeistert geistert mir schon länger im Kopf herum, das Wetter ist prächtig und die Schwiergkeiten sollten in einem für mich Solo-tauglichen Bereich liegen. Also nichts wie los! Gestartet bin ich kurz vor 8.00h am...
Published by 8 October 2012, 20h32 (Photos:33)