Schwettiberg 1392 m
4566 ft.
---
Locality in

11 hike reports

, 1 photo(s). Last visited :

11 Jun 21


Geo-Tags: CH-GL
Photos (1)
---
By Publication date · Last favs · By Popularity · Last Comment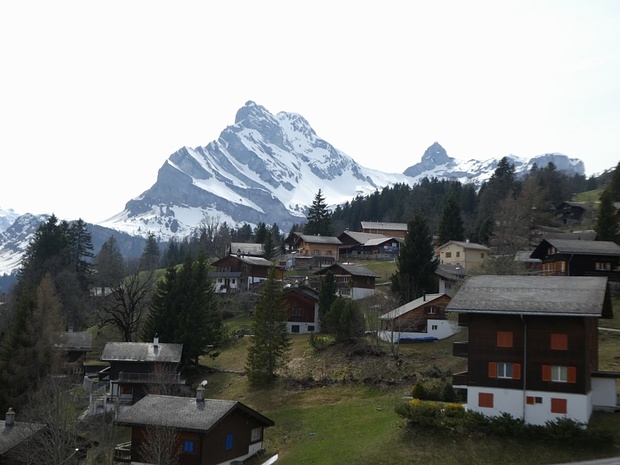 Nach Schwettiberg und Braunwald fuhr ich weiter Richtung Klausenpass mit leisem Verdacht, dass auf der weiteren Strecke noch Schnee liegen könnte © Flylu
---
Reports (11)
---

Zweiter Versuch geglückt. Bächi Bike Route Nr. 307 ohne Schneekontakt abgeschlossen
Beim zweiten Versuch meiner Mountainbike Tour «Bächi Bike 307» hat es diesmal geklappt und wurde nicht wie bei meinen ersten Versuch vom Schnee zum Rückzug gezwungen. Gestartet bin ich wie bei meiner ersten Tour in Schwanden, diesmal bin ich aber nicht via Thon – Bösbächialp, sondern radelte zuerst auf dem Veloweg...
Published by 12 June 2021, 19h53 (Photos:32 | Comments:2)

Biketour nach Braunwald nicht ganz ohne Hinderniss
Lockdown Covit 19 Auf diese Biketour Nr. 307 Bächi Bike habe ich mich besonders gefreut und jetzt ist es so weit, allerdings in umgekehrten Richtung, nicht so wie es im Tourenbeschrieb steht. Gestartet bin ich in Schwanden und folgte den Schildern Richtung Thon bis zur Bergstation Brunnenberg. Nach einer kurzen Rast...
Published by 23 May 2020, 15h04 (Photos:29)

Von Braunwald zum Oberblegisee
Ruhige Tour in einer imposanten Umgebung Ein Höhepunkt meines einwöchigen Aufenthalts in Zürich sollte eine Tour in den Schweizer Bergen sein. Leider war das Wetter gerade heute zu durchwachsen für eine größere Tour und Regenschauer auf der Fahrt in die Glarner Region ließen uns zweifeln, ob wir unser Unternehmen denn...
Published by 6 June 2015, 17h46 (Photos:15 | Comments:2 | Geodata:2)

Klettersteig Eggstöcke (ÖV)
Die ersten beiden Teile bis Mittler Eggstock sind relativ einfach. Der dritte Teil zum Hinter Eggstock hinauf erfordert Kraft in den Armen und ist ausgesetzt. Schon bald nach dem Einstieg kommt die Schlüsselstelle. Beim Abstieg begegnet einem zu dieser Jahreszeit eine unglaubliche Vielfalt an Bergblumen. Die Schutzhütte auf dem...
Published by 15 July 2013, 10h11 (Photos:14)

Winterwanderung durch den Nebel von Braunwald auf's Grotzenbüel
Wir starten bei der Bergstation der Braunwaldbahn. Eigentlich wollten wir zum Nussbüel hinüber laufen, aber da der Nebel so dicht ist, versuchen wir diesem zu entkommen. Es geht der Strasse entlang bis zum Schwettiberg. Bis hirher ist der Weg aper, aber von hier an geht's durch den aufgeweichten Schnee aufwärts. Der Vorteil...
Published by 6 January 2013, 20h24 (Photos:7)

Zum Oberblegisee und hinunter nach Nidfurn bei fast sommerlichen Temperaturen
Ein super Herbstag zeichnet sich ab. Schon die Anfahrt nach Braunwald geniessen wir bei dem schönen Wetter. Als wir aus der Bahn steigen, ist es schon schön warm. Wir steigen der Strasse über den Schwettiberg hinauf nach Rubschen. Hier zweigen wir nach dem Bächital ab. Die Aussicht auf die Glaner Alpen ist fantastisch. Es...
Published by 20 October 2012, 23h48 (Photos:28)

Von Braunwald nach Schwanden
Dieser Bericht beschreibt einen wunderschönen Höhenweg zwischen Braunwald und Schwanden. Tatsächlich verläuft der Weg auf gleicher Höhe bis er bei Guppen nach Schwanden hinabgeht. Da Braunwald sich auf 1250m befindet, ist die Folge dass der Abstieg nach Schwanden entsprechend anstrengend ist. Die Anstrengung wird aber durch...
Published by 14 August 2012, 15h57 (Photos:13 | Geodata:1)
Vom Brunnenberg nach Braunwald
Ziemlich Mainstram, aber für unsere 13monatige Labradorhündin perfekt. Leichte 'Turnschuhwanderung' mit herrlichen Ausblicken, wenn nur die Zeitangaben der Glarner Wanderwege mit der Schönheit des Panoramas mithielten. Mit der Gondelbahn von Luchsingen nach Brunnenberg. Dort zeigt der Wegweiser nach Braunwald 1.75 Std an,...
Published by 3 July 2011, 22h03 (Photos:5)

Waterskiing on snow is no fun
Initially we planed a long weekend for skiing, but with this warm weather (11°C at 1400m.), it was better to hike than to go skiing. On Saturday we tried it out: it was beautiful Spring snow with grass coming out everywhere. This is an easy hike in Summer. With snow it's a bit harder as one slips down on every step. But it was...
Published by 16 January 2011, 17h21 (Photos:6 | Geodata:1)

Via ferrata de Braunwald (Eggstöcke)
Je connais Braunwald depuis mon plus tendre âge grâce au chalet que les grands-parents y ont construit. Et bien entendu aussi la plupart des sommets alentours, y compris les Eggstöcke avant l'existence de la ferrata. La ferrata passe par les trois sommets (vorder, mittlerer und hinter Eggstock). Au...
Published by 12 July 2010, 23h04 (Photos:17 | Geodata:1)